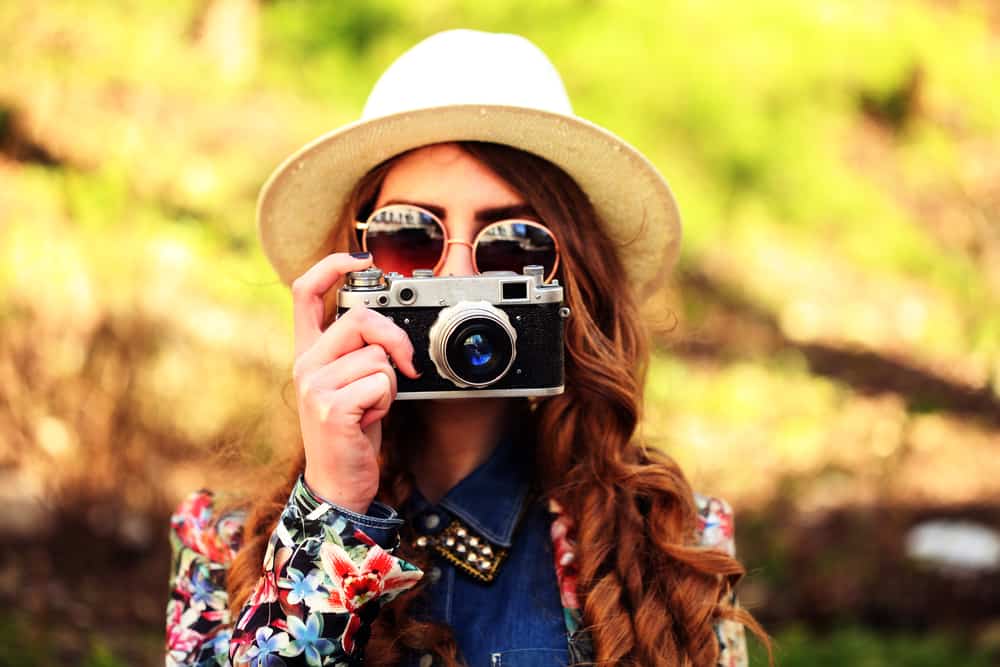 Special occasions don't happen every day.
Though we cannot rewind time, capturing most of those precious moments can help us reminisce happy memories.
So, a photographer has the power to be a hero or villain of your happy story.
If they have chosen to be the hero and have done the best photography, you must thank them in the open.
But how to go about thanking a photographer on Instagram?
To thank your photographer on Instagram, start with following them voluntarily, i.e., without demanding a follow back. It would be best to leave them a great, descriptive, and good review. Moreover, upload their pictures on your profile and give them a huge shoutout.
But are there any other ways to thank a photographer? And is thanking Instagram even helpful in the first place? Let's find out! 
6 Ways To Thank Your Photographer on Instagram
Below are the six best ways to thank your photographer on Instagram.
Method #1: Follow The Photographer on Instagram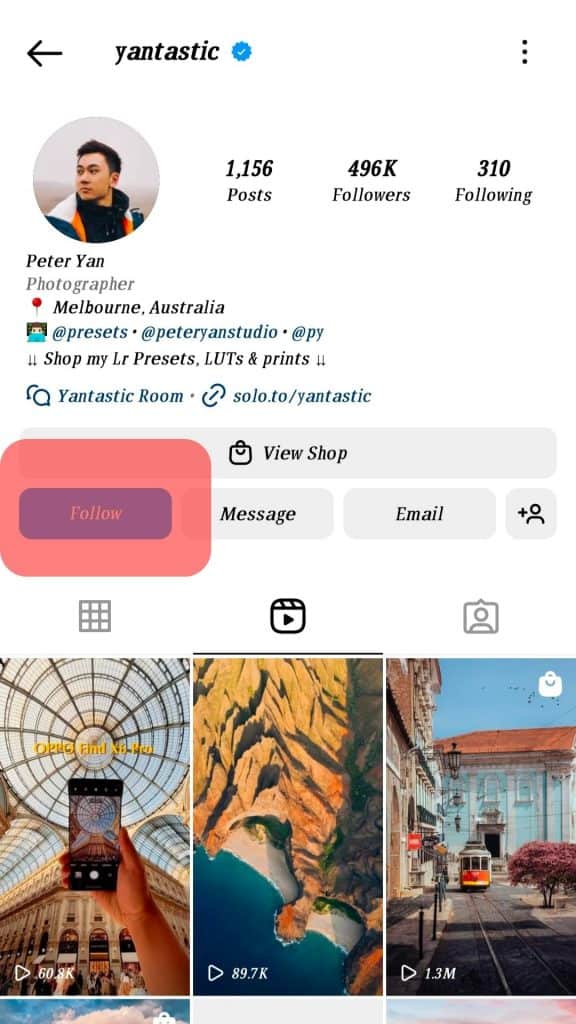 More than 2 billion users across the world use Instagram every month. Out of these billions of users, hundreds and thousands of photographers are trying to attract customers.
So, how will a photographer manage to stand out among other professionals providing similar services?
With your support, we would say.
By following your photographer's account, you help them improve their credibility.
Users on Instagram generally tend to believe in business accounts with many followers and a minimum number of followers.
Help your favorite photographer achieve this golden balance by following them without asking for a follow back.
There are more than 200 million business accounts on Instagram. Know that your photographer is struggling to earn a position; support them with your following.
Method #2: Leave Positive Comments Every Now and Then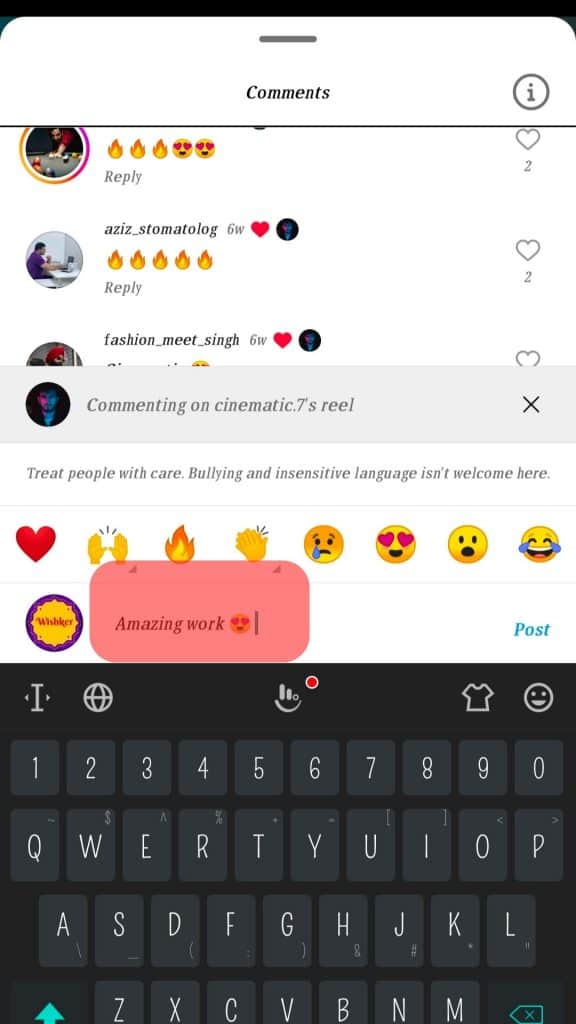 Once you have followed your photographer's account, you will see their posts in your feed. Do not scroll through by liking the posts only. Go the extra mile and leave some praising comments as well.
Writing comments is helpful as it reassures potential clients that they have found the perfect photographer for their event.
You can share your personal experience or simply appreciate the work they have shared.
Can't you think of some good compliments?
Here are a few suggestions:
Your pictures are always a treat to my eyes!
Great images with perfect style and composition.
I can't wait to hire you again for another event.
Every detail of this picture speaks for your talent.
Your camera brings life to pictures.
Method #3: Add Hashtags in Your Pictures Caption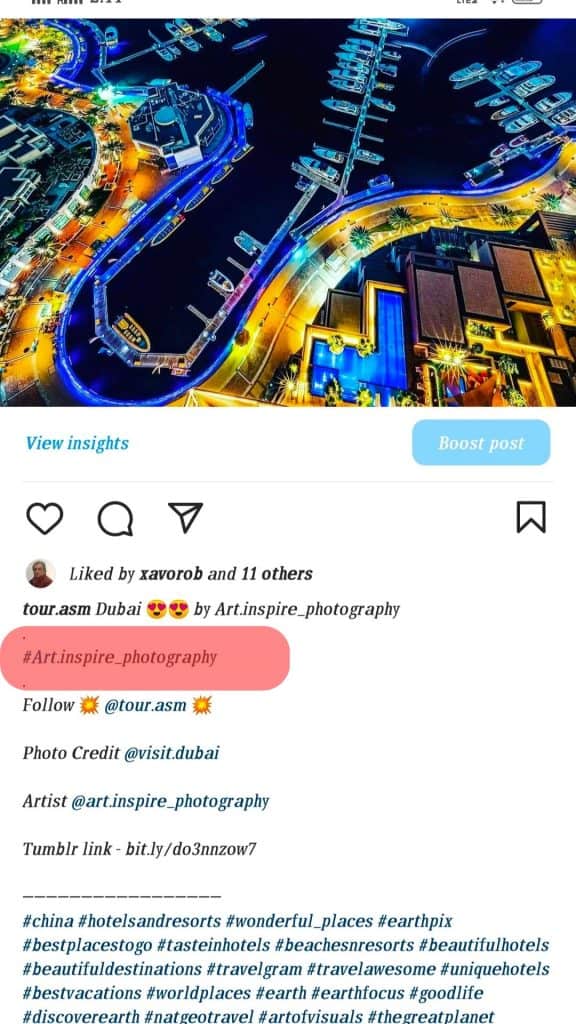 Have you heard of hashtags like "#ShareACoke" or "#HereToCreate"? If yes, then we don't need to prove their importance.
But if you don't know yet, we want to tell you that hashtags are a great marketing strategy.
Some of their benefits are:
Hashtags can help build relationships with a broader audience.
They make content more discoverable.
Since hashtags are clickable, they can drive users to discover more content.
So, how does this help your photographer?
It will if you add some hashtags every time you post a picture of that photographer.
If they have a unique hashtag, be considerate and add it in the caption. If not, use popular hashtags like "#photography" or "#photoshoot" to improve their discoverability.
Adding only one hashtag in the caption can increase interactions for your post by 29%. So, it is always a win-win with hashtags. They support your photographer and are a great way to make your posts more engaging. 
Method #4: Given a Huge Warm Shoutout
Instagram shoutouts or IG shoutouts are when someone promotes others' work through their account.
Usually, there are paid shoutouts by popular influencers or S4S (shoutout for shoutout) trades on Instagram.
But voluntary shoutouts are the most genuine ones. When you are so darn satisfied by someone's work, you want to promote them.
To give an Instagram shoutout to your photographer, follow these steps:
Post the pictures or upload them in the story, or be generous and do both!
Tag the photographer.
Write a brief yet cordial account of your experience.
Ask your Insta fam to follow them!
Method #5: Leave a Detailed Review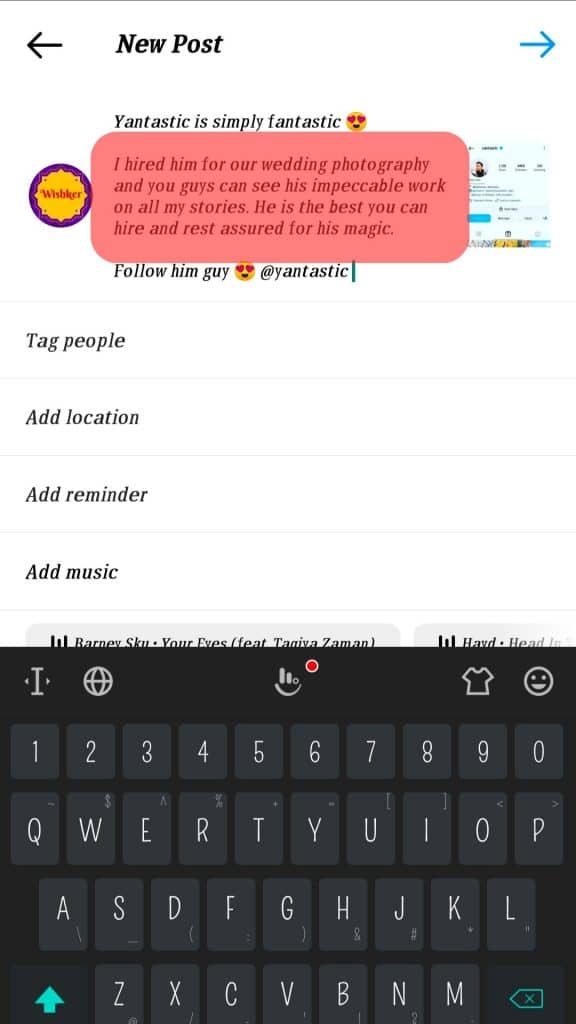 Reviews are the asset of every brand. Plus, in a digital age like today, reviews are easily accessible and are frequently sought after. So, they have the power to both succeed or drown a business.
You can either send a message or post a review about your photographer. But do not act like a robot. Spend some time and write a blow-by-blow account of your experience.
This not only makes your review sound realistic but also makes the photographer feel celebrated.
Can't figure out what to write? Here are a few key points to mention:
Share the backdrop of specific scenes or photos.
Tell people about the photographic composition and its quality.
Reveal what unique styles the photographer has.
Shed some light on the hot topic, i.e., lighting.
Method #6: Send an Appreciation Gift!
Flattery is not always insincere. You might actually want to praise someone for beautifully capturing your special day. And gifts are the best way to do so.
Besides, it also gives your photographer a chance to chat about their loving customers on social media, boosting their credibility. 
But what to gift a photographer? Well, cameras can cost a fortune, we know. So, what else? Try searching through their Insta page and sending a gift complementing their interests.
If you don't get any hints, here are some ideas:
Reflectors are used in cinematography to redirect light. They are affordable and much required by photographers.
Rain covers are also excellent for protecting cameras when it's pouring. Pair them with a raincoat and fancy rubber boots.
Photographers need to travel a lot. So. spacious camera backpacks are great for carrying cameras and other gadgets.
The Outlook
This post covers the best ideas to thank your photographer on Instagram.
Be generous, and don't hesitate to return the favor most candidly.
Who knows, you might get a complimentary shoot in exchange.