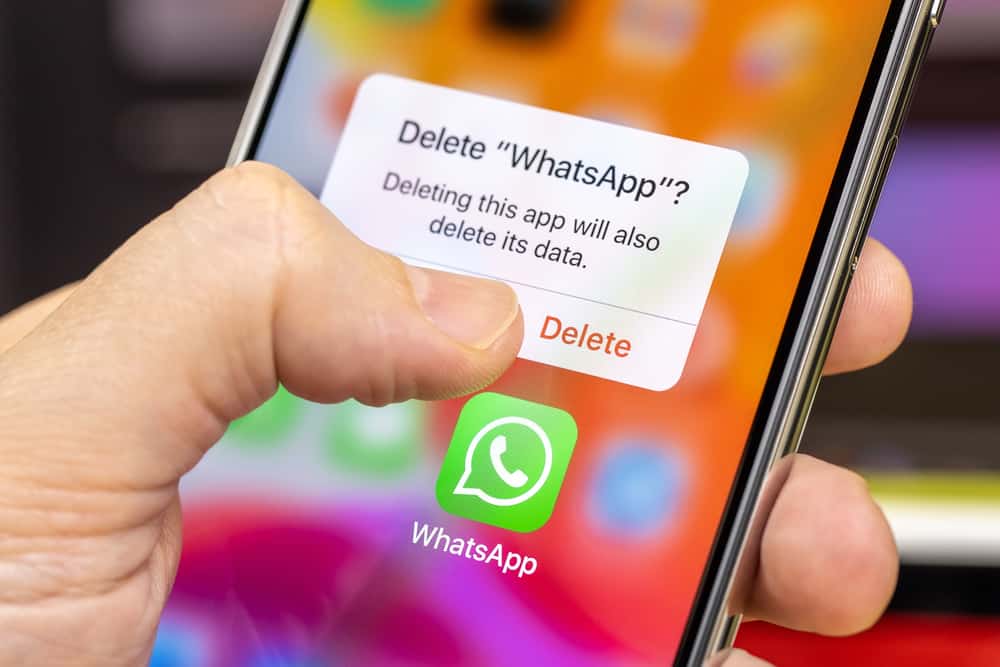 If you're looking for an instant messaging app that's popular and has all the features you need, then WhatsApp should be top of your list.
It's an easy-to-use app for sharing videos and photos, chatting with individuals and groups, and showcasing fun moments with friends and family through your status.
Like other social media apps, WhatsApp has a bio section. Users typically add a brief description about themselves that others can see when they open their profile.
A WhatsApp bio can be anything you like, from quotes, song lyrics, emojis, or anything else.
If you prefer that your bio section be blank, you can remove any text or emojis currently visible to your contacts. To do this, launch WhatsApp, and tap on the three horizontal dots at the top-right corner. Open "Settings" and select the "Privacy" option. Open the "About" section and select "Nobody."
Read to the end to learn more about WhatsApp bio and the exact steps to remove it.
Overview of WhatsApp Bio
WhatsApp bio is the "About You" section people see when they click on your profile. Most times, people use their bios to show their personalities. This section has a 139-character limit, so you only need to add a few sentences.
Usually, people's bio reflects what they care about the most. It could be lyrics from a song they like, a Bible verse, a quote, an expression, or anything else.
As the introduction notes, you're not limited to specific words when writing your bio.
If you prefer, you can add a few of your favorite emojis. Even though your WhatsApp bio is an excellent way for people to know or try and relate to you, it's not mandatory.
You can leave the section blank if you don't want to add a WhatsApp bio. If you already have one, you can remove it. Removing your WhatsApp bio is essentially blocking anybody from viewing it.
Another option includes limiting bio viewing only to people in your contact list. Next, we'll go over ways to create a unique WhatsApp bio.
How To Write a Captivating WhatsApp Bio
As we've established, your WhatsApp bio is an introduction section that people messaging you on the app read. Try these few tricks if you're struggling with creating an excellent WhatsApp bio.
The first is to explore things you like — fitness, music, sports, movies, or other activities. After summarizing your main interests, note those in the bio, then include complementary emojis.
This is an idea of a simple bio for users who don't want to spend too much time crafting the perfect one.
If you prefer having a few sentences instead listing interests, write a motivational quote, song lyric, or a saying you like. Remember, WhatsApp bios are not permanent. You can change or remove them whenever you want.
Another WhatsApp bio idea is to briefly describe what you do professionally. This mainly works for people with online businesses who sometimes use WhatsApp to contact clients.
Even though there's a way to separate your personal account from a business one, having a professional bio in your personal account is still an excellent way to inform your contacts about what you do.
Anyone who opens your profile will see the bio, which can lead to inquiries and even sales.
If none of the ideas above work for you, use the basic WhatsApp bio options available on the app.
Examples of these bios include "Can't talk," "WhatsApp only," "Battery about to die," "Available," "Busy," "At the movies," "At school," "At work," and many more.
Setting the Bio on the Mobile App
Here are steps to using a pre-set bio on the mobile app:
Launch WhatsApp.
Tap the three dots icon at the top-right corner.
Select "Settings."
Tap on your profile picture.
Locate the "About" section and tap on the pencil icon.
Under the "Select About" section, find any pre-set bio and tap it.
Tap the pencil icon next to your current bio, type your new one, and hit "Save" to set a custom bio.
Step-by-Step Guide To Remove WhatsApp Bio
Removing the WhatsApp bio takes a few simple moves. Here's how to do it:
Launch WhatsApp.
Tap on the three horizontal dots at the top-right edge of the screen.
Select "Settings."
Tap the "Privacy" option.
Open the "About" section.
Select "Nobody."
Summary
A WhatsApp bio is an introduction section that people viewing your profile can read to learn more about you.
Typically, many people add quotes, lyrics, bible verses, emojis, or other things they like as their WhatsApp bio.
If you want to remove your WhatsApp bio, you must change the About audience setting to "Nobody."
Besides "Nobody," you can limit your bio audience to your contacts or exempt specific people from your contact list.