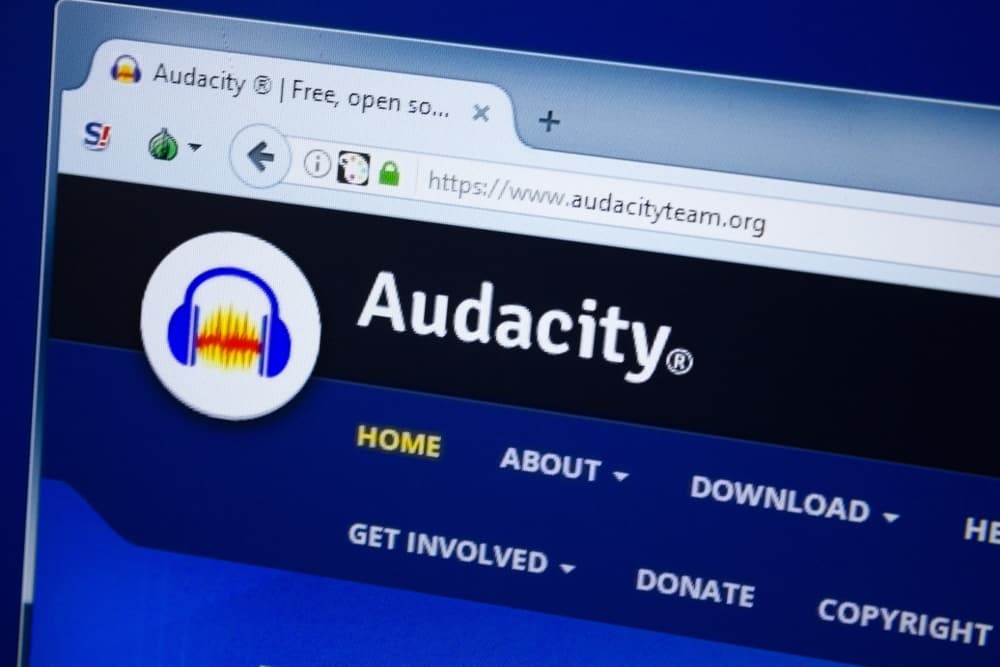 Discord has many features, making it the ideal communication platform for gamers and people working on projects. When in a Discord call, it makes sense that you may want to record the audio as a future reference or for other reasons. While many people are looking for how to record Discord audio, knowing which tool works best and the steps to follow to use it is handy. Today's guide covers how to record Discord audio with Audacity.
To record Discord calls with Audacity, start by downloading Audacity from its official page. Install Audacity and select your recording device to be the microphone. Open your voice chat on Discord, start your Discord audio call, and start recording the audio using Audacity. Once you've recorded your audio, stop the recording, then use Audacity to edit the recorded audio.
We will start by answering whether it's possible to record Discord audio. Next, we will see the steps for recording Discord audio with Audacity. Still, we will cover commonly asked questions about recording Discord audio using Audacity.
Can You Record Discord Audio?
Yes, you can. Discord can be used for essential calls, such as calls with group members working on a project or with fellow gamers. When you expect an important conversation, you may decide to record the particular Discord audio. That way, you can have the recorded audio and use it later for other activities.
So, are you looking to record your Discord audio calls? Many tools allow users to record audio calls, depending on their goals. For this guide, we will focus on using Audacity.
How To Record Discord Audio with Audacity
Audacity is a renowned audio editing program available for download on various platforms. Besides, the tool is free, meaning anyone can use it. The only drawback with Audacity is that it can only record one input source. Therefore, it's only ideal when you want to record someone's voice, such as for podcasts.
If you've not used Audacity before to record Discord audio, follow the steps below.
Download the Audacity tool from its official site on your computer. Ensure you select the download option ideal for your device, depending on the type and architecture (32-bit or 64-bit).
Run the installer by double-clicking on it.
Once Audacity gets installed, open the tool.
Click the Edit option at the top and click on Preference at the bottom.
In the next screen, click on Devices.
Under the recording devices option, select your microphone as the device.
Open your Discord app on your computer.
Join any voice channel that you want to record its audio.
When you are ready to start recording, click the red button at the top of the audacity window.
Audacity will begin recording your audio. Once done, click the stop button and choose the format for your audio.
If you want to edit your audio, it's recommended to save it with the .aup extension.
That's how you can record Discord audio with Audacity. Repeat the same steps to record more audio on Discord. The only thing to note is the recording device, as Audacity only accepts setting one recording device.
Other Ways of Recording Discord Audio
While Discord is excellent for recording Discord audio, it's not the only option. Besides, we've seen how it only allows recording from one device. What happens in a case where you want to record the conversation? In that case, you must use another recording option aside from Audacity.
The good news, however, is that there are other recording options that you can use. The two common alternatives are Craig Bot and OBS. The two offer a way to record more than one source, making them ideal when you want to record a conversation and not just one source.
Conclusion
How to record Discord audio with Audacity is a popular question. While many people are looking for ways to record their Discord calls, this guide has offered a hands-on guide to recording Discord audio using Audacity. The presented steps will guide you through. Try it out.
Frequently Asked Questions
How Can I Record Discord Audio with Audacity?
To use Audacity, start by downloading and installing Audacity on your computer. Once you do, open the installed Audacity application, configure your preference for the recording device and set it to use your microphone. Once you join a voice channel on your Discord account, go back to Audacity and start recording. Lastly, start your Discord call.
How Can I Record a Conversation on Discord?
When you want to record a Discord conversation with someone in a Discord call, use other Audacity alternatives, such as Craig bot and OBS. The two offer a more straightforward way of recording Discord conversations as they don't focus on a single recording device. That way, your recording will capture your input and the output of the person on the call. Audacity only works with one recording device, making it not applicable in this case.
Is It Allowed to Record a Discord Call?
Different locations have different laws regarding the recording of Discord calls. It could be illegal to record a Discord call without the other person's consent, as it is considered a violation of their privacy. Besides, Discord doesn't have a built-in feature for recording audio. To be safe, only record Discord audio with someone's consent.