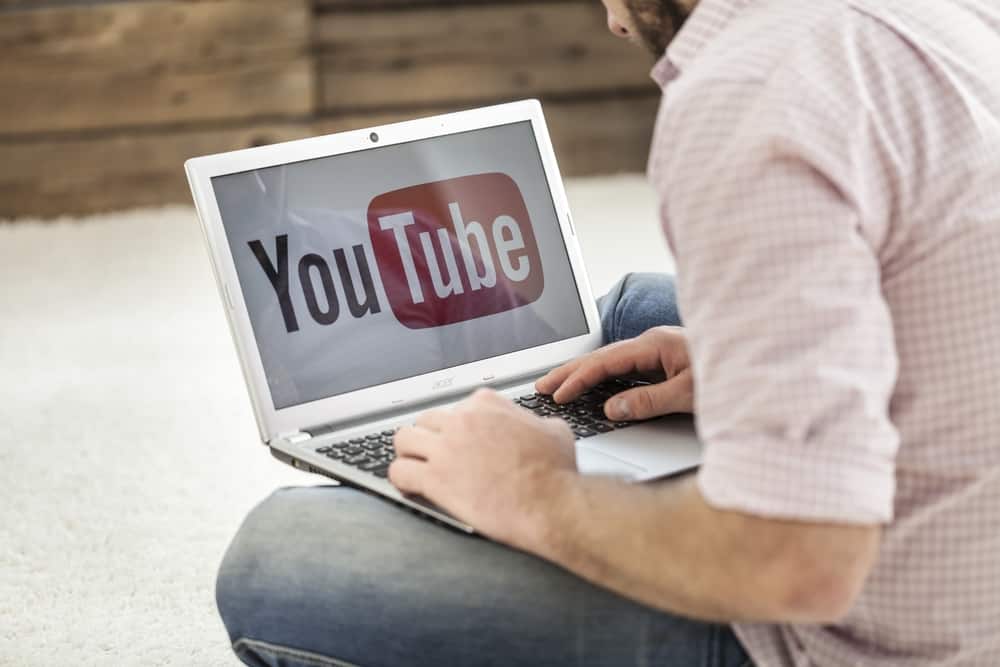 Creating and uploading videos on YouTube is an excellent way to share your passion, create a community or market your products and services.
However, most people shy away from starting a YouTube channel because they lack enough money to buy expensive cameras, microphones, and other video-making accessories.
Your laptop might be the answer if you want a cheap way to make a YouTube video. But how do you make a YouTube video on a laptop?
First, choose a niche. You can use your laptop's inbuilt webcam and microphone to record a video of yourself or make tutorials and how-to guides by recording your screen using MS PowerPoint. Or make animated clips using free animation software. Then, edit the video, export and convert it to a supported format, and upload it on YouTube.
Learn how to make a YouTube video on a laptop in this post.
Overview of Making a YouTube Video on a Laptop
It's a common misconception that you need sophisticated recording equipment to create YouTube videos. In reality, creators have started and grown their YouTube channels by making videos using their phones, tablets, and computers.
While having high-quality cameras, microphones, and video production equipment is a plus, it is optional. As you will learn in this post, you can create professional YouTube videos with only a laptop.
How To Make a YouTube Video on a Laptop
You can make excellent YouTube videos using built-in features on your laptop or by installing free-to-use third-party software like screen recorders and video editing apps.
Step#1: Creating the Video
The first step in making a YouTube video is the raw recording. This step varies, depending on the kind of content you want to create.
Popular YouTube content includes recording yourself doing something, screen recording to show the audience how to do something, creating animated clips, and making assorted videos.
Recording Yourself
Recording yourself is one of the mainstream ways to share content with your audience. This technique is appropriate for vlogs, relationship and marriage talks, DIY crafts, skincare and makeup tutorials, and gaming.
Here's how to record yourself on your laptop.
Launch the camera app on your laptop.
Set up your recording station appropriately by working on the lighting, camera position, and background. You can use natural light by recording your video facing a window or door or use artificial lighting.
Use the inbuilt webcam and microphone to record yourself doing whatever you intend to do.
Screen Recording
Some of the most popular YouTube channels, including how-to guides and tutorials, are faceless. If you want to make videos for this niche, you can do so with minimal requirements on your laptop.
Download a free screen capture software like OBS Studio, ScreenPal, or CamStudio to record your screen. Learning how these free tools work might take some time, but the time investment will be worth it.
Animating Videos
Animated videos have a broad audience, from toddlers and teens to adults. You can create animated clips for entertainment, awareness, and educational purposes using free animation software.
Animation software also has a slight learning curve, but the quality of work you produce after learning is worth your time. Popular free options include Animaker, Powtoon, and Blender.
Converting PowerPoints to Video
Depending on your niche, you can create your content as a PowerPoint presentation, convert it to a video, and upload it to YouTube. This technique works well for educational niches like psychology, relationships and marriages, and academics.
MS PowerPoint has inbuilt features that let you convert your PPT file to a video and add narrations, sound effects, and audio recording to the final clip.
Creating Assorted Videos
While still on faceless YouTube channels, you can create assorted videos using clips and images from free stock media websites. The internet has everything you need to create videos, including free clips, images, music, and audio.
Write your script, then download the media files from free websites to create your video. For instance, if your content addresses how to make a marriage happy, you can search videos and images using keywords such as "happy couple," "happy home," and "date night."
Step#2: Editing the Video
Once you've created your raw video, the next step is editing it to create a masterpiece that will draw viewers' attention and keep them engaged until the end.
This step involves trimming unwanted parts, merging clips, and adding background music, narration, recorded audio, and sound effects.
Additionally, you may add graphics, text, stickers, and GIFs to make the video visually appealing. Install free-to-use third-party video editing software on your laptop to perfectly edit your videos.
These software include ClipChamp, CapCut, iMovie, and Da Vinci Resolve.
Step#3: Exporting and Uploading the Video
After recording and editing the video, you can share your work with your audience. Export the video and ensure it is in a supported format. Next, go to your YouTube channel, and upload the video from the YouTube Studio.
Add the necessary description, tags, and thumbnails after uploading the video. Schedule an upload, save the draft, or publish the video immediately.
Winding Up
There you have it, creators; that is how you make a YouTube video on a laptop. These are simple and actionable steps if you invest time and effort into creating content for your audience.