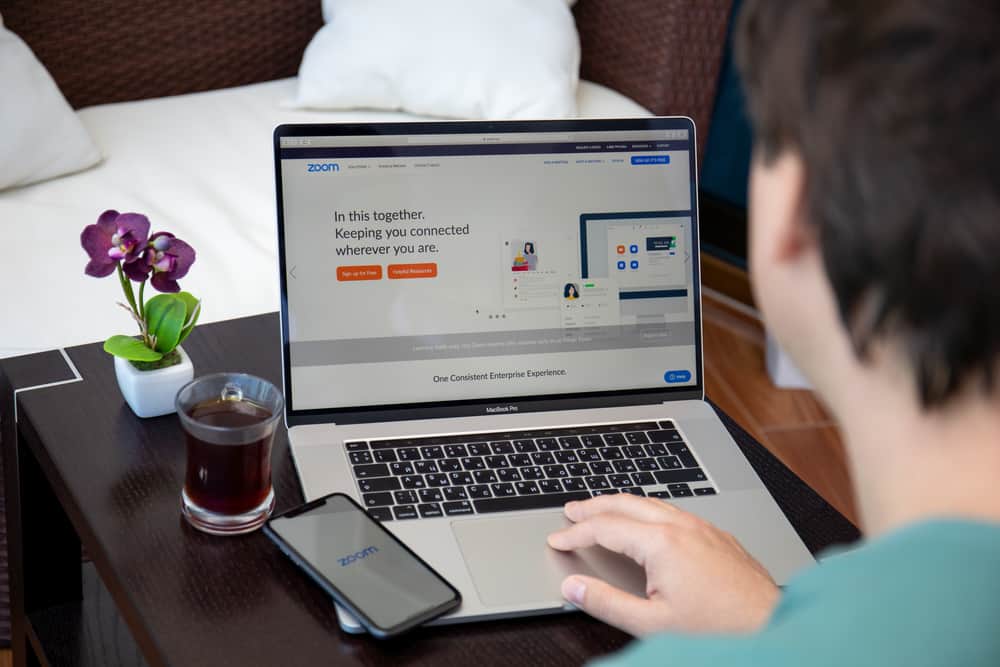 If you do not use Zoom virtual backgrounds, you are living in the past. It is because Zoom virtual backgrounds are the new things to amplify your Zoom experience and make your video look more professional and fun during meetings.
You can use static photos as the virtual backgrounds and even videos, provided they all meet Zoom requirements. If this virtual background feature does not work on your macOS, then allow us to help you troubleshoot and fix this issue.
If Zoom virtual background feature does not work on your Mac, then these might be the issues behind it:
1. Outdated system or processor not compatible with Zoom requirements.
2. The virtual background feature is not enabled.
3. Zoom is outdated.
4. Image or Video is not compatible with Zoom requirements.
If you encounter any problem with Zoom backgrounds not working on your Mac, then be sure to read this article till the end to figure out the problem, and if it is fixable, then fix it.
Zoom Backgrounds
Zoom introduced some variations of virtual backgrounds back in 2016. Moreover, around the second half of 2022, it introduced more features like video backgrounds and background blurring.
Zoom backgrounds are not only fun but also practical solutions to hide clutters of clothes or other messes in your background during your online meetings. You can use virtual backgrounds on Zoom Windows, macOS, iOS, and Android devices with or without the green screen.
Changing Zoom background is an easy process on any device that you attempt, and its effects are amazing. You can change your background before the meeting and also during the meeting.
Be wary of your audience before attempting to change your Zoom background. You should not go for something funky or weird as the background for your meeting with your boss or a potential client. With friends and family, you can go as crazy as you like.
How To Change Zoom Background on Mac
If you have a Mac, you can change the Zoom background by following the steps below.
Open the Zoom desktop client and sign in (if needed).
Tap on your profile icon in the top-right corner.
Now, select "Settings."
On the Settings pop-up, tap on "Background & Filters" from the left sidebar.
You can select any image from the default backgrounds option or click on the "+" (plus) icon to upload your own photo or video provided they meet Zoom recommended specifications.
Additionally, you can change the background during the meeting by clicking on the "little arrow" next to the "Stop Video" option and selecting "Choose Virtual Background" to change the background.
Now, let's focus on what can make the virtual background feature not work on your Mac.
Reasons Why Zoom Backgrounds Might Not Work on macOS
If you encounter a problem where the Zoom virtual backgrounds do not work on your Zoom macOS, then look for this issue to try to resolve the problem.
Reason #1: Your Device Does Not Meet the Requirements
You might not be able to change the Zoom background because your device is not compatible with Zoom virtual background requirements.
Zoom has specifically mentioned its system requirements for using images or videos with or without a green screen as a background for Windows and macOS.
If you want to use an image without a green screen, you must have macOS 10.13 or later. Similarly, for an animated virtual background with a green screen, you must have macOS 10.9 or later, and without a green screen, it must be macOS 10.13 or later.
Besides, there are whole processor requirements that your device must comply with in order for you to change your background. These requirements are separate for image and video backgrounds.
System and processor requirements are different for using an image as a Zoom background and a video background.
Reason #2: Your Virtual Background Option Is Not Enabled
Sometimes when you do not see the option to change the virtual background on the Zoom app altogether, it might be because you have not enabled this feature.
To enable this feature, follow the steps below.
Navigate to Zoom.us on your browser.
Login to your Zoom account.
On your profile page, click "Settings" on the left sidebar.
Scroll down to "In-Meeting (Advanced)."
Turn on the toggle next to the "Virtual background."
Now, relaunch the Zoom desktop client, and see if you can see the virtual backgrounds option now.
Reason #3: Check For Zoom Updates
Zoom requires you to have a Zoom desktop client or mobile app version of 5.1.1 or above to use the full features of the virtual background.
Besides, if a new update is available, the old version can cause various issues, so it is better to update your app. So, update your app on macOS by following the steps below.
Click on the profile icon or logo on the top right.
Tap on the "Check for Updates" option.
If you have an older version, update it by following the instructions.
After the update, sign out and close your app and relaunch it.
Sign up again to see if you can see the virtual backgrounds option now.
Reason #4: Insufficient Resolution
If you are trying to upload your own video or image, you must comply with Zoom requirements to use them as background.
The image must have a 16:9 ratio (1280 x720px or 1920 x1080px can work under this ratio). Besides, it must be in 24-bit PNG or JPG/JPEG format.
The video must be in MP4 or MOV format. Moreover, its minimum resolution allowed is 480 x 360px, and the maximum is 1920 x1080px.
Your poor internet connection might also be triggering this issue. So, check it or switch to a stable connection to rule it out.
Sum Up
If you encounter the problem of Zoom backgrounds not working on Mac, you can check whether your system or processor meets the Zoom requirements.
Besides, ensure you have enabled the virtual background feature, have an updated Zoom desktop interface, and are using the image or video with resolutions compatible with Zoom.
Hopefully, with these fixes, Zoom backgrounds work fine on your Mac.