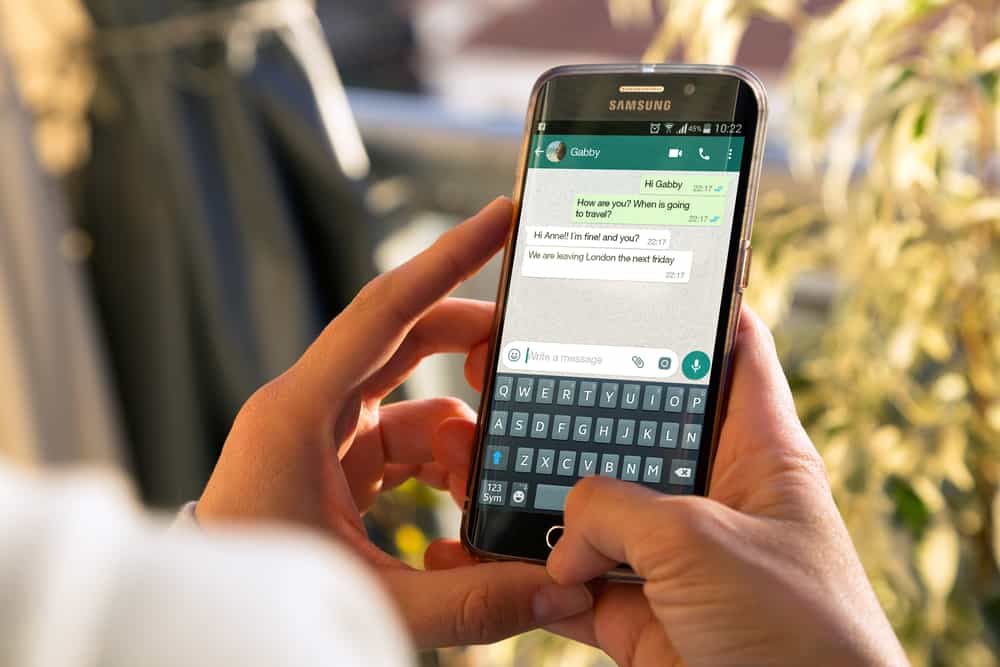 WhatsApp has almost 2.2 billion active users, making it a great platform for small business owners to conduct their dealings.
One of the outstanding features small business owners, or anyone really, can benefit from is the ability to and ease with which you can send bulk messages.
To make it even better, if you currently use Excel to track your business dealings, you can send bulk WhatsApp messages using the information on your Excel without manually transferring the contacts.
To send bulk WhatsApp messages from Excel, you must draft/edit the Excel sheet and then save the file in CSV format. Install and download a bulk messaging tool that works with WhatsApp. Open the downloaded tool and input the CSV file. Follow the instructions on the app because they might differ from tool to tool.
If you can't understand how to send bulk messages using the information on an Excel file, this post is for you. Below are several detailed and simplified guides on performing the task at hand.
How To Send Bulk Messages on WhatsApp
As we speak, WhatsApp doesn't have an active tool to help small business owners send bulk WhatsApp messages from Excel. For this reason, your best bet will be to use any of the many third-party tools designed for the same.
The problem is that WhatsApp is highly focused on user experience; therefore, there is a thin line between what is acceptable and what isn't when spamming and sending bulk messages on the platform. For this reason, ensure you comply with WhatsApp's terms of use before sending bulk messages.
That said, here is how to send bulk WhatsApp messages from Excel.
Method 1#: Using a Third-Party Tool
Plenty of third-party tools can help you send bulk WhatsApp messages. Considering most of them work the same way, we'll use RocketSend.io WA Sender to give you perspective.
On your desktop, open your preferred browser and navigate to the RocketSend.io website.
Click "Install Chrome Extension" and then "Add to Chrome."
You will receive a prompt asking whether to add the third-party tool as a Chrome extension; click "Add extension."
A WhatsApp Web page will automatically load on your screen.

If not, navigate to WhatsApp web, then follow the instructions on your screen about accessing your account.

Once logged in, the WARocket Sender tool you downloaded should appear on the top right side of the WhatsApp window.

If you don't see it, click on the extension icon on your browser, then click on WARocket Sender.

Open Excel, create a new sheet, and add a column for phone numbers and another for messages.
Type the phone numbers in the column for phone numbers, and ensure you include the country and area codes.
Type the message you want to send in the messages column.
Save the file in CSV format.
Return to your WhatsApp web window and click the "Upload CSV" option. The option is on the WARocket – RocketSend.io pane.
Select the Excel file by clicking on its name under the provided list.
Click on the "Select column with phone numbers" drop-down and select the phone numbers column.
Click on the "Message" drop-down and select the message column.
Follow the instructions on display on how to map out the text, and once you ascertain everything is alright, press "Send WhatsApp."
You should be notified that the message was sent successfully to the recipients, which will reflect on WhatsApp.
Please note that this method only works if the people you send the message to have you as a saved contact. If not, those who don't have your contact added won't receive it.
Method #2: By Running a VBA Code
The above method is great if you are trying to send the same message to everyone on the list. However, you should consider running a VBA code to send different messages to different groups.
As you may expect, this method requires some technical expertise to manage. But basically, all you will need to do is draft up an Excel sheet using the template provided by whoever wrote the code you want to use, run the code on your device, and the rest should be automatic.
Can You Send Bulk WhatsApp Messages From Excel Using WhatsApp Business API?
It depends on how you intend to get it done. When Meta Launched WhatsApp Business API, it was marketed as a platform that would help users scale their business by increasing client-seller interaction.
And while one of the ways that is possible is by allowing sending bulk messages, you cannot do so from a contact list that's on Excel. However, you can manually copy the phone numbers from the Excel sheet, then draft and send a broadcast message.
The process of sending bulk messages on WhatsApp business API is quite lengthy. First off, you will need to request a broadcast draft (at a cost) and personalize it as you wish, then depending on the interface you are working with; you can then input the numbers copied from Excel into the "Add recipients" section before you proceed to send the message.
Please note that WhatsApp must also approve the message before sending it, which takes between 15 minutes and three hours.
Conclusion
Even though WhatsApp has no inbuilt features to send bulk messages from Excel, you can use the methods highlighted in this post to act.
While most methods may seem complicated, the most straightforward method is to use a third-party tool such as RocketSend.io.