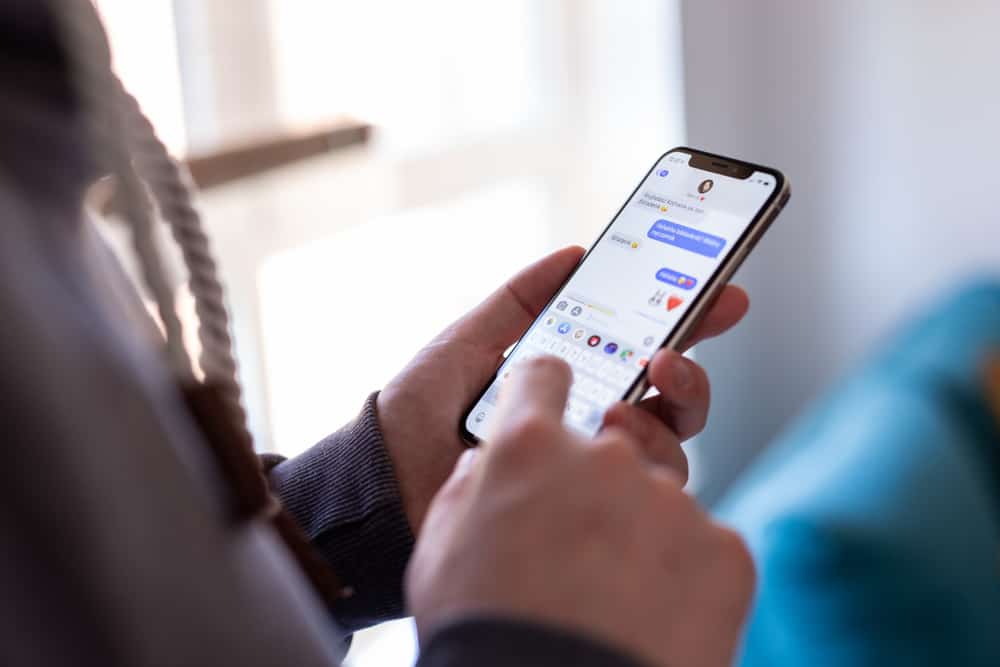 iMessage is popular among iOS users due to features like bubbles and stickers. You may have seen blue and green text bubbles when you chat with your friends via iMessage.
Sometimes, a gray typing bubble may appear on the conversation screen as you exchange messages with your friends on iMessage. So, what do these bubbles mean? When do they show up?
Anyone with an Apple device can send texts via iMessage to iOS or Android users. iMessage lets you know if someone uses an Android or iOS to chat with you. One will see green bubbles when conversing with Android users or iOS users who haven't activated the iMessage option. Blue text bubbles will appear when the recipient delivers the message via iMessage. Gray typing bubbles will also come onto the screen if the recipient is typing a reply to your message. 
A deeper dive into iMessage bubbles will help us understand why we keep seeing them and when they appear. Let's get into it. 
What's iMessage?
iMessage is Apple's built-in messaging platform that allows iOS users to send photos, texts, stickers, or videos to other iOS users over the internet.
You'll need a phone number and an internet connection to use iMessage to talk to your friends. Messages sent through iMessage will not go to your phone bill as long as you have an internet connection. 
It's also safer than sending messages over SMS because it supports end-to-end encryption. Therefore, a third party can not intercept your texts. Only the recipient can open and view it on their device.
Also, you can send more than 160 characters via iMessage. SMS often limits messages to 160 characters. 
The recipient doesn't need an iPhone or an iOS device to receive and read a message sent through iMessage. 
iMessage Bubbles
Bubbles are some of the exceptional features iMessage users get to enjoy. They'll fill your screen as you converse with others. 
You'll see blue, green, and gray bubbles as you talk.  
Blue Bubble 
A blue chat bubble will appear on the conversation screen if someone uses iMessage to talk to you. Therefore, your messages are sent and delivered through the iMessage protocol.
Since iMessage is a built-in iOS feature, the recipient uses iOS to receive and send messages. So, any communication between two iOS users with iMessage turned on will result in blue chat bubbles. 
Green Bubble
The text bubble will turn green when you send or receive a message from a non-iOS user or iOS user who hasn't activated the iMessage feature.
It means your messages will go and come through your phone's SMS protocol. Therefore, the recipient will deliver the message as an SMS instead of the iMessage protocol. 
A green bubble may also appear if you send or receive a message from an iOS user who doesn't have an internet connection. So, the user will receive the iMessage as an SMS.
The recipient will also deliver the message through SMS since they'll use their cellular network carrier to send the message.
Any text sent through SMS protocol, whether via iPhone or Android, will appear as a green bubble. 
Gray Typing Bubble 
You'll see a small gray bubble when the recipient is typing a text on iMessage. The bubble is a small gray bubble that contains an ellipsis. It will appear once the other person on the other end starts typing on the text input field. 
The bubble may appear on your screen for up to 60 seconds. It doesn't matter if they are typing or not. That's annoying since it can be misleading. 
Wrapping Up 
iMessages make conversations beautiful. You not only get to use features like stickers or emojis, but you'll also keep seeing your colored chat bubbles may switch between green, blue, and gray.
The green means you're chatting with someone who isn't using iMessage. Therefore, you'll send and receive messages over SMS. 
Blue bubbles appear on the screen if you send and receive messages over the iMessage platform. Lastly, the typing bubble will appear on the screen once the recipient starts typing something. 
FAQs 
How do I disable typing bubbles on iMessage?
Typing bubbles appear on your iMessage chat screen once the recipient starts typing something on the input field. Unfortunately, iMessage doesn't have an on or off button that lets you turn off the typing bubbles on iMessage. However, you can always activate Airplane Mode when typing out a message to prevent your chat buddy from seeing the typing bubble from their end.