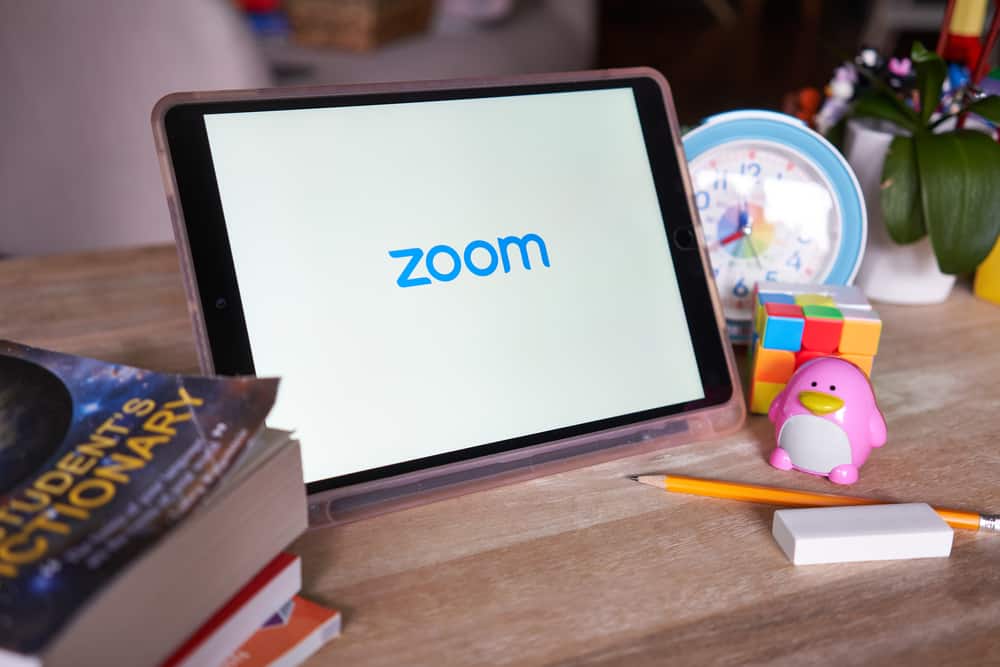 Zoom is an exceptional platform connecting people worldwide, allowing them to meet and collaborate like never before. It lets users have virtual whiteboard sessions, allowing participants to discuss ideas virtually.
Moreover, the platform has made it easy to use an iPad as a whiteboard. So, how can you use the iPad as a whiteboard on Zoom?
If users wish to use their iPads as a whiteboard in Zoom, they can either connect their iPad directly to the computer using a cable or join the same Zoom meeting through their iPads. After connecting the iPad to the computer, choose "iPad/iPhone through Cable" in the "Share screen" menu. Their iPad screen will then appear in their Zoom conference. To draw or write, use the built-in Notes app.
If you wish to learn how to use Zoom as a whiteboard with your iPad, read this comprehensive guide for a better understanding.
What Is Whiteboard in Zoom?
Whiteboard in Zoom is a feature that allows Zoom users to collaborate virtually and share ideas in a remote environment.
Zoom whiteboard enables users to draw, write, and highlight important points on a virtual canvas during Zoom meetings or classes. Additionally, it can be used as an interactive tool for brainstorming projects or solving problems.
Moreover, Zoom whiteboard can be used with iPads and iPhones. This feature allows Zoom users to set up their iPad or iPhone as a whiteboard in Zoom Meet if they're primarily joined through their computers.
The whiteboard feature is used by teachers, business professionals, and Zoom users who need to collaborate and brainstorm ideas.
Things To Keep in Mind Before Sharing Screen on Zoom
Before setting up a Zoom whiteboard, there are a few things that Zoom users should keep in mind. First, Zoom only allows one active presenter at a time.
If you're sharing your iPad or iPhone screen as the Zoom whiteboard, only one presenter can draw or write on the board at any time unless you have a simultaneous screen-sharing feature for multiple participants. 
Second, Zoom users should ensure they have downloaded and installed the latest version of Zoom to access whiteboard features. They can also update Zoom by going to zoom.us/download and downloading the latest version.
Third, they should ensure they have a stable internet connection before using the Zoom whiteboard. A solid and stable internet connection is essential to use Zoom whiteboard without any issues.
Steps To Use iPad As Whiteboard on Zoom
Using an iPad as a whiteboard in Zoom can be done quickly with two methods: connecting the iPad directly to the computer through a cable or joining the same Zoom Meet through both computers and iPads.
Let's look at the steps for these methods.
Method #1: Through a Cable
To use an iPad as a whiteboard using a cable, follow these steps:
With the help of a charging cable, connect your iPad to your computer.
Join the Zoom meeting from your computer.
On Zoom, click on the "Share screen" option and select "iPad/iPhone through Cable."
Now, your iPad's screen will appear on your Zoom window, where you can use apps like Notes to draw and write.
Following these steps, Zoom users can use iPads as a virtual whiteboard in Zoom meetings.
Method #2: By Joining the Same Meet Through Computer and iPad
The other way to connect your iPad as a whiteboard in Zoom is by joining the same Zoom meeting from your computer and iPad. Follow the steps below to do so:
On your computer, join the Zoom meeting.
Now, open Zoom on your iPad and enter the same meeting ID. You will now be connected to Zoom with both devices.
On your iPad, tap the "Screen Share" button and choose "Whiteboard." You may now begin writing or drawing on your whiteboard.
Remember to mute the Zoom meeting on your iPad after joining the same meeting with both devices. Otherwise, Zoom will detect the same audio from two different devices and may start a resounding effect.
Conclusion
An iPad can be used as a whiteboard in Zoom meetings and is an excellent way for teachers, business professionals, and Zoom users to collaborate visually during meetings or classes.
Following these instructions makes it easy for people to set up their iPads as virtual whiteboards in Zoom meetings. With this feature, anyone can now efficiently draw, write, and highlight important points on the Zoom whiteboard.