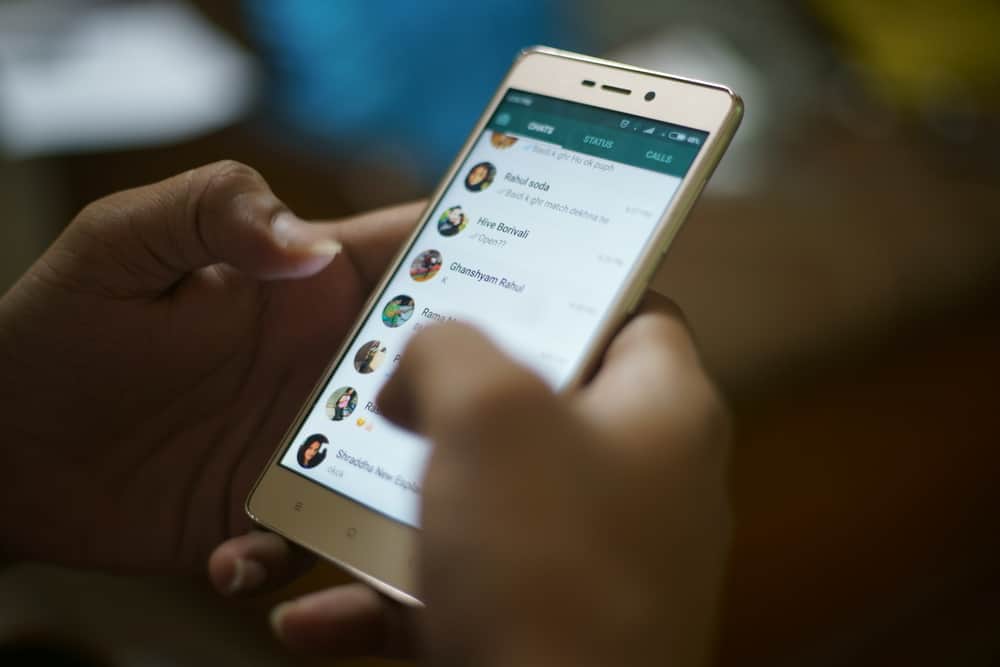 WhatsApp facilitates communication via chat, audio calls, and video calls.
When using WhatsApp, you may want to know how much data is used to facilitate communication to help in better planning, especially if using cellular data.
If using Wi-Fi, the data consumption rate has less impact.
This post will enlighten you on how much data WhatsApp uses for communication.
There is no constant amount of data used by WhatsApp. However, you can consume 400 KB every minute when making voice calls over WhatsApp. This average cuts across different network generations.
For video calls, the average is higher. It consumes 5 MB every minute. For normal chats, it consumes about 30 KB or less for every chat. Therefore, most of your data is consumed by a WhatsApp video call.
We will discuss WhatsApp data usage for chats, voice, and video calls. Also, we will share different tricks that can help reduce the data consumption rate and how you can analyze the data usage of WhatsApp.
How Much Data Does WhatsApp Use?
WhatsApp is a messaging platform that lets users communicate via chats, audio, and video calls.
Moreover, WhatsApp allows sharing of media files, including videos, audio, documents, etc. All these activities require data. So, how much data is required to use WhatsApp comfortably?
The data required depends on the activities you plan to engage in when using WhatsApp. Suppose you only want to chat. WhatsApp uses an average of 30 KB per chat, depending on its length of characters.
Moreover, the rate increases if you add a media file alongside the chat. However, audio calls consume a higher rate. Every minute of a voice call requires an average of 300 to 400 KB of data every minute.
Video calls consume the most data. Every minute of a video call uses about 5 MB of data.
Regardless of the network generation, expect to consume around 5 MB every minute, with 5G consuming the most data every minute.
Now that we've seen the data consumption rate when using WhatsApp, is there a way of cutting down this consumption rate?
How To Reduce WhatsApp Data Consumption Rate
When using mobile data, you may want to cut down on the high cost of data required by WhatsApp.
A high data consumption rate by WhatsApp means you will spend more buying a data subscription option.
Here's how to analyze the data usage by WhatsApp:
Open the WhatsApp application.
Tap on the ellipsis at the top of the window.
Select the "Settings" option from the drop-down menu.
Tap on the "Storage and data" option.
Tap the "Network usage" option.
A summary of how WhatsApp has used your data will appear. You will note the total data consumed so far and how different elements have each consumed a share of the total data usage.
Three different tips can help you save on your WhatsApp data consumption rate.
Enable Less Data for Calls
WhatsApp lets users activate the option to use less data when on a call. The feature is disabled by default.
So, activate it using the below steps:
Open the WhatsApp application.

For Android, tap the three-dot menu at the top and select "Settings."
For iPhone, access "Settings" at the lower right.

Select "Storage and data."
Enable the option for "Use less data for calls."
With that activated, WhatsApp will use less data for calls.
Disable Media Auto-downloads
WhatsApp automatically downloads media files unless you disable this feature, such that unless you click on the media file you want to download, WhatsApp won't automatically download them.
Follow these steps:
Open WhatsApp.
Access the "Settings" window.
Tap on the "Storage and data" option.
In the "Media auto-download" section, select the different media types and set the option to download to "When connected on Wi-Fi."
That way, media files will only download if you are connected to Wi-Fi.
Disable Automatic Chat Backup
What backup option have you enabled?
Follow these steps to disable automatic chat backup:
Open WhatsApp and access settings.
Tap on "Chats."
Tap on "Chat backup."

For Android, spot "Google Drive settings" and select the option for "Only when I tap Back up" or "Never" under the "Backup to Google Drive" option.
For iPhone, tap "Auto Backup" and turn it off.
Conclusion
WhatsApp uses 30 KB for chats, 300 KB for voice calls, and 5MB for video calls every minute.
This guide has explained WhatsApp data consumption and how to minimize it.