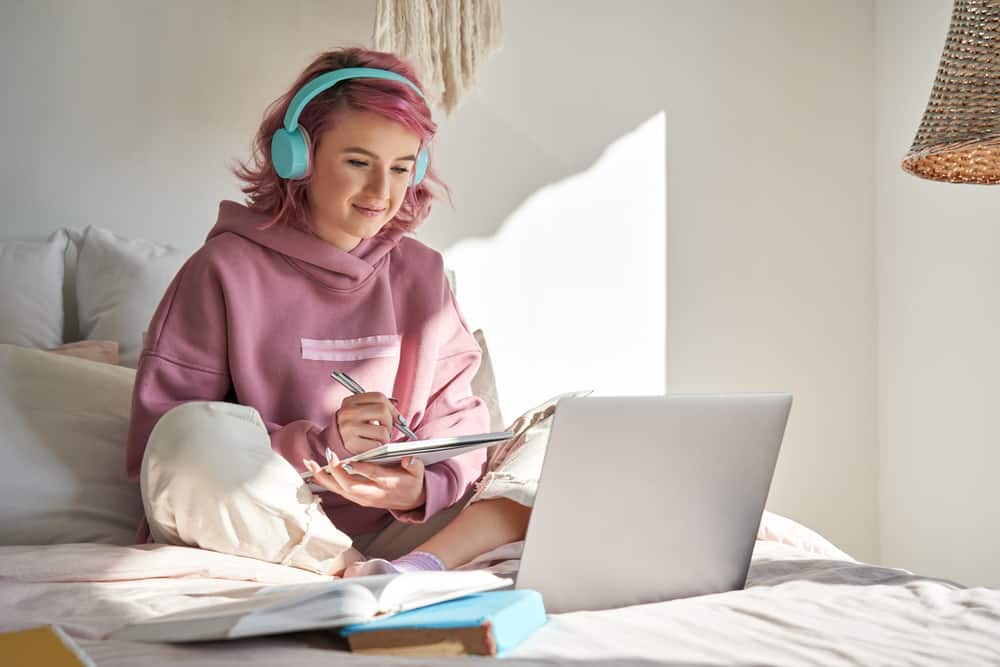 Online tutoring is common, and many tutors rely on different videoconferencing applications for online tutoring. Zoom is one common platform used by online tutors to tutor a student or group of students.
Luckily, Zoom has various benefits as a tutor app, and you can conveniently use it for tutoring. We will discuss how to use Zoom for online tutoring.
The first step is to ensure you create a Zoom account. Next, schedule a meeting with your student(s) and share the invite link with them. Select a presentable virtual background to use for your Zoom meeting. Create an outline of what to tutor and utilize Zoom features, such as screen share and uploading files. While tutoring, ensure your camera is at the correct eye level. For many students, consider creating breakout rooms and giving breaks between the tutoring sessions.
We will begin by understanding why using Zoom for online tutoring is a good idea. Next, we will discuss all details about using Zoom for online tutoring, from the basic requirements to what to do before and during the tutoring session.
Why Use Zoom for Tutoring?
During school breaks such as spring, many students and parents often seek remote learning to help keep up with school work. The reliable option involves looking for a tutor to guide the learner and simulate a classroom session.
As an online tutor, there are different reasons why you may decide to use Zoom for your teaching.
Zoom has a free and paid account. With the free account, you can create Zoom sessions lasting 40 minutes.
Still, Zoom has a friendly interface that you can quickly get comfortable using.
There are different features you will enjoy using Zoom, such as screen sharing, recording meetings, etc.
The learner can use Zoom without creating an account, provided you share the Zoom invite link.
The bottom line is that Zoom is an excellent platform for online tutoring, and we will see how to use it as a tutor.
How To Tutor on Zoom
As the tutor, you are the host of the Zoom meeting, and the student can only join the tutoring session if you share the invite link. Here are the steps to follow to tutor effectively on Zoom.
Create a Zoom Account
You can't schedule a Zoom meeting unless you have a Zoom account. So, you must sign up for Zoom and download its desktop application for convenience.
When signing up, select the free or paid subscription, depending on which applies to your case.
Schedule the Zoom Meeting
Open the installed Zoom application and log in using the details you used when signing up. Once you've logged in, click the option to schedule the meeting and add the meeting details, which, in this case, are the details for the tutoring session.
Once you have specified the date and time, copy the invitation link and share it with your student.
Create a Virtual Background
As a tutor, you need to have a presentable background, so even if you are tutoring from home, you can create a classroom environment.
On Zoom, open settings and access the option for background in the video and audio filters. Select the available backgrounds or upload your custom image and set it as your background.
Start the Meeting and Use Visuals
On the scheduled date and time, start your meeting. Be polite and start by greeting the student(s). Create a structure for your teaching and share resources as links or upload documents.
Still, utilize visuals such as whiteboard and screen share while tutoring to ensure you guide the student in the best possible way.
Create Breaks
While tutoring, create breaks to allow the learner to internalize the concepts you've taught. For instance, if using the free Zoom account, the breaks can be set within 40 minutes, and the students can join back for the session.
While tutoring, ensure you understand each student and engage with them.
Create Breakout Rooms
When you have multiple students, consider creating a breakout to group students as part of tutoring. Breakouts act as a way of creating discussion groups for the students to help them share their ideas and work as a team.
End the Session
Once you've exhausted the set duration for your tutoring session, bid your learners and highlight when you will have the next session.
If no learner has a question, close the session and exit Zoom. You've managed to have a successful Zoom session.
Conclusion
Zoom is a good platform for remote tutoring. There are different features you can utilize when using Zoom, and when you follow the seven steps covered in this guide, you will have an easy tutoring session using your Zoom. Have fun tutoring!