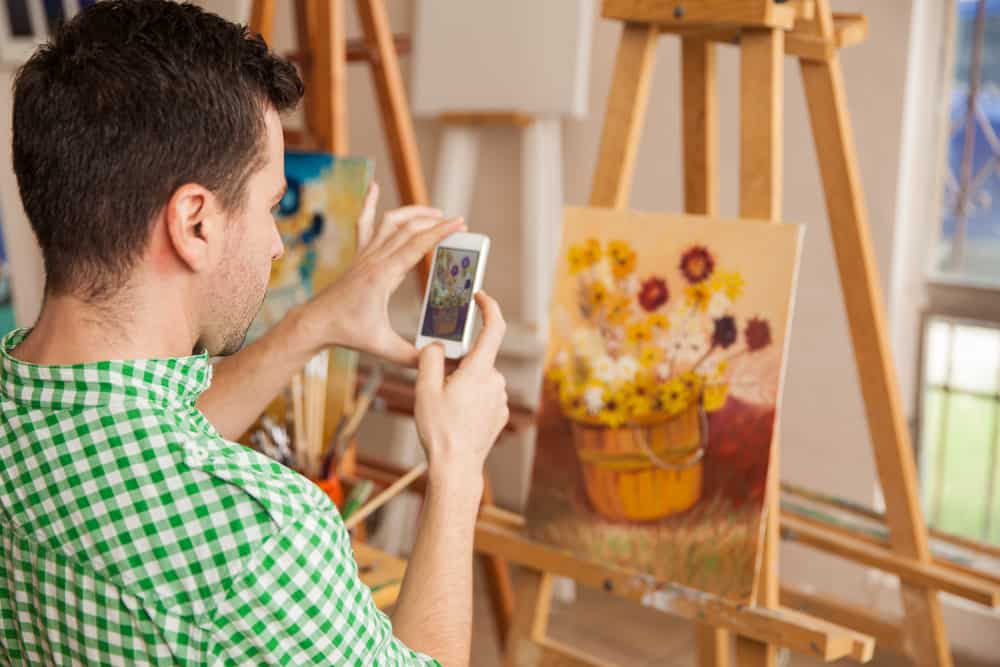 Instagram is reported to have over a billion monthly users. The numbers are great for the company; you can tap on this massive traffic to earn extra income if you are an artist.
The great number of users has made the platform an ideal ground for artists to showcase and sell their art. Besides, Instagram has made it easier for artists to use the platform, customize it, and sell art easily.
Are you trying to sell your art on Instagram? Or perhaps you are starting on the platform? Selling art on Instagram shouldn't be a hassle if you have the right guide. You need a professional creator account and preferably a website. That's it. The rest of the process is showcasing your art and promoting it on the platform to get buyers.
Don't know where to start selling your art on Instagram? Worry less. This guide covers every detail regarding selling art on Instagram. We'll cover why you should use Instagram for selling art, the steps to get started, the tips to become a pro seller, and how best to ensure you never lack buyers for your art. Sound interesting? Let's get started!
Why Use Instagram to Sell Your Art?
If you wonder why you should use Instagram to sell your art, we have all the reasons. Let's begin with the popularity. Instagram is owned by Facebook (Meta), implying that the platform is popular with people of all ages, and businesses are using the platform as a marketing strategy. Therefore, you can easily land great buyers for your art.
Furthermore, most people use Instagram to search for various products or services before buying them. We are talking of around a billion monthly users.
Where else can you get the chance to sell your art to such many potential buyers?
How To Get Started Selling Art on Instagram
Instagram offers an easy way for anyone to sell their art on the platform. No license is needed to start selling, but there are a few things to consider to ensure you get it right.
Ideally, there are four steps to follow, and we will discuss each in depth.
Have an Instagram Professional Account
Here, we are talking about a creator account, not your personal Instagram account. It's through the creator account that buyers can access your art. The best part of having a creator account is that it makes your profile stand out, giving buyers the impression that it's an online shop.
Besides, a creator account has its benefits. You can add promotions or branded content, the DM sorting is more advanced, and you get more insights on top posts and other metrics. As an artist, the metrics matter; you can track various things, like hashtags and audience demographics.
Use the steps below to create your professional account.
Open the Instagram app and log in to your account.
At the top, click on your profile and the menu button at the top right.
Locate and click "Settings" and then scroll down and click "Account".
At the bottom, click the "Switch account type" button.
To switch your account, click "Switch to Creator Account" if you are using a Business Account or "Switch to Professional Account" if you are using a personal Instagram account, then click the "Creator" box.
The first part is done. Your account is properly set up, and the next thing is to make it catchy to your buyers. The look of your profile matters since people make decisions based on what meets the eye. Therefore, ensure your Instagram profile stands out to match your art. The trick lies in ensuring the account reflects your artist identity and your style of art.
Here are some of the things to consider.
Username: the username needs to represent your art.
Bio: people take a keen note of what is in your bio. Ensure its attractive, specific, catchy, formatted, and uses relevant emojis.
Profile picture: your creator account should have your logo, a sample of your art, or username as a profile picture. It's an excellent way to sell your name.
Story Highlights: you should pay keen attention to your highlights. It's recommended to use your art cover images or icons for the highlights.
Category label: as an artist, your labels should include Graphic Designer, Artist, art, etc.
Feed: utilize your feeds to showcase your artwork and other footage clips, such as when creating the art, funny moments, inspirations, etc.
Add Your Website
Before adding your website, connect your Facebook Page with your created account to "fish" more potential buyers. Moreover, the Facebook Page can be a good place for buyers to learn more about your product. Connect the Facebook page using the steps below, then add your products.
While on the Creator Account, click the "Edit Profile" button.
Scroll down under the "Profile Information", locate and click on "Page", then select your Facebook page. It's done!
Do you have a website where buyers can purchase your art? We've successfully created the Instagram account for your art, but we need to give your buyers a place where they can make the purchase. There are various options to create your checkout place, including Etsy and Sellfy.
You can use any commerce site, provided it offers a platform for buyers to make the purchase and suits your need as the seller.
Broadcast and Promote Your Art
Instagram has many potential buyers, but how do you reach them to purchase your art? Here's the kicker; various pro-tips can help skyrocket orders for your art. You are more likely to get more sales if you have a great following. Therefore, the first tip is to focus on growing your Instagram followers.
The tips include:
Hashtags: When creating a post for your art, use catchy and ranking hashtags. Look for hashtags that match artists and category labels to ensure your art reaches many people. Another key trick is to keep the hashtag's density below 1M. That way, your art won't get lost. Lastly, tag accounts related to art.
Be Consistent: Consistency is in terms of your art, the quality, being active in posting, and responding to comments. Where possible, create flash sales and give out free art creatively. For instance, DM various businesses and offer to create art for them if they tag your account.
Promote Your Art: Instagram users enjoy reels and feed. The good news is that you can tap into these by creating reels that promote your art and give links to your account page. Also, create feeds that showcase your art and engage your followers in the comments section.
With the tips above, you will drive traffic to your Instagram creator account and soon have an influx of orders for your art.
Conclusion
We've covered everything you need to know about selling art on Instagram. We've seen the steps to follow, including creating a professional account, linking your Facebook Page and Website, and promoting your art. Hopefully, with this guide, you will tap into the high number of Instagram users to create an income selling your art on the platform.