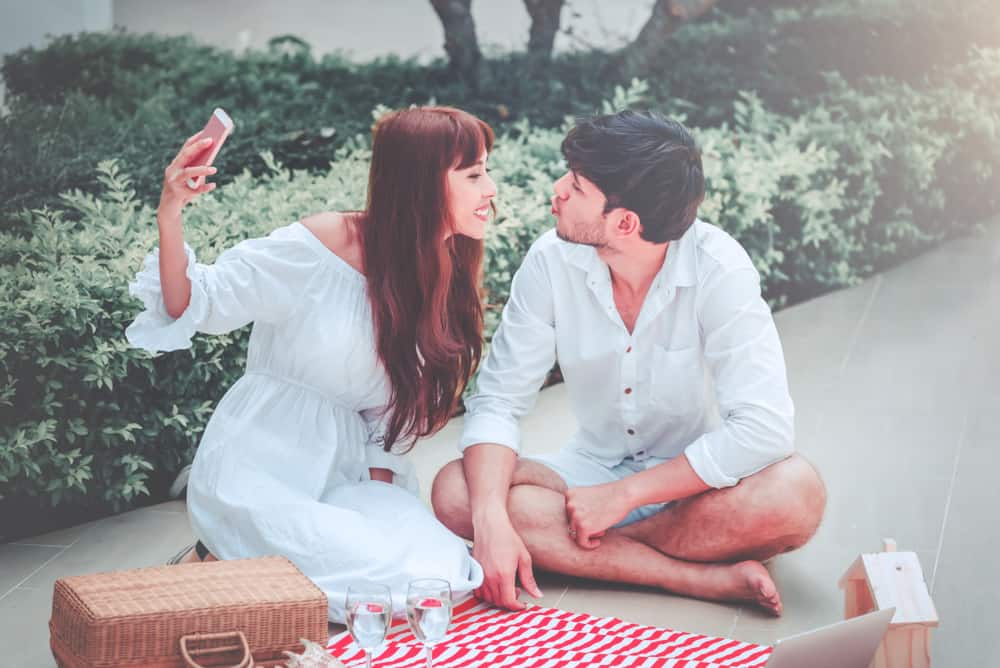 With the normalization of the internet, people prefer dating online and talking to strangers over the Internet in the initial stages of a potential relationship.
It's pretty convenient to start something casual over dating apps and social media apps like "Snapchat," which is a pioneer in this case. So, how to tease someone you see a spark with over Snapchat?
The best way to keep a guy up on his toes and tease him over Snapchat is by:
1. Keeping the tease obvious, straightforward, creative, and funny.
2. Being yourself. So, even when you flirt, you come off as genuine.
3. Knowing what looks good on you and showing your best angles with a slight pinch of sass.
4. A catchy or funny caption to your snap is the key to receiving responses.
Snapchat opens a bundle of opportunities where you can find people and interact with them. Snapchat has plenty of editing tools and filters that make things naturally intimate and thrilling for you.
Let's look at a few techniques that you'll learn here to keep your conversations exciting without sounding too desperate or demanding.
Tips To Flirt Through Snapchat Stories
The best part of Snapchat is that you can choose how to approach someone you want to tease or seduce.
Post a hot snap publicly and not seem too direct? Yes, perfect! Send a private snap and take your chances? Well, many men appreciate natural, effortless, and intimate flirting.
Here are a few more suggestions to help you guide through the "Teasing-With-the-Snaps" phase.
Make It Special Just for Him
Even when you don't want to be direct, you should still leave a hint that the snap was personal in a very subtle way – it could be a specific caption or a Bitmoji.
This could come from any previous chats you've had with him, something he's fond of or has expressed his interest in. I mean, who doesn't like that sort of attention?
Be Cute and Funny
Being cute and funny is something that a lot of men appreciate. It's not something anyone could dislike, right?
Send a cute snap of yourself and make it fun when you don't have interesting topics to talk about. Snapchat filters are literally the best to be used in this case!
Learn to create your own Snapchat filters here.
Make an Effort
The key to being confident with snaps is knowing what looks the best on you. Having a pop of color on your face or putting on something nice that compliments your body curves is a nice trick to grab attention and convey interest to the other person.
You can judge quickly if they're equally interested in you. Otherwise, a sexy snap will do the job.
How Do You Keep the Conversation Interesting on Snapchat?
Snapchat makes your user experience unique. This is mainly because Snapchat was initiated and promoted as Picaboo, a space where you could openly interact with people with naughty intentions.
There are many ways to flirt with men and keep them interested in the conversation. All these behaviors discussed below are pretty malleable, and you can use them according to your situation.
Here are a few tips to keep your conversation interesting on Snapchat.
Initiate Conversations
Snapping each other and sending videos is fantastic, but directly sending messages is also a decisive move.
Text conversations mean more when it comes to online flirting. Here are a few suggestions to initiate the conversation and engage with your gentleman.
Texting is supposed to be quick and windy when it comes to flirting.
Say things like "Oh, this color looks great on you btw" or "you're not too bad at this either" (add a winking face ;) or a naughty emoji).
Small and random texts are influential in initiating long, in-depth conversations.
Be assertive. Don't be afraid to take the next step to meet up or call if the chat gets too lengthy.
Keep the Tone Playful and Exciting 
Is the conversation getting a bit too dull or repetitive at this point? Don't worry because it's bound to happen at one point if you don't meet up or are restricted by distance.
Mix things a little. Trying new things and changing the monotonous tone or medium of exchange can make things exciting again. So, don't feel helpless sitting in your room.
Jump From Texting to Calling

If the change in conversation from being flirty to sexually coded chats is obvious, and you don't want that, it's best to reevaluate things.
Use the Snapchat features to audio call or video call so you don't seem too direct asking to meet up next.
Express Your Creativity
Haven't used your creativity in quite a while? Now is the time to use your skills and show them what you got (pun intended!).
The toolkit on Snapchat has a set of multiple features that will transform your mundane snap into a flirty Snapsterpiece. You'll find these tools on the right of your screen.
Try to add relatable stickers. Doodle using pen tools or change your voice so that it gives a funny impression.
The possibilities are endless. Feel free to use whatever you're comfortable with.
A Few Turn Ons for Snapchat
Even if you think you're good at flirting and aren't afraid to put yourself out there, you should know a few things that make your flirt game effective.
These two suggestions given below should work!
Making Your Absence Felt
Let's stick to the rule of "less is more."
Sometimes being unavailable only makes the other person yearn for you more. This trick has been effective in many situations and almost brings the results in.
Focus on Him
Focusing on him should be a priority when flirting, whether on an in-person date or just a conversation over Snapchat.
Get to know him first, question each other about your interests, and make sure you're listening to him with ultimate attention and interest.
A Few Turn Offs on Snapchat
Many things could go wrong when you start obsessing with someone new over Snapchat. The ones most common are mentioned below and can be highly off-putting.
Bombarding Him With Multiple Snaps
Constantly sending snaps of whatever you're doing throughout the day might put him off and make him uninterested.
For example, if you attend an event and bombard him with multiple snaps, he might ignore it and think you're trying too hard.
So let's just stick to the things that both of you are interested in and can relate to.
Be Considerate
If you're being playful and constantly joking, make sure you don't hit the wrong spot. Getting to know someone at first can also be quite complicated since you have to gauge their behavior and figure out what they might be tolerant to.
So try to stay a little bit cool, loosen up over Snapchat conversations, and suggest a meetup if the texting gets too personal or profound.
Endnote
Even if you don't consider yourself someone who doesn't open up a lot over online dating sites or social media platforms, Snapchat makes it pretty comfortable and easy to meet and flirt with someone.
Remember not to be too available or go over the line when joking. Keep the environment playful and exciting. Make your presence known and be creative with your snaps using the many artistic tools on Snapchat.
Follow the flirting rules mentioned in the article and see your flirt game change overnight.