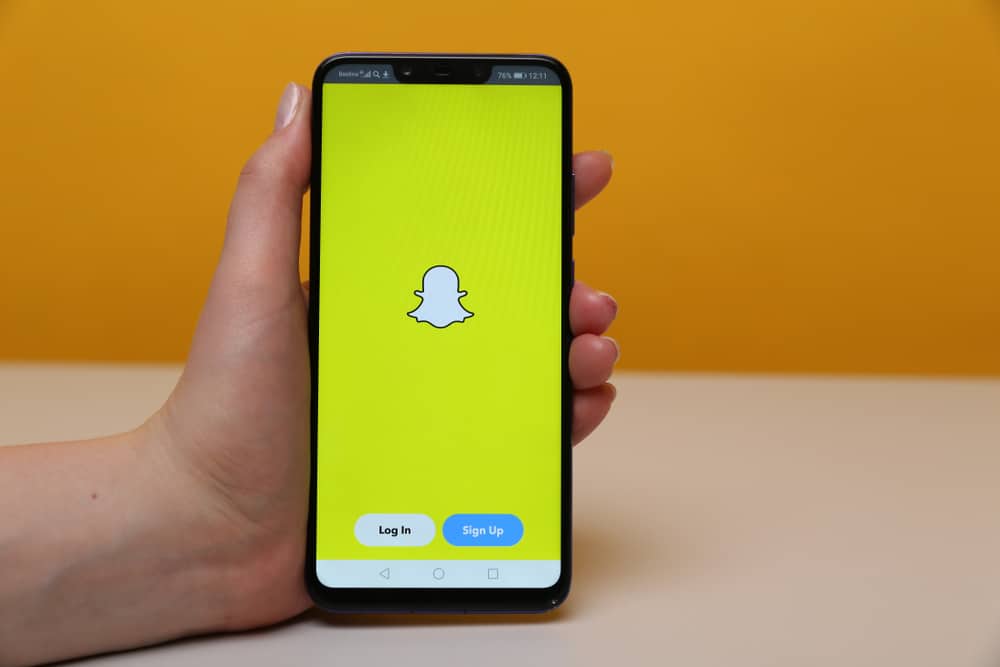 The fact that you have to hold down the button for the duration of the recording is a big drawback of using the Snapchat app to make videos. While there is no official method from Snapchat to self-record without holding down the button the entire time, there is a workaround for this.
The most straightforward way is to start recording a swipe left towards the lock icon to begin recording automatically. However, if you would like to do it completely hands-free, it gets a bit more tricky. With an iPhone, you can make a custom accessibility gesture. However, if you're on Android, you'll need to find a workaround.
So, if you've been having issues trying to take a self-record on Snapchat, this guide will do justice to that as we proceed. Without much further ado, let's see how to self-record on Snapchat below.
How to Self-Record on Snapchat on Any Device
You can easily self-record on any device provided that you start the recording yourself. Here is how:
Open Snapchat on your device.
Hold down the circle button to start recording. A lock icon appears.
Swipe left towards the lock icon to record hands-free.
However, if you, for some reason, need to do it entirely without starting recording yourself. You need a workaround. On iOS devices, it is easy, but not on Androids.
How To Self Record on Snapchat Using iPhone
If you've got an iPhone and wish to record without pressing the button down in Snapchat, you may do so with AssistiveTouch, an accessibility feature on iOS. The AssistiveTouch technology makes the phone easier to use if you have trouble with motor skills or the dexterity necessary to use physical buttons on the phone.
With that said, follow these steps to activate this setting feature.
Step #1: Go to Settings
To begin, head straight to the Settings app and tap the Accessibility menu.
Step #2: Select the Touch Feature
Now, proceed by selecting Touch. Click on AssistiveTouch.
Step #3: Enable the Toggle AssistiveTouch
Next, toggle the AssistiveTouch on (i.e., make the switch green). A little grey square with a white circle in the center should show on the screen.
Step #4: Choose "Create New Gesture" From the Menu
After you've enabled AssistiveTouch, go to the bottom of the page and choose "Create New Gesture." Press and hold the phone's center button until the blue bar at the bottom gets filled. Save the Gesture and name it.
Step #5: Launch the Snapchat Application
When you open Snapchat, you'll notice the grey square once more. Tap "Custom" after selecting the square icon.
Step #6: Select the Created Gesture
Now, select the Gesture that you just made. A grey circle should appear in the center of your Snapchat page. The custom gesture you just generated will be performed by this circle (i.e., For a few seconds, it will hold down a button).
Step #7: Drag the Grey Circle and Begin Recording
You'll see a grey circle on top of the Snapchat record button; drag it. After a one-second wait, the recording should begin. With that done, you no longer need to hold down the record button to record your Snap.
How to Self Record on Snapchat Using Android
Unfortunately, this feature does not exist on Android. Even though there are accessibility features on the OS, generating a gesture is not one of them. However, you can get past it with an eraser and elastic band. It works, albeit being a little awkward.
Method #1: Place an Eraser Over the Record Button
You'll need a little eraser or the end of a pencil chopped off to free up the eraser, as well as a tough elastic band. Put the eraser over the Snapchat record icon on your screen and wrap the elastic band around it to keep it securely in place. Setup Snapchat to record, and it should keep recording for the entire 10 seconds.
The trick here is to maintain the elastic band taut enough to hold the record button without snapping. Since the eraser is soft, it won't scratch your screen, so there's no need to worry.
Method #2: Hold Down the Volume Button With an Elastic Band
Switch the controls such that a volume button controls recording. Adjust the elastic band to secure the button in place.
Conclusion
Self-recording on Snapchat is easy to do on iPhone. However, you can do it using both iPhone and Android devices, though it looks complicated on Android.
While it's much easier on an iPhone device, the Android counterpart requires you to use some workarounds to self-record on Snapchat. Hopefully, with the steps above, you should be able to get things started straight away.
FAQs
Is it possible to configure Snapchat to record automatically?
Yes, you can configure Snapchat to record automatically. Start recording a video as usual by holding down the record button at the bottom of the screen. A little 'lock' sign will display next to the record button as soon as you start recording.
Can I have a hands-free record on Snapchat?
Using the AssistiveTouch feature on an iPhone, you may effortlessly record hands-free. Unfortunately, this feature does not exist on Android. Fortunately, there is a workaround described in this guide.
Will I be notified if my Snaps are screen recorded?
When your photos are screenshotted for some reason, Snapchat sends you a notification. It protects your privacy by letting you know who is recording your snaps.