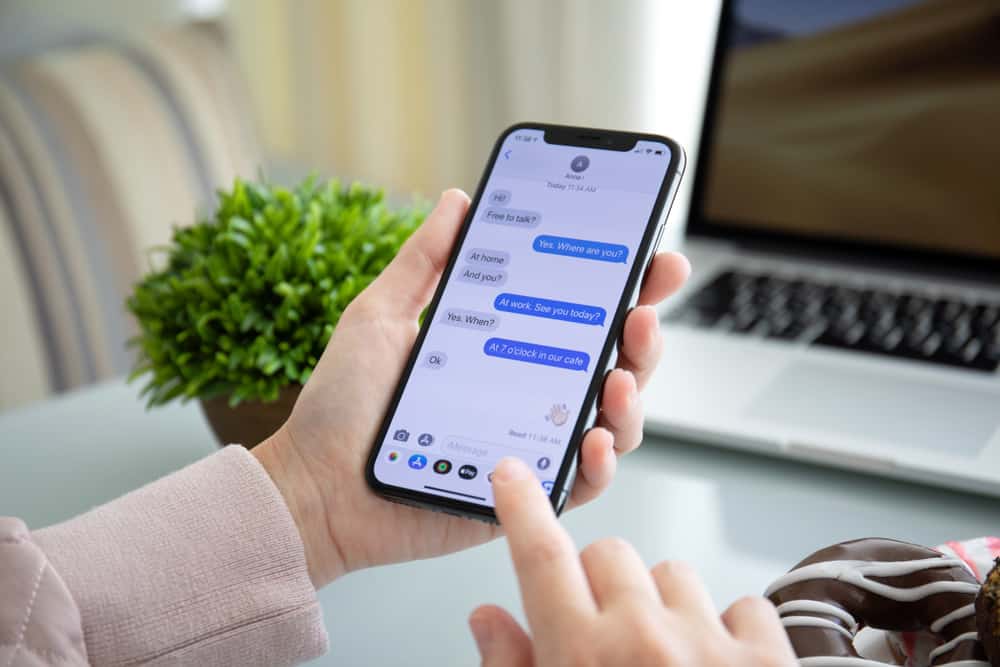 iMessage is one of the best messaging platforms on iOS devices. It allows you to communicate with fellow Apple users in real time. It looks similar to many external messaging apps but has cool features like sending media files, pinning important conversations, and adding screen effects to make your messages exciting.
If you chat a lot, there is a high chance that you will have loads of messages. This is alright and won't affect your device. However, It could be challenging when you need a particular text in your chat. Knowing how to search iMessage by date can help in this situation.
To search iMessage by date:
1. Swipe down, so the search box appears at the top of the chat list.
2. Enter the phone number/keywords into the search box.
3. You will see matching results listed with the keywords and their dates.
4. Tap on the target date you want.
There are other alternatives you can use to search iMessage by date. Knowing them will give you more options to search for your messages. All of these methods and steps will be explored in this guide. Read to the end to find out.
What Is the Meaning of iMessage?
iMessage is Apple's instant messaging platform. Only people who use iOS devices, like iPhones, iPad, and Macs, can message one another on iMessage.
The app is similar to other messaging platforms but with better features. You may send stickers, GIFs, emojis, and media files to other Apple users over the internet.
While both iMessage and text message apps look the same, they are different. To start with, iMessage requires a stable internet connection to work properly.
In addition, you can't send messages to android users from iMessage. Check the following paragraphs for other benefits of using iMessage.
What Are the Features of iMessage?
Below are some features that set iMessage apart from regular messaging apps.
Feature #1: Privacy
One of the ways iMessage stands out from other messaging apps is that it offers end-to-end encryption.
That means that everything you send as an iMessage is protected. No one (Not even Apple) can intercept or read the message you send except the receiver.
Feature #2: Effects and Stickers
One way to enjoy your chats is to customize them with effects, stickers, and images. Thankfully, Apple provides this for free.
For instance, if your phone uses a face ID, you can add effects to emphasize what you want to say or send your facial expression with an emoji video.
Feature #3: Read Receipts
iMessage lets you know if someone has received your message. When a friend gets your iMessage, the app says "Delivered" in a small font below the bubble in the Messages app.
Once the recipient opens it, the message changes to "Read" with the time next to it.
Feature #4: Send More Information
Besides text messages, iMessage allows you to send GIFs, photos, videos, files, audio and video recordings, locations, Memoji animations, links, etc.
That means you can convey your messages other than using text.
Feature #5: Group Conversation
iMessage conversation isn't limited to two individuals. You can have a group chat with many people at the same time.
The features above make iMessage a better alternative for many people. As you chat with multiple people, your device stores these unlimited messages. Searching for a specific message will be difficult when you receive large messages daily.
A seamless way to do this is to search for the message by date. Therefore, many people wonder how to search for an iMessage by date.
Searching iMessage by Date
When your phone stores messages from iMessage, a quick way to find them is to search for them by date. Check the following strategies to search iMessage by date.
Method #1: Direct Search From iMessage
Currently, searching for a message by date isn't possible from within the messaging app on the phone itself. Nonetheless, you can search from within the iMessage app. Here is how:
Open the iMessage app on your device.
Swipe down the conversation list so the search box appears at the top.
Enter the phone number/keywords into the search box.
The matching results will appear below with the keywords you entered and respective dates.
Tap your target date to view the message.
Method #2: The Spotlight Search Function
Another strategy to search iMessage by date is to use the spotlight search function. The Spotlight search function is a feature that allows you to find contacts, music, apps, and other things on your device.
You can find messages from a contact or with a particular keyword. To use the spotlight function:
Swipe down from the center of your home screen.
Enter the keyword or phrase of the text message you are looking for in this search bar to see all related results.
Scroll down and see the timestamps on the right side of the message bubbles.
Select your target message with the date.
The Spotlight method of searching for iMessage by date works only with messages stored on your device. If you have lost some of your text messages, this method won't help.
Conclusion
iMessage is a messaging platform for Apple devices. If you have been chatting for a long time or you usually send and receive lots of messages daily, your phone will store your messages.
Getting a particular message from your past chats can be difficult. You can recover iMessage by date by following the steps in this guide.