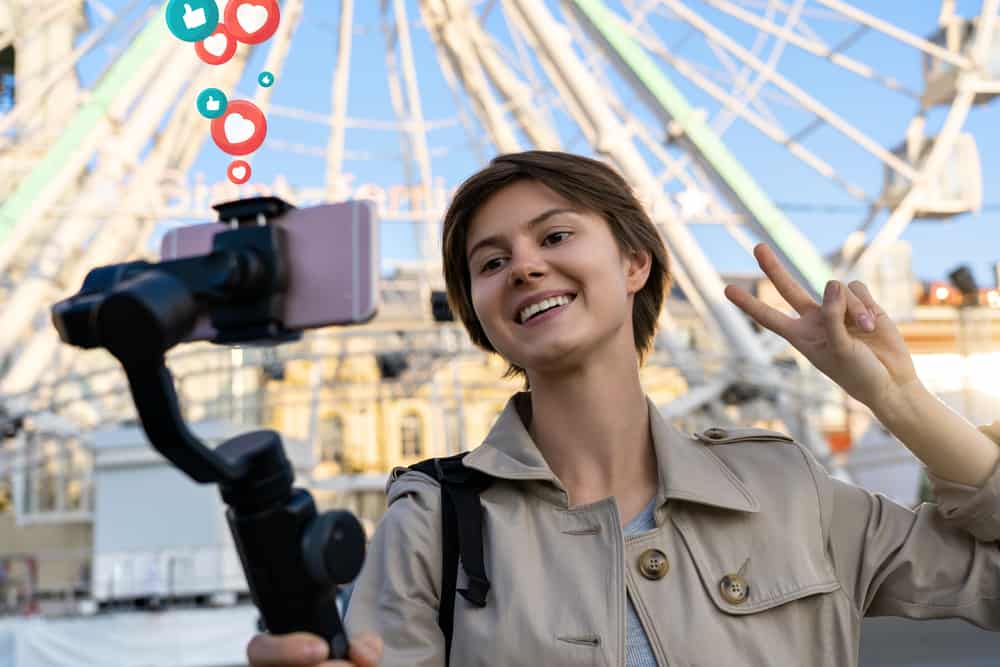 Instagram has been the platform for many users to live stream events going on with the user. Instagram live is a live video stream on the Instagram app.
Sharing live streams on IG is an effective brand promotion tool. You can get closer to your best public figure since this person gets to reveal things hidden from the audience in a live stream.
It's easy to record an Instagram live if you have the screen record function inbuilt on your mobile. You can record any event when you have this function on your smartphone. This feature is open on phones with an iOS 14 or Andriod 11 or higher operating system. But if you have a lower OS, you need not worry, as using third-party apps is possible.
Screen recording is when you use your phone to record your Instagram live feed. As said earlier, you will need a third-party app like V-Recorder to do this if the feature isn't on your phone. You can also use some Chrome extensions to carry out this move on your PC.
This guide will explore the options for recording IG live on the two main systems, iOS and Andriod. Also, we will explain how you can do it on your PC.
Step-by-Step Guide on How To Record Instagram Live
Recently, Instagram has gone beyond its main aim of sharing photos and begun adding new ideas. The live broadcast is one of these beautiful ideas which allows get a live feed and update from your loved ones. Since adding it, the live video, also known as live, has been one of the features preferred by millions of users.
You can start an Instagram live session to help you connect with your followers in real-time. This is possible by opening your Instagram and clicking on the cross feed icon at the top right of the app. You'll then swipe to the right to choose live and click the white button to start the session. Once you end the live session, you can save or upload the video on IGTV.
But a downside is that there's no other way to save others' IG live than to record your phone's screen during the event. Yet, there are countless tricks to help you record an IG live, which we'll discuss in the section below:
Method #1: Using a Third-Party App
This trick is best for users who want to record using a phone without an inbuilt screen record feature. Although the function is available on certain iOS devices, such as iOS 12 or higher and Android 11, you can easily do it on such devices.
You can use apps like Mobizen, V-Recorder, etc., to achieve this on devices without the feature. The Mobizen app is available for use on both iPhone and Android devices.
Here's how to use the Mobizen app to record Instagram live:
Go to the App Store or Google Play Store to download and install the Mobizen app.
Open your Instagram, log in to your account and click on the live video.
Launch the Mobizen App, and press the record button to start recording.
Click on the icon with a white square in the center to stop the recording.
You can edit this video to your taste after completing this IG live video record. This app lets you add an intro, outro, and cut video parts. You may either watch the video or shut everything off to later view it in your gallery. Your smartphone's internal storage has the Mobizen folder, which contains all the files.
Method #2: Using Extensions on Your PC Browser
Suppose you want to record Instagram live while using your PC browser. In that case, you can download plugins on your Chrome, Firefox, or Opera browser.
The process is identical regardless of the browser or plugin you'll download. Thus for this article, we'll look at how to work with the extension using the Stories App for Instagram.
Here's how to use the Stories App plugin to record Instagram live on PC:
Open the Chrome store, and search Stories App for Instagram.
Download and Install it by clicking on the "Add to Chrome" option.
Click on the extension icon beside the address bar at the top right corner to activate it.
Click on the pin option to pin the extension to the side address bar.
Afterward, go to Instagram, and locate the live broadcast of interest.
Open the video; you'll see an icon marked as "download" in the upper right corner.
Click on the icon, and the recording will start downloading to your computer.
Once downloaded, you can open the video and view it on your computer anytime.
This method suits you if you use Instagram on your PC. Sometimes, you decide to view a video recording on a larger screen and not on your phone. You may need to download or record a live broadcast from your PC using the processes we explained above.
Conclusion
As you can see, there are no challenges in recording Instagram live videos.
Since no official app backs this feature, you'll need a screen recorder to save others' live videos.
Also, you don't have to go through all these if you use a smartphone with an inbuilt screen recording option.
You can check our article on how to screen record on Instagram if the feature is available on your device.