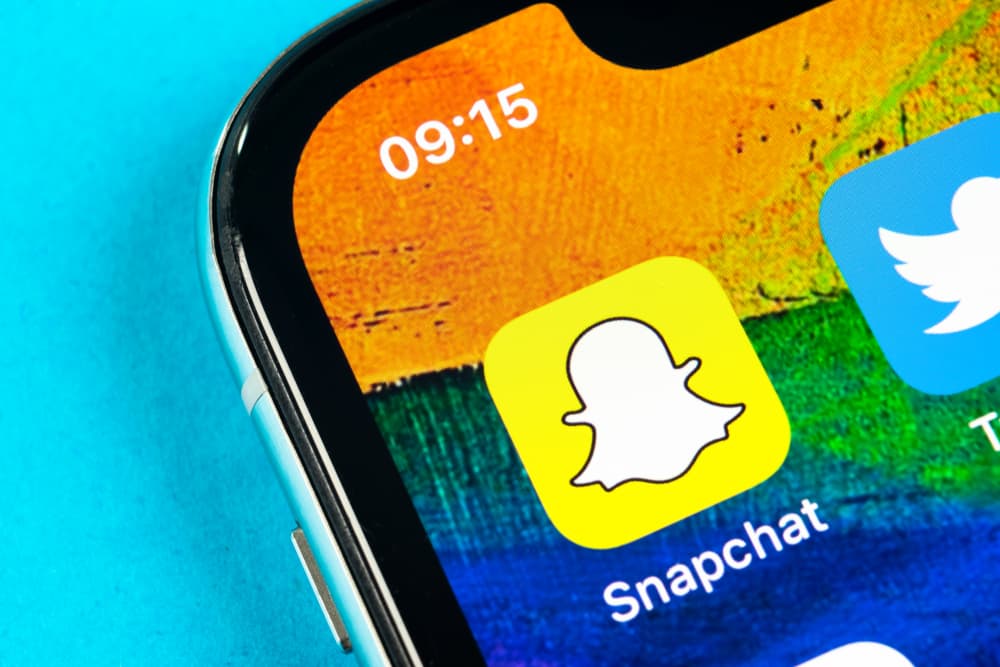 Snapchat is a mobile application where you can share your stories in the form of short videos and connect with friends all over the world. Besides its easy-to-navigate interface, Snapchat is famous for its world map that shows your friends' locations. This is truly an impressive feature of Snapchat that outperforms other competitors in the same field.
However, many of you may find it unsafe to share the current locations. This is why you should enable the Ghost mode in the Settings section on Snapchat. The first method is to navigate to your profile, scroll down until you spot Snap Map, tap on Sharing Location and enable ghost mode. The second method requires you to open Map on Snapchat, click the "gear" icon to open Settings, and there you can enable ghost mode.
This article will cover step-by-step instructions on how to go Ghost mode on Snapchat. Without further ado, let's get this show on the road!
What Is Ghost Mode on Snapchat
As mentioned above, Snap Map is an outstanding feature that informs your friends' locations approximately. Vice versa, your friends on Snapchat always get the latest update of your location whenever they access the app. However, your location updates only when you open Snapchat.
However, it works exactly like a location-tracking tool, and it's not funny if someone updates your activity every second. Thus, Ghost mode comes as a rescue for you to hide the location to other friends on Snapchat. This greatly helps you save yourself from those trying to harass you on the Internet.
If you're looking for a tutorial to stop Snapchat from sharing your location with your friends, this article is what you need. Let's dig into the details!
Step #1: Login or Sign Up for Snapchat
To begin, you'll need to access Snapchat using the account you've registered and verified previously.
If you haven't had an account yet, don't hesitate to create a new one, as this is a decent app that activates free conversations between you and your friends.
Go to your App Store or Google Play and download the Snapchat app. Once it is installed, open the app and tap "Sign Up." Then, Snapchat will require you to answer some basic questions about yourself, including name, birthday, username, email, etc.
Don't forget to verify your account by email, and then you're officially a user of this app.
One notable thing about Snapchat is that it smartly recognizes your face and creates a 3D Selfie version of yours. This is called Bitmoji, or your profile picture on Snapchat, and you can take another selfie anytime you want. Then, you can change your hair or eye color and choose your preferred outfit.
Step #2: Navigate to the Settings Section
Indeed, Snapchat gets its name on the scoresheet thanks to its simple navigation bar. You'll need to access the Settings section to change your location status.
From your Snapchat homepage, please tap on the profile picture in the screen's top-left corner. You'll be redirected to a new screen showing your account details. Then, scroll to the end, and there's a Snap Map section where you can see your Bitmoji on a world map.
You can also access the Settings section by opening the map on Snapchat and clicking the gear icon on the Snap Map screen, usually at the top-right corner.
Step #3: Turn On the Ghost Mode on Snapchat
In the Settings section, you can choose from several options regarding the location status. If you don't want to appear on Snapchat, the Ghost mode is an ideal choice for you.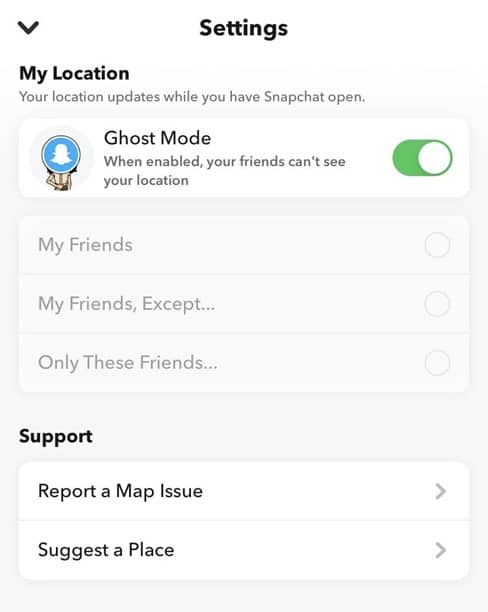 Once you enable this mode, Snapchat will ask you the duration you want your location to be hidden from other friends. You can keep the Ghost mode on for 3 hours, 24 hours, or until you want to appear once again on Snapchat.
Besides the Ghost mode, you can hide your location from some of your friends by selecting "My Friends, Except…". On the reverse side, the "Only These Friends" option allows you to be "visible" to some specific friends.
Once you're on the Ghost mode, your location won't be updated, although you're on the app. However, Snapchat still allows your friends to send a request, and they can see your Bitmoji on the Snap Map once you accept that request.
Conclusion
Woohoo! Now your location is completely hidden from other friends on the Snap Map. Keep following us for more tips and tricks on Snapchat and other social platforms!