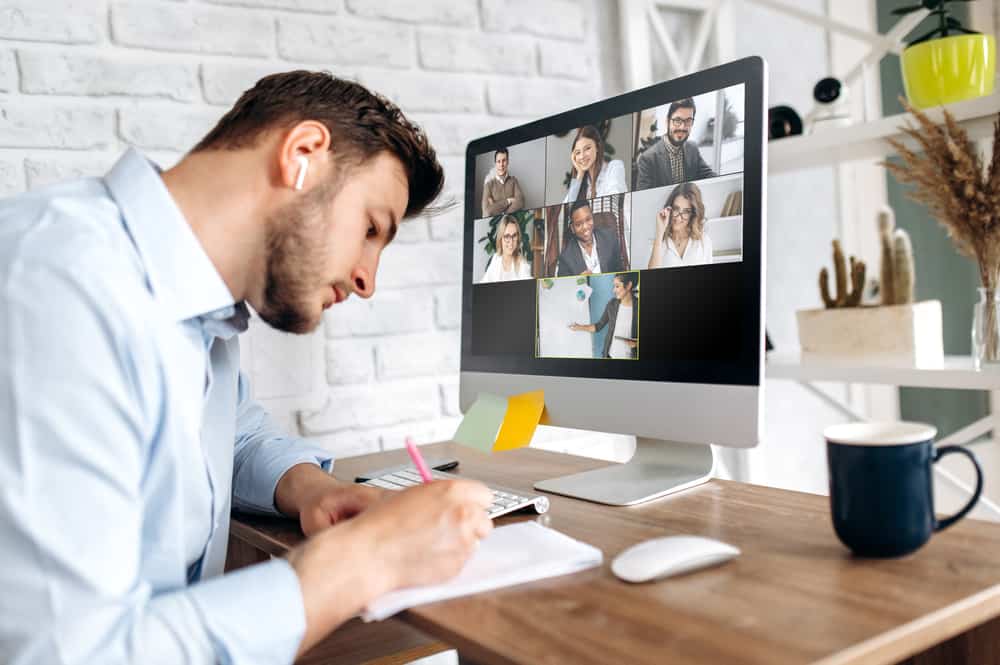 Zoom meetings are becoming a norm, and they may fatigue you.
When it involves work meetings or classes, you may have no option other than attending the meeting. But, when you have something important to attend and don't want to switch your camera off and appear you missed the meeting, you can fake you are paying attention.
This guide has presented a simple way of faking to pay attention if you don't know how to achieve it.
Faking attention is now easy with Zoom attention being disabled. An easy way of appearing you are paying attention when you are not is using a looping video of yourself attending the meeting. You must record a video of yourself and appear to be actively taking notes, then when you want to go somewhere, set the video as your background.
This guide will explain the attention feature on Zoom and present a simple way you can fake you are paying attention. Moreover, it will highlight important facts you must consider when faking to pay attention on Zoom.
Does Zoom Have an Attention Feature?
When Zoom's usage skyrocketed, the app developed a way of improving it. One feature that was added was attention tracking, and it was introduced as a way of ensuring people took Zoom meetings seriously.
Although the feature was important, it made some users shy away from using it because people felt they did not have freedom.
When the feature was in place, if you clicked away from the Zoom window for more than half a minute, it indicated you were away.
Zoom removed the feature in April 2020 because many users never liked it. Even though it was removed, it is not guaranteed that you won't be spotted when you are not paying attention.
How To Fake Paying Attention on Zoom
Even though Zoom does not have an attendance tracking feature, it is easy to tell you are not paying attention on Zoom when your camera goes off, or people notice you are unavailable.
But because of the boredom, you may experience during Zoom meetings, you may find it necessary to take a break without asking for permission.
The best way of faking your attention on Zoom is to set a video of yourself actively participating in a meeting as your background.
To achieve that, you can perform the steps below:
Open Zoom on your computer and sign in.
Click the profile icon to open Zoom settings.
Choose "Recording" from "Settings".
Mark the "Optimize for 3rd party video editor" checkbox.
Go to the "Background & Filters" tab and select "Virtual Backgrounds".
Navigate to the bottom and choose "Mirror my video" if you want to use a video of yourself.
Navigate to the main screen and select the "New Meeting" option.
Position yourself in your usual meeting place.
Tap the "Record" option at the bottom and record a video of yourself for a minute.
Tap "End" to end the meeting.
Choose the addition icon on the right side in the "Backgrounds and Filters" section.
Tap the "Add Video" option and select where your recorded video is stored.
Choose the background to set the video.
If you walk away, the video of yourself listening to a meeting will continue playing.
Thus, no one will realize it is a background showing and you are missing.
Considerations When Faking Paying Attention on Zoom
The trick explained above is the best to fake you are paying attention because everyone will see you are in the meeting. But you must consider various factors to ensure you don't raise suspicions.
The following are important considerations when making the video of yourself that would be used as the background.
Record the background video when you are having the Zoom meeting.
Wear the same clothes used in the recording during the meeting day.
The important fact is to ensure there is nothing that will raise suspicions. Therefore, all elements must line up and look real such that no one will notice when you are missing or available.
Although cheating is not encouraged, the above trick will enable you to do other things during a Zoom meeting. Moreover, you can record the meeting later to ensure you don't miss important updates.
Conclusion
Zoom meetings can be boring sometimes, and you may need to grab something in the fridge or take a short break.
In such a case, you may not want to see people leaving the meeting every few minutes.
The guide has explained a simple trick when you want to fake, you are paying attention in a Zoom meeting.
Moreover, it has highlighted important considerations to ensure no one discovers your trick.
Frequently Asked Questions
Can I fake paying attention on Zoom?
Faking to pay attention on Zoom is easy using a virtual background. You need to record a video of yourself and use it as your background; no one will tell you when you are missing from the Zoom meeting.