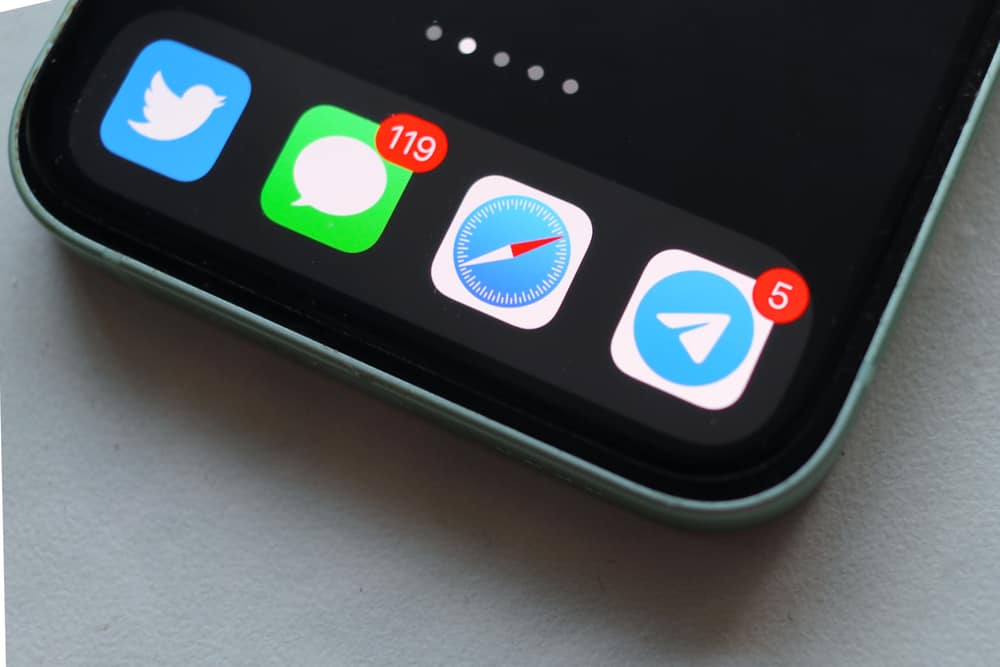 iMessage is an instant messaging app created by Apple Inc's engineers for Apple users.
With the iMessage app, you can send text, pictures, videos, and documents, play games, or send your location to other Apple users who have enabled iMessage feature on their devices.
iMessages can stay on your device for a significant amount of time. Do you wonder how long iMessages remain on your device? Allow us to answer it!
iMessages stay in your Apple device forever until you do not physically delete them. It means the first message you received from a particular contact to the last one will remain saved unless you run out of storage or manually delete them. However, you can set a time for the automatic deletion of iMessages. With this, your device will automatically delete messages or iMessages that exceed the specified time limit (e.g., 1 month or 1 year).
Let's dive in and explore how long your iMessages stay on your device and how you can auto-delete them after a month or year.
iMessage | An Instant Messaging Platform by Apple
iMessage is an instant messaging app that Apple has designed for its users. This platform works on iOS, macOS, iPadOS, and watchOS. So, technically, it is available on iPhone, iPad, iPod, and even your Apple watch.
It is a fun feature that lets you send messages and shows the delivery status of those messages (like WhatsApp).
Additionally, you can share your pictures, videos, and documents and even send your location. You can even play iMessage games to amp up your conversations with your mates. 
Another thing worth noting is that the iMessages are encrypted, so you do not have to worry about anybody in Apple's HQ reading your messages.
To use the iMessage feature, you must turn it on your device.
To turn on iMessage on your iOS device, go like this:
Open Settings on your iOS device.
Scroll down and tap on "Messages."
Turn on the "iMessage" toggle.
After this, you can send and receive iMessages on your device. Now, you can send iMessages to an Apple device user who has enabled the iMessage feature on their device. 
When you send an iMessage, it will show as a blue text bubble. If you see a green text bubble, it shows that an SMS has been sent. It could be because the contact does not have the iMessage app (Android users), your iMessage is disabled, or your internet connection is off.
How Far Back Do iMessages Go?
Your iPhone or other Apple device will keep your iMessages and even SMS-s until it can. In simple words, your iMessages will remain on your device until you do not manually delete them or run out of space.
It is worth noting that iMessages do not take up significant space on your device. 
So, the gist, your iMessages and even other messages on your iPhone, iPad, or whatever will remain forever. 
For example, if someone first sent you an iMessage in 2014, and their last message was Jan 2023, then the whole stream of Messages must be in your device (provided you have not deleted them).
You can even back up your iMessage to iCloud to store these messages on iCloud space to access them on any Apple device.
If you do not like old messages from people from the past unnecessarily consuming space in your device, you can delete them manually. The better option for you is to set a time to enable the auto-deletion of the messages.
How To Automatically Delete iMessages After Certain Period?
To make your old messages automatically deleted or prevent the piling of new messages from taking space in your device, go like this:
Open Settings on your iOS device.
Scroll down and select "Messages."
Under "Messages History," tap on "Keep Messages."
Select between these options:

30 Days – auto-delete messages older than 30 days.
1 Year – auto-delete messages older than one year.
Forever – keep all messages forever on your device.

If you select "30 days" or "1 year," you will get a pop-up to confirm your selection.
Tap on "Delete."
Now, your Apple device will delete all your iMessages and iMessage media older than the set period. Similarly, it will prevent future hoarding of messages older than your set time.
Deleting iMessages will not delete pictures and videos saved in the photos app.
Conclusion
So, we learned that iPhone, iPad, iPod, or wherever you have iMessages, will not dare to delete them on its own unless you manually do it. You can delete iMessages manually or set a time for their auto-deletion on your device. 
When you resort to the auto-deletion route, it will prevent messages from piling up on your device and take unnecessary space in the future.
So, open your iPhone now, and delete those reminiscent of past relationships or long-lost people lingering in your devices and consuming space for no reason.