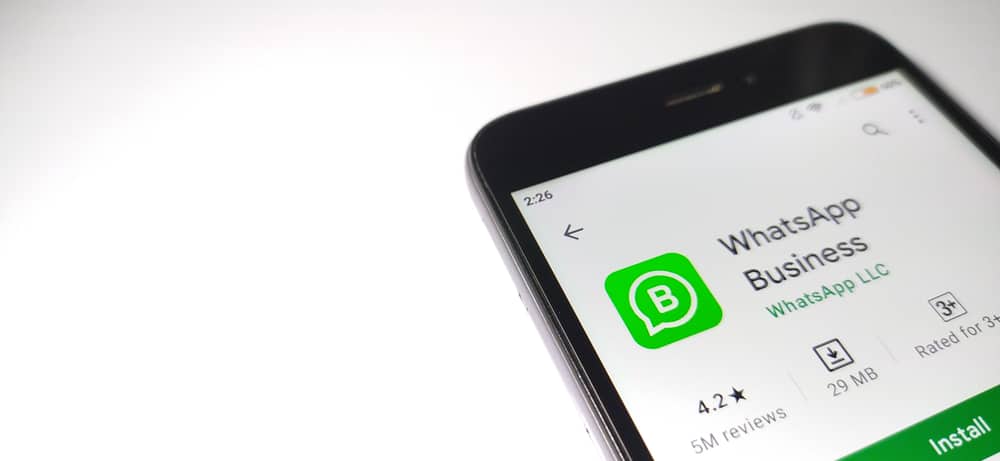 Did you know that WhatsApp users send at least 100 billion messages to each other daily?
That said, many business owners saw that WhatsApp would be a great platform to market and interact with their clients, but that wasn't always convenient.
Therefore, in 2018, WhatsApp Business was launched.
However, many people don't know the difference between WhatsApp and WhatsApp Business. So, what's the difference?
The main difference between WhatsApp and WhatsApp Business is the functionality. One was made for users to have one-on-one chats with their friends and family, while the other was designed to offer business owners a platform to chat with their clients.
Learn more about the differences and similarities between WhatsApp and WhatsApp Business from the post below!
Outstanding Differences Between WhatsApp and WhatsApp Business
Considering the number of people who use WhatsApp daily, it's safe to say many of us love the functionality and design of the app.
However, as a small business owner, you will benefit more from WhatsApp Business. Aside from having all the features we love about WhatsApp, it has additional ones designed to help run your business easier.
Below are some of the said differences.
Difference #1: Automated Messages
Often, small business owners have limited employees; therefore, it's difficult for someone to be on customer support duty whenever a customer needs assistance.
Thankfully, in the WhatsApp Business, you can set automated messages.
There are three types of automated messages that you can employ-
Greetings
Every time a customer comes to your profile, an automatic message introducing your business, letting them know you will attend to them shortly, or simply just thanking them for visiting your page will be sent to them.
This gives your business a more personal feel, and the customer doesn't feel neglected.
Answers to FAQs
It's normal for customers to keep asking the same questions as other clients.
To save yourself the hassle of typing out the same answer every time, you can set up a menu with answers to FAQs so that every time you need a response, you simply click on it from the menu.
Away Messages
If the customer texts you outside of working hours, you can automate a message that reminds them of the working hours.
This way, they don't feel ignored, and you don't get overwhelmed.
Difference #2: Business Tools
As the name suggests, WhatsApp Business is packed with many business tools tailored to help businesses run their affairs.
Some business tools not found on regular WhatsApp include the following.
Short Links
This allows you to generate a link or QR code to share on other platforms, posters, etc., to generate traffic flow to your business.
Therefore, whenever someone sees an advert for your business somewhere, all they need to do is click on the link, and they will be directed to your WhatsApp Business account for further inquiry.
Ability to Label Customers
To help you keep track of your clients and their needs, WhatsApp Business allows you to label their conversations.
For perspective, some labels you can give include returning customers, pending complaints, refunds needed, pleased customers, and so forth.
Catalog
You can create a catalog with your products or services on WhatsApp Business.
This way, instead of explaining to each client what you are offering them, they can quickly peruse your profile and see it themselves.
Difference #3: Business Profile
Unlike WhatsApp, WhatsApp Business needs you to verify your business phone number. This is advantageous in many ways.
First, it gives the client confidence that they are talking to the right business owner, not someone masquerading as them.
Also, you can put up a lot of helpful information on your WhatsApp Business profile, such as physical location, link to your website, company description, business logo, etc.
Difference #4: Allows You to Track Analytics
One of the most valuable features of WhatsApp Business is that it allows business owners to track their analytics.
For example, you can learn how many messages were read, received, delivered, etc. This way, you know who you need to text back and who you need to expect a reply from.
This feature is sadly not available for regular WhatsApp.
Conclusion
While the fundamental design of WhatsApp and WhatsApp Business is the same, they have significant differences, as seen in the post above.
Therefore, as a business owner, you should take advantage of WhatsApp Business because it is free and offers many benefits.
Thankfully, opening an account in both is simple and so is the user interface.