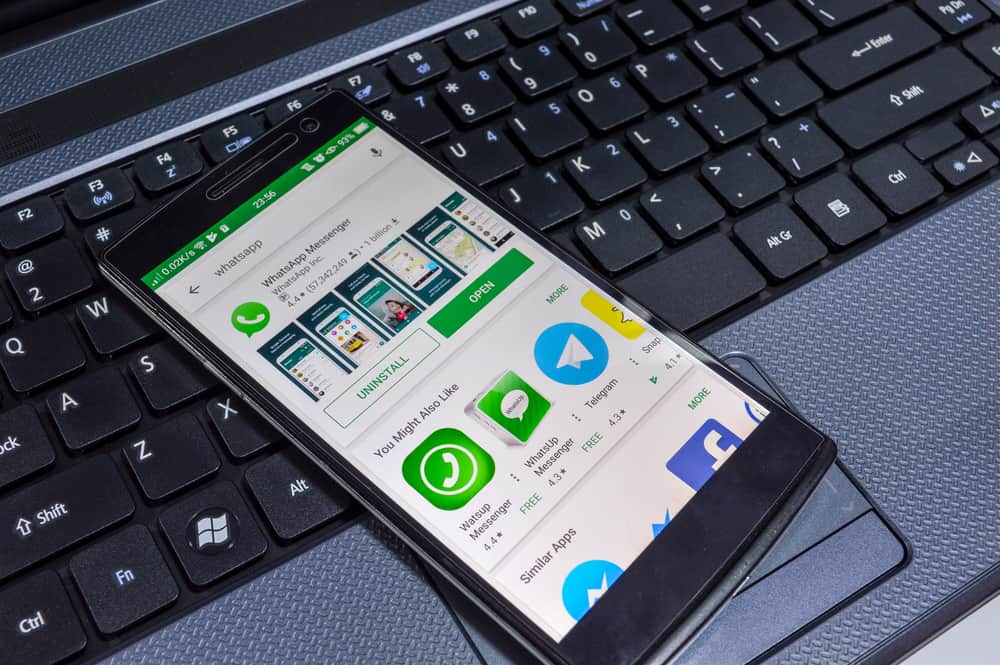 According to Statista, WhatsApp has a whopping two billion-plus users every month.
Therefore, it's safe to assume this is one of the best platforms to market or communicate with the customers of your small business.
The problem is your clients need access to your WhatsApp number to text you, which can be quite a hassle.
Thankfully, you can now create a link, copy it, and share it across all social media platforms to make the process easier. 
But how can you copy your WhatsApp link on your iPhone?
To copy a WhatsApp link to your iPhone, you first need to ensure that you have a WhatsApp business account. If so, click on "Settings," click on the "Business Tools" option, and click the "Short Link" icon. Finally, click the "Copy link" option, and a pop-up will notify you the link has been copied.
Learn everything you need to know about how to copy and share a WhatsApp link with or without a business account.
How To Create and Share WhatsApp Business Links?
One of the reasons WhatsApp is quite popular is that it gives business owners a platform to chat with their clients.
Often, the business owner will advertise their businesses on another forum and then insert a link on the advert, redirecting interested clients to their WhatsApp business number.
Sadly, this feature is only available for WhatsApp business, though it's pretty easy to create.
Here is how:
Launch the WhatsApp business app.
Tap on the "Settings" option at the bottom of the page.
Tap on the "Business Tools" option.
Scroll to the bottom of the "Business Tools" page and tap the "Short Link" option.
Tap on "Copy Link," and a notification should pop up stating that the link was copied. Alternatively, if you want to share the link with someone on another platform, click the "Share Link" option, and a list of apps you can share the link via should automatically appear.
It's imperative to note that if no one clicks your link for up to 30 days, it automatically expires, meaning you must make a new one.
Also, if the link lands on the wrong demographic, you can always reset it, making it invalid.
How To Create and Copy a WhatsApp Call Link?
Arguably, one of the most underrated WhatsApp features is creating a call link.
This way, anyone who receives the link can join the call at their preferred time, regardless of whether they have your number.
Also, you can send the link via different platforms, but the only people who can join are those who have WhatsApp.
That said, here is how to create and share a WhatsApp call link:
Open WhatsApp.
Tap the "Calls" tab at the bottom of the page.
Tap on "Create Call Link."
Tap on your preferred call type by selecting either "Video" or "Voice."
Tap on "Copy Link," and a 'Link copied' notification will appear.
From here, you can send the link to anyone on any platform.
All you need to do is go on to the chat of the person you want to share the link with, double-tap the cursor on the text message box, then tap "Paste."
Alternatively, if you want to send the link to someone on WhatsApp, tap Send link via WhatsApp, and you will automatically be directed to your WhatsApp contact list.
Can I Make a WhatsApp Link With a Third-Party App?
WhatsApp doesn't allow users with standard accounts (as opposed to business accounts) to create direct links to their accounts.
Therefore, if you want to make a link to your account without the hassle of downloading the WhatsApp business version, your best bet is to use a third-party app.
There are some third-party apps created for the sole purpose of generating WhatsApp account links.
As for most of them, you only need to input your phone number and the message you want to accompany your link.
However, please be careful with this method because not all third-party apps are legit.
Conclusion
WhatsApp recently made it possible to open a business account to help small business owners thrive.
One of the outstanding features of the said version of the app is that it allows you to create and share a link that redirects a client straight to your account.
Alternatively, you can use a third-party app to generate the same link, and you are bound to get the same results.