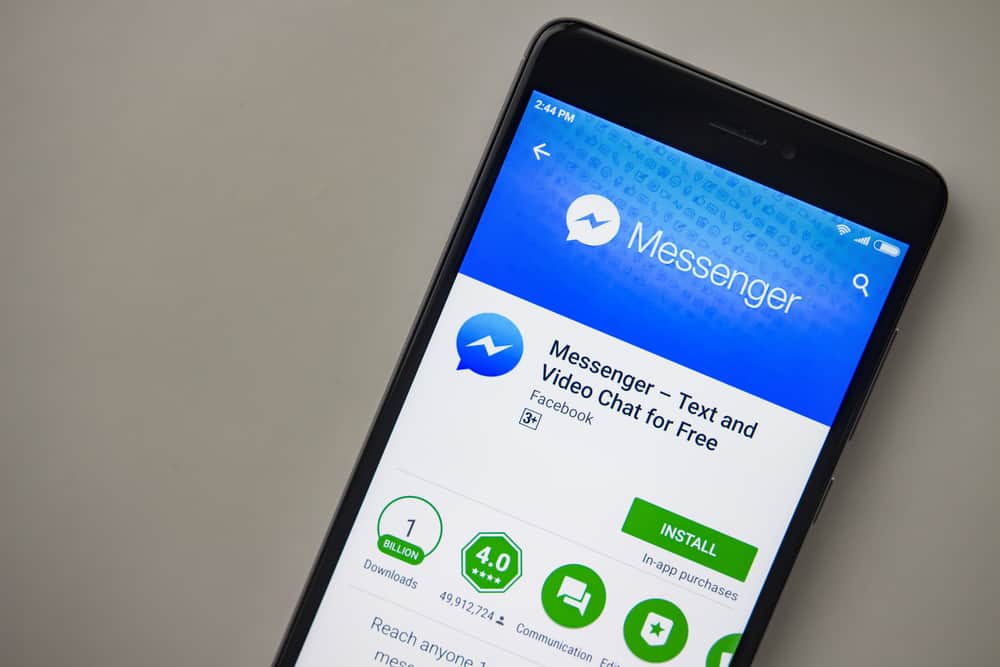 Messenger is a lovable messaging platform provided by Facebook.
To use Messenger, you connect it with your existing or new Facebook account such that your Facebook friends can conveniently find you on Messenger.
You can use the Messenger mobile app to enjoy the fun of texting and calling friends.
If you are stuck installing Messenger, we will help you.
When you can't install Messenger on your phone, it could be due to various reasons. First, if your phone lacks enough storage, it won't allow you to install any application. Still, if there is a corrupted cache with your Play Store, it can also bring about the problem. Moreover, if your phone's firmware is problematic due to being outdated, it may be incompatible with your installed Messenger version and hinder you from installing it.
Installing Messenger is meant to be a seamless process. We will understand the correct steps to follow to install Messenger on Android and iOS. Moreover, we will see the causes of Messenger failing to install on your phone while mentioning possible solutions for the problem.
How To Install Messenger
Before we dig in on why Messenger can't install on your phone, let's first understand the correct steps to follow when you want to install Messenger on your phone.
For Android:
On your home screen, open Play Store.
Tap the search bar at the top.
Search for "Messenger" and tap on it to open its info page.
Hit the "Install" button.
Messenger will download and install on your phone. You can open it from your applications and begin using it.
For iOS:
Open your App Store on your device.
Tap on the "Search" button at the bottom.
Type "Messenger" and search for it.
Tap on it from the search results and tap the "GET" button.
Double-tap the side button to begin downloading and installing the application.
Messenger is now installed, and you can open it from your home screen and sign in to your Facebook account to start using it.
The above steps are how you install Messenger on your phone. However, if you run into an error, we will comprehend why it occurs and give various measures to help bypass the error.
Why Can't I Install Messenger on My Phone?
It can get confusing when you try to install Messenger, and nothing happens. Not knowing why this case occurs or how you can fix the problem worsens the situation.
However, we've researched and understood the different possible causes why Messenger couldn't be installed on your phone.
Reason #1: Inadequate Phone Storage
For any application to be installed on your phone, you must have the required storage that the app needs to install on your phone.
An application like Messenger takes a sizeable storage space to install alongside its configuration files.
Thus, when your phone's storage is low, you will face an error when trying to install Messenger, and you can't install it until you get the required space.
Reason #2: Incompatibility Problems
Sometimes, you may find that the firmware version running on your phone is outdated and can't support installing an application like Messenger.
Such a case will occur if you don't update your phone.
When Messenger and your phone's firmware are incompatible, Messenger can't install as it is not supported by your phone.
Reason #3: Corrupted Play Store Cache
For Android users, Google Play Store could be causing problems due to its corrupted cache.
When that happens, Play Store will have hindrances that prevent it from installing applications and performing as expected.
With that in mind, let's see how we can fix the problem and manage to install Messenger.
How To Fix It When You Can't Install Messenger
We all hate it when you try installing Messenger, and it declines.
If that's the case you are currently facing, here are a few fixes.
Fix #1: Update Your Firmware
Suppose you've not updated your phone's firmware.
Update it and see how that affects installing Messenger.
You will hopefully get Messenger installed after updating your phone.
Fix #2: Get More Space
If your phone runs out of space, consider clearing unwanted files and uninstalling unnecessary applications.
You will create more space this way, and Messenger will manage to get installed comfortably.
Fix #3: Restart Your phone
Glitches with applications and the phone can also be blamed for the problem.
In that case, restart all services on your phone by restarting it.
After that, try installing Messenger again and see how it behaves.
Fix #4: Clear Google Play Store Cache
For Android users:
Open "Settings" and access "App manager."
Find "Google Play Store" and tap on it.
Click the option for clearing the cache.
You can then open it and install Messenger.
Conclusion
Various errors can make Messenger not install.
This guide presents why you can't install Messenger and offers solutions for fixing the problem.