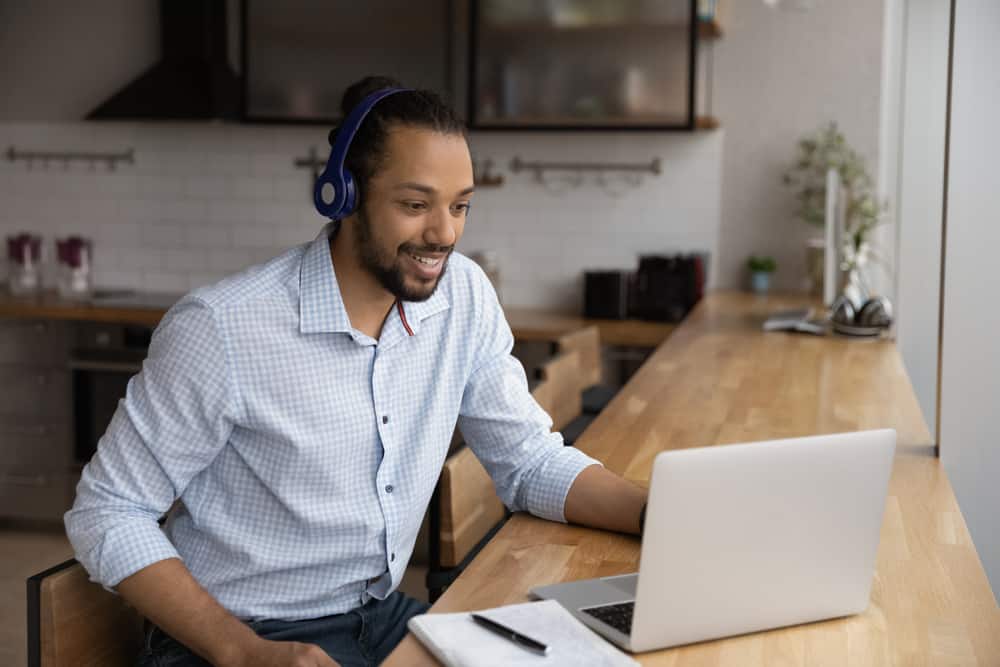 Years before 2020, no one cared much about their look on video calls and meetings. The pandemic, however, has changed the way we engage virtually.
Since zoom meetings, speed dating webinars, and virtual classes have become the order of the day, it's important to look good on video calls.
Zoom is one of the most used video conference software. If you use it often, you may have noticed that you sometimes look differently on video calls than in real life. Therefore, many wish to know how to not look pale on Zoom.
To avoid looking pale on Zoom:
– Pay attention to your dress.
– Touch up your face with some powder.
– Use the "touch up my appearance" settings.
– Position your camera well.
– Use good lighting.
To look great on Zoom video calls requires combining many strategies. Luckily for you, these steps will be explored in this guide. Read on to find out.
What Is Zoom?
Zoom is a video conference software compatible with mobile and desktop devices. It allows you to connect online for video meetings, webinars, online classes, and live chats. The app is available to download for free, and users can sign up to schedule meetings or join them. 
There is a paid version, but the free service allows you to create unlimited meetings with about 100 participants and 40 minutes time limit. Joining a Zoom meeting requires the participants to have the Zoom app, the meeting link/a Meeting ID, and a password. 
Although you don't need a Zoom account to access a meeting, you must set up an account to host a meeting. Additional features of Zoom include sharing files and screens and using text chat within the meeting group or privately with others in the meeting.
It's worth noting that Zoom gained considerable popularity during the covid-19 pandemic. Since then, it has become the favorite of many people. If you are one of these, you might have noticed that the camera presents your face in a weird way different from your everyday look. 
How, then, do you look great and prevent looking pale? It's simple! Follow the guidelines below.
5 Ways To Look Great on Zoom
The truth is, your look on a video camera has nothing to do with your real look. Many things contribute to your appearance on video calls, including lighting, device angle, dressing, etc.
Knowing how to tweak these factors will produce a better look. Check out the following tips to eliminate a pale look on Zoom video calls.
Tip #1: Pay Attention to Your Dressing
You may wonder what the connection is between your face and your dress. Well, what you wear sometimes affects you psychologically and, in turn, your entire features.
Good dressing boosts your self-confidence and self-esteem. Just because it's a video call doesn't mean you should dress anyhow. 
Therefore, before you click that Zoom link, shower, get dressed, and do everything you would on a typical workday or outing day.
Try to pick out one of your best dresses or choose bright colors as they tend to pop out videos. If you use makeup, check your face in the mirror and the phone camera to see how it looks.
Tip #2: Touch Up Your Face
Regardless of your gender, touching up your face before a video call is essential. It helps you look good and correct any obvious blemishes on your face.
While you don't need to go into a full makeup mood, using some basic makeup products before hitting the meeting link is great.
For instance, you can wash your face and apply a moisturizer. Similarly, you can dab your face with some powder as it absorbs grease and minimizes sweat. It's why news anchors and TV presenters use powder before they face the audience.
Tip #3: Use the "Touch up my appearance" Setting
No one understands the importance of great looks more than Zoom itself. As a result, the software has a feature called "Touch up my appearance."
This function helps smoothen imperfections on your face and brighten up your features. It also doesn't require any more effort from you than to click the function. You can find this feature in your camera settings.
Tip #4: Position Your Camera Well
Another factor contributing to the pale look on Zoom is the angle of your device. Generally, laptops have wide cameras and wide angles. When you stand too close to a laptop, it can distort your appearance.
Your best option is to keep some distance between you and the camera but not too far so that others squint to see you.
In addition, consider facing the center of the camera so that all your face parts show. Place the camera slightly above your face level to prevent presenting a straight shot of your forehead.
Tip #5: Use Good Lighting
Virtually all programs and TV shows you watch use lighting when they are shot indoors. If possible, stick with the natural light in the room where the video call takes place.
Ensure the light source is facing your way. Any other position will make you appear as a silhouette or shadow.
If the natural light isn't enough, it's best to use ring lights or a webcam. These video tools add a studio-like quality image and lighting at affordable prices.
Some other ways to not look pale include covering up your blemishes with a concealer, adding a moisturizer, and using eye patches to improve eye puffiness.
Conclusion
Zoom calls are more than ordinary video calls. They are now a vital part of our professional lives.
You must look less pale and confident if you are always in one meeting or the other.
This guide presents easy ways to look attractive on Zoom video calls. While you may only apply some tips, using at least one will touch up your appearance more.