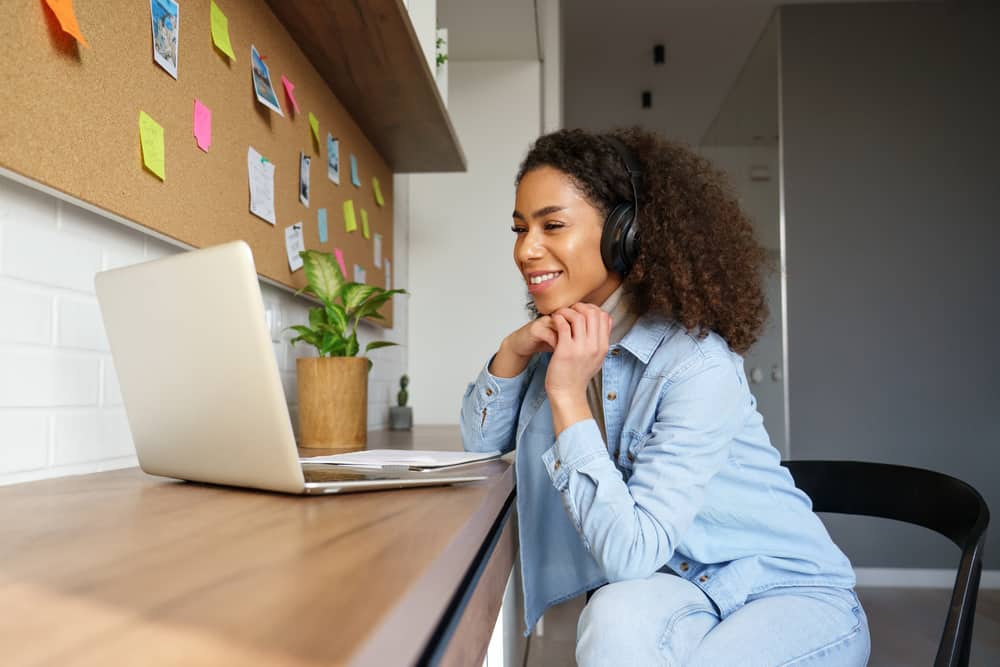 A college interview is an important event in your pursuit of higher education. It is your chance to showcase your interest in the college, its values, and why you are a good fit for the school.
For those reasons, you want to impress the admissions panel or the interviewee to stand out from the other applicants.
Your outward appearance creates the first impression, so you should dress appropriately. It's a no-brainer that you need an official look to attend an in-person interview.
What if the interview is taking place online? Do you still need to wear to impress? How to achieve that?
Wear official or business casual attire to a Zoom college interview. Appropriate clothing for a male look includes a button-down shirt, solid patterned tie, blazer, dress slacks, and official pants. For a female look, go for a button-down blouse, turtleneck, blazer, knee-length or longer skirt, solid-patterned or neutral-colored dress, and dress pants. You can accessorize with a simple watch or bracelet and do some touch-ups with light makeup too.
This post guides you on what to wear to a Zoom college interview.
Overview of a Zoom College Interview
College interviews are important because they help students showcase their personality, values, and characteristics that make them worthy applicants who deserve a place in the school.
If you want to nail your virtual college interview, you need to adopt techniques that impress the interviewer, including how you dress.
Normally, the admission panel summons you for an interview to gauge your worth. You need to bring your best foot forward in the way you dress, speak, answer questions, and carry yourself.
Your body language is also critical in determining if you pass or fail the interview, from how you shake hands and maintain eye contact to how you sit.
What if the interview happens online? What do you do to impress the admissions panel if they can't judge you based on your body language? Your arsenal in a Zoom college interview lies in how you speak and dress.
This post focuses on the dressing part, so read on to discover what to wear to a Zoom college interview to impress your interviewer.
What To Wear to a Zoom College Interview?
While there is no written rule about what you should wear to a Zoom college interview, there are do's and don'ts.
You should not feel obliged to suit up or rent a ball gown for the interview, but the look should be professional.
Below are attires to wear to a Zoom college interview.
Male Attires To Wear to a Zoom College Interview
The interviewer understands you are video calling from your sitting room, dining area, or bedroom, but they still appreciate someone who puts effort into appearing professional and respectful.
A single-colored, long-sleeved button-down shirt is excellent attire for your virtual interview. Go for neutral colors and wear your size. If you like, you can pair the shirt with a solid-patterned tie.
Additionally, wear a nice official-looking sweater or blazer over the shirt if it's a cold season. Moreover, accessorize with a simple watch to polish your overall look.
While the interviewer only sees your upper body, you should wear something presentable in the lower body.
We've seen several embarrassing videos of Zoom users who got busted wearing shorts or boxers beneath the official shirt, and you don't want to take your chances.
Go for dress slacks, khaki pants, or a presentable pair of jeans. 
Female Attires To Wear to a Zoom College Interview
You want to avoid wearing attire that draws attention to you instead of what you are saying.
Button-down blouses or unisex shirts are a great option for a Zoom interview. They are comfortable and presentable and give you an official look that impresses your interviewer.
You can also wear a blazer that complements the shirt or blouse. If it's a cold season, replace the blouse with a single-color and well-fitting turtleneck.
Don't over-accessorize, but a simple bracelet or watch is a good highlight to your look.
Even if the interviewer only sees the upper part of the body, it's advisable to dress up as you would in a physical interview.
Options for your lower body include a well-fitting pencil skirt, preferably knee-length or longer. Dress pants are perfect too. 
You can also wear an official dress instead of different upper and lower body attire.
The dress should be well-fitting, single-colored, and of neutral color. If you go for a patterned print, let it be solid to avoid drawing attention to your dress instead of your words.
Should You Wear Makeup to a Zoom College Interview?
A college interview is probably the first official meeting you attend in your life, and your appearance should reflect that.
It's okay to put on light makeup to enhance your appearance. Moreover, touching up your face with compact powder prevents appearing too white, shiny, or pale on Zoom. However, let it be minimal and natural looking.
For instance, you could apply pigmented lip gloss instead of the bright red lipstick you usually use. Alternatively, you could go for a darker color or, better yet, a nude color.
What Not To Wear to a Zoom College Interview
Now that we've cleared the air on the appropriate attire for a Zoom college interview, let's highlight what you should not wear.
The below attires aren't presentable, and you should avoid wearing them to a Zoom college interview:
Sweat pants
Sweatshirts
Graphic t-shirts with political, radical, or controversial messages
Pajamas
Floral designs and bright-colored attire
Tight clothing
Clingy or clothing made from uncomfortable material, e.g., material that causes itchiness
Wrapping Up
A Zoom college interview is no different from an in-person interview because the interviewer expects you to be professional and presentable.
You should wear official attire that is comfortable and respectful. What are your thoughts on what to wear to a Zoom college interview?