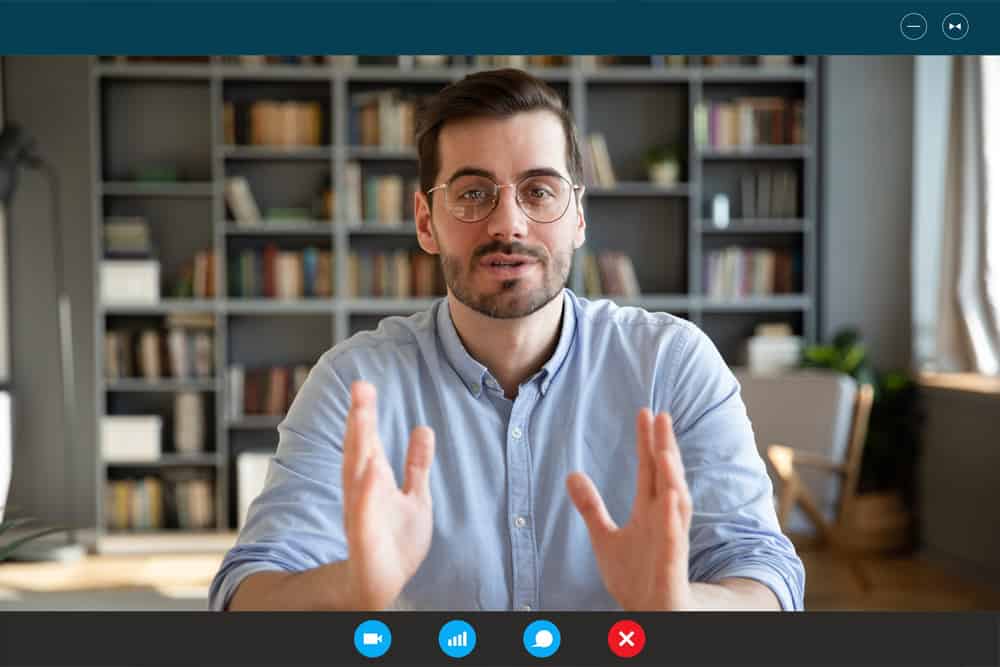 Zoom interviews are becoming common, but many people don't know how they should be prepared for such. We have been used to face-to-face interviews for a long time, and sometimes a person may assume a Zoom interview may not be that serious. Attire tells a lot about a person, and this guide has explained what clothing you should consider wearing for your Zoom interview.
What you should wear for a Zoom interview as a male differs depending on many factors. Not all jobs require you to have official attire, and you may have to research a company's values to know what is accepted. Generally, casual and official wear, but read the guide to know what to consider when choosing between the two.
The guide has explained the key points you should consider when preparing for a Zoom meeting and how you should set up your background. Moreover, it has outlined what to consider when choosing your attire. Let's get started!
Key Points To Consider When Preparing for a Zoom Interview
When preparing for a Zoom interview, there are many things you must consider to make the interview a success. These things will enable you to be confident in your actions, ensuring you present the best version of yourself.
Dress Fully
The introduction of Zoom interviews came with different trends. Many people have been reported to have business attire on top while pajamas are on the bottom. While you may not see an issue with such dressing, you must consider your comfort and professionalism. Dressing fully will enable you to stay comfortable and focused without worries about being seen.
Ensure Lighting Is on Point
Lighting is an important aspect that you cannot ignore during Zoom meetings. There is no need to invest much in your clothing, only for it to be washed away by your poor lighting. If you want access to direct lighting through a window, consider buying a desk lamp that would shine on your face from behind your computer.
Set Your Camera Correctly
Setting your camera is an essential factor that you cannot ignore. You must ensure the camera is above eye level to keep eye contact with your interviewer.
Test Your Set Up
It can be disappointing to realize that you don't know how to log into Zoom on the day of the meeting. Testing your setup is like knowing where an office is located when going for a face-to-face meeting.
Avoid Distractions
The worst thing that can happen during your meeting is getting distracted. It is suitable to ensure you have set up your appointment where no distractions would be experienced. Moreover, ensure your phone is kept away during the interview.
Why Is Dressing Important for Zoom Interviews
Research has indicated that the first impression you create in the first thirty minutes is the most important part. Your dressing code talks more about yourself than you can in the thirty seconds.
Your clothing tells about half of you; it can be shameful if you cannot impress a person with your dress. Moreover, your dress code can indicate if you know a company's values.
How Formal Should My Attire for Zoom Interview Be?
A reasonable concern for most users is how they can decide the attire to put on for the interview. In research conducted in 2021, it was concluded that 37% of employers expect men to have their ties on during interviews, while 26% expect formal wear.
The following factors will help you know how formal your attire should be during a Zoom interview.
Research About the Company
You can know what attire to wear for your Zoom interview by researching the dress code accepted by the company. If you find photos of company employees, they will give you an idea of what your wear should focus on.
Once you research the company attire, don't imitate it but use the information to illustrate you understand the company's culture. That will indicate you are ready to partner with the company.
Find an Attire That Fits the Industry
The industry is another factor that can give you an idea of how your attire should be. If the sector of the job you are being interviewed for is government related, you will look for clothing that will make you look professional. In such a case, a suit accompanied by a tie would be a great choice.
But, if you are applying for the fashion industry, you may want to show a sense of your fashion. That may make the employer know you understand what you are up for.
Brand Values
It is hard to find a company with no brand values on its website nowadays. Read the brand values, and let them influence what type of outfit you will choose.
What To Wear for a Zoom Interview Male?
Now that you understand what to consider when choosing attire, the following clothing would be fit for a Zoom interview for males.
Shirts
Depending on the job industry you want, you can choose to make the shirts formal with a tie or make it casual by leaving a single button undone. The kind of shirt you will wear will depend on the job and if it is more casual, don't fear wearing a polo shirt.
Moreover, if the job and the company are formal, ensure you have a neat suit jacket on top of the classic shirt.
Trousers
As we indicated earlier, ensuring you are fully dressed is recommended even though the interviewer will not see you. Thus, ensure you find some classic suits or smart jeans that match the shirts.
Tie
You will decide if you have a tie depending on the company. Ensure you research the company and see if a tie will be necessary, but the best thing you must ensure is that you are comfortable. If a tie makes you uncomfortable, you can go without it.
Additionally, the tie should match the industry. If you are working with children or in the entertainment industry, find a tie that matches such an industry. 
Shoes
Find a suitable pair of shoes to compliment your look and ensure you are comfortable during the interview. Some people may not consider wearing something presentable on the bottom.
Still, you must dress fully from head to toe to ensure you are comfortable during the interview.
Conclusion
Zoom interviews are becoming the norm of doing interviews, and it is best to ensure you dress to impress. It would be unpleasant to have all the qualities needed for a job but miss getting the job because of the attire. Read this guide to ensure you are prepared for what you should wear on your Zoom interview and how to prepare for it!