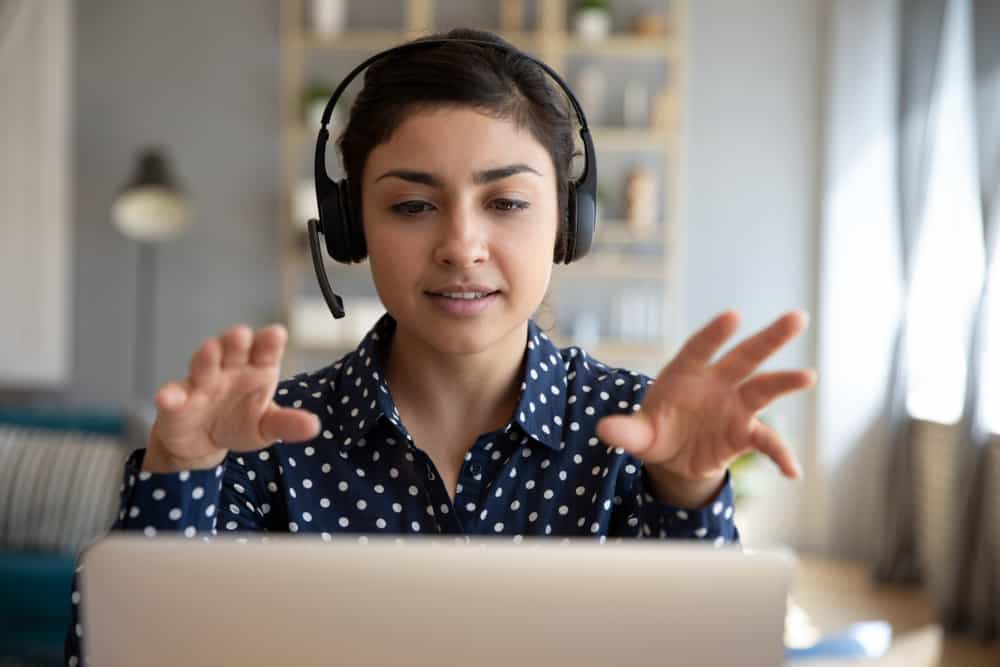 If you have a Skype interview coming up, it's essential to dress the part! Dressing for a Skype interview can be tricky. You want to look professional, but you also don't want to overdress or seem like you're trying too hard. 
So, how should you dress for a Skype interview?
When you're preparing for a Skype interview, it's vital to dress professionally. This means wearing clothing that is appropriate for the workplace. For women, this might mean a blazer, skirt, or dress. For men, a shirt and pants are a good choice. Be sure to avoid wearing clothing that is too revealing or too casual.
Keep reading to learn what to wear for a Skype interview. With some tips and additional information, you'll ace the interview and get that job. 
Dressing for a Skype Interview
The first step in preparing for a phone interview is to pick out the right outfit. You may want to dress in a way that makes you feel confident and comfortable.
Some people recommend dressing as you would for an in-person interview, while others say to dress more casually. 
It depends on the company and the position you are interviewing for. Generally, wearing something professional and polished is a good idea.
A nice blouse or button-down shirt, a skirt or slacks, and closed-toe shoes are all good options. Avoid shimmery patterns or bright colors, and make sure everything is clean and wrinkle-free.
If you're unsure what to wear or you want to play it safe, it's always great to wear a black or navy outfit. Just be sure to add a pop of color with a scarf, necklace, or belt.
Whatever you choose to wear, make sure you feel confident. Learn to be confident during interviews, even when slightly nervous.
The last thing you want is to worry about your outfit during the interview. You must not spend time fixing your clothes while giving the interview. 
It may seem distracting and also leave a bad impression on the interviewer. So take a few minutes to pick out something that makes you feel like a million bucks!
Skype Interview Outfit Ideas for Women
To help you make the best impression possible, we've put together a list of Skype interview outfit ideas. 
Stick to neutrals! When in doubt, stick to classic neutrals like black, navy, or grey. You'll look more professional and come across as more confident and put-together. Wear a light grey or pink shirt with dark grey or blue trouser. 
Another idea is to team a white shirt with a dark blazer and pants. You may wear a blouse instead of a shirt inside the blazer. Make sure everything is ironed and clean. 
Pay attention to fitting as well. It's essential that your clothing fits well so that you look polished and pulled together on camera.
Avoid anything too baggy or too tight, and make sure your clothes are comfortable so that you can focus on the interview itself. 
When choosing accessories, keep it simple. If you're wearing a necklace, ensure it's not too long or dangly, so it doesn't become a distraction during the interview. And if you're wearing earrings, opt for something small and understated. 
Skype Interview Outfit Ideas for Men
Try pairing khaki trousers with a button-down shirt and sweater for a business casual look. 
For a more polished look, wear dark-wash jeans with a white dress shirt and blazer. And if you want to make an impression, go all out with a suit and tie. 
No matter what you choose to wear, just make sure you look neat, put-together, and like someone the company would be happy to have on board. There are a lot of things that men can do to make themselves more appealing. 
Make sure you are well groomed. This means keeping your hair trimmed and styled and your nails clean and neat. Try to be confident and sure of yourself when answering questions and speaking your mind. 
Classic vs. Trendy Look 
With so many new trends, you may be torn between several choices. Try a simple dress or skirt and blouse combo for a classic look. Be sure to choose high-quality materials that will last. You can also mix and match pieces to create your look.
If you're feeling more daring, try a trendy outfit or something with a bold hue that goes with your skin tone. Just make sure that the overall look is cohesive and doesn't look like you just threw random pieces together.
You also want to ensure the fabrics are comfortable and won't wrinkle easily.
It's your choice if you wish to dress classy or trendy. No matter what you choose, always be sure to dress for your body type. You'll look and feel better in something that fits well rather than something too tight or too loose.
What to Keep in Mind When Preparing for an Online Interview?
Here are some crucial tips when choosing an outfit for your online interview. 
Tip #1: Dress Professionally
This is a job interview, so you should dress like you would for any other interview. That means a suit or dress pants and a blazer for men and a blouse/shirt and skirt or dress pants for women.
Tip #2: Avoid Busy Patterns
Busy patterns can be distracting on video and make you look like you're trying too hard.
Stick to solids or simple patterns. Also, pick subtle colors that won't reflect on your face during a video call. 
Tip #3: Check the Lighting 
Make sure the lighting in your room is good before your interview. You must not be in the dark or too bright.
Besides, pay attention to the background. You may not want your laundry in the background. Similarly, find a quiet spot so kids and pets can't disturb you. 
Tip #4: Test Your Equipment
Ensure your computer and internet are working properly before your interview. You don't want any technical difficulties to ruin your interview. 
See that you have a high-quality camera, so you don't appear blurry over the call. A slow internet connection will also make you look blurry; therefore, it's best to have good-speed internet. Run a quick internet speed test on your device. 
Conclusion 
Dressing professionally for a Skype interview is key to making a great impression.
When dressing for a Skype interview, it is essential to remember that the interviewer will not be able to see you in person. This means that you should dress in a way that makes you look professional and polished. 
By following the tips in this guide, you'll be sure to look your best and feel confident during your interview. Good luck!