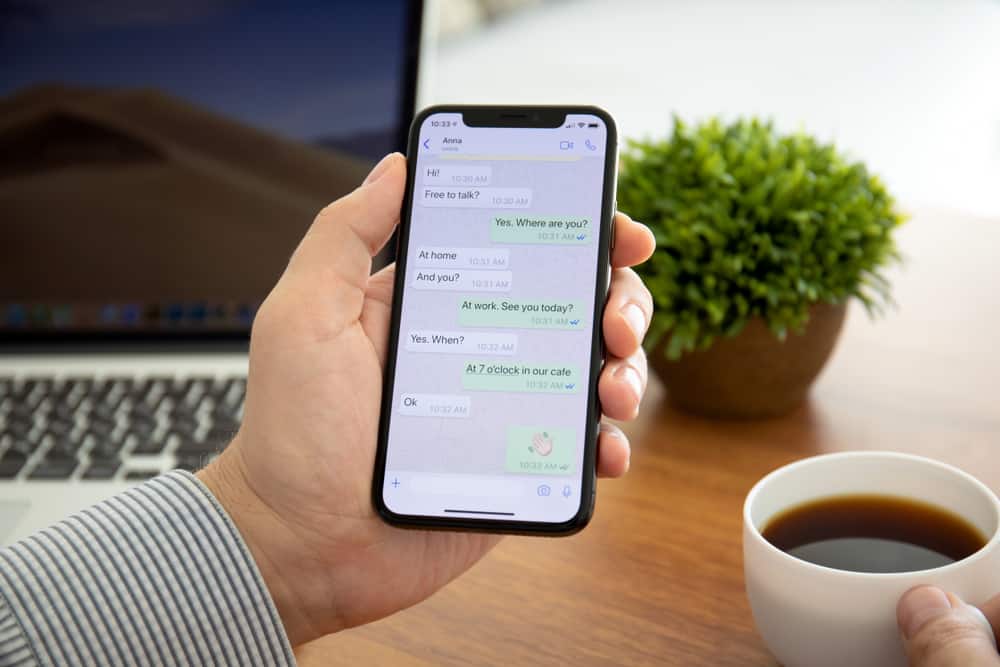 Are you curious about what your boyfriend is saying on WhatsApp?
With the rise of instant messaging apps, it can be difficult to keep track of conversations, especially if you share a phone or have different accounts.
Fortunately, there are a few ways to keep track of conversations from your boyfriend's WhatsApp account.
So, how do you go about that?
First of all, you can log in to your partner's WhatsApp account at any time to see their messaging history, but this is not a discreet way to go about things, as your partner may get suspicious. However, if you want to keep track of your partner's communications without raising any red flags, you can use a WhatsApp spy app to access their account. This way, you can log in to their account and see their messages without them noticing.
Keep in mind that spying on your boyfriend's WhatsApp conversations without his consent is unethical and may violate his privacy. It is important to have open and honest communication with your partner and address any concerns you may have directly with them. 
But if you still intend to proceed, we will explore a few ways to see your boyfriend's WhatsApp messages in this blog post. So, stay tuned as we kick things off.
Reasons To Track Your Boyfriend's WhatsApp Messages
There are a number of reasons why you might want to track your boyfriend's WhatsApp messages.
You might want to keep track of his communications with his friends and family, or you might want to know if he is being honest when he says that he is at work.
Possibly, you could be thinking that he's cheating on you. In that case, you might want to verify your claims by checking his WhatsApp messages
Whatever the reason might be, you can track your boyfriend's message easily with some tips. But, it's worth noting that it's not the best thing to do as you can always discuss things bothering you with him. 
How To Access Your Boyfriend's WhatsApp Messages?
Below are two methods to access your boyfriend's WhatsApp messages.
Method #1: Accessing via His Phone
If you have your partner's phone, you can access his WhatsApp messages by opening the app, especially if it's not password-protected.
There, you could see a list of all of his contacts, as well as a list of conversations. However, this is definitely a more invasive method, so it's important to be careful.
You don't want to get caught and risk damaging your relationship with your partner. 
Method #2: Using a WhatsApp Spy App
Another option is to install a WhatsApp spy app on your partner's device.
This will allow you to log in to his account and access his WhatsApp messages indirectly. There are a few different WhatsApp spy apps available.
Let's have a look at some of the recommended WhatsApp spy apps and how to use them below.
Option #1: mSpy
The first app we'd recommend is mSpy. It's an excellent mobile tracking tool that allows you to monitor various data on rooted or unrooted phones with ease.
Simply install the app on your boyfriend's phone, configure the settings, and you'll be able to access WhatsApp messages and other information remotely.
To use this app, follow the steps below:
To begin, go to the mSpy website and purchase one of the mSpy subscriptions, then fill out the order form and wait for the installation instructions to arrive.
Enter a valid email address to finalize the payment and acquire your login credentials.
Install the mSpy app on your boyfriend's phone.
Launch the app and sign in using your newly created mSpy account.
Follow the on-screen instructions to set up the app.
On your device, sign into your mSpy account.
Once signed in, you'll find all kinds of data in the mSpy Control Panel. To check the WhatsApp messages, simply click on the WhatsApp tab, and all WhatsApp messages will be shown.
The cost of a mSpy subscription begins at $29.99 per month.
Option #2: PanSpy
Another notable app we'd like to recommend is the PanSpy app. It is a professional monitoring solution provider that specializes in tracking and monitoring tools exclusively for Android users.
With this remarkable app, you can check detailed WhatsApp messages on your boyfriend's smartphone.
To get started with this app, follow the steps below:
Navigate to the PanSpy official website to make an account with a valid email address, and then activate it.
Then, to complete your account setup, simply follow the prompts. You will be requested to choose one of the PanSpy subscription plans. After that, click "Next" to proceed.
Download and install the app on your boyfriend's mobile device.
Launch the app, log in with your newly created PanSpy account, and continue the setup procedures.
Now return to your own smartphone and log in to your PanSpy account. 
Once you've signed in, you'll be able to access all available data on your boyfriend's mobile from the dashboard. To check WhatsApp messages, go to "Social Apps" > "WhatsApp," and it will show you all of your boyfriend's WhatsApp messages.
The PanSpy subscriptions start at $24.95 per month for Android devices.
Conclusion 
There are several ways to view your boyfriend's WhatsApp messages. You could do it by using a WhatsApp spy app or accessing his phone directly.
However, it is important to remember that snooping on your partner's messages without their knowledge or consent is a violation of their privacy and trust.
It is recommended to have an open and honest conversation with your boyfriend about any concerns or issues you may have in your relationship, rather than resorting to spying on their WhatsApp messages.
FAQs
How do I know if my boyfriend is cheating on me?
There is no surefire way (of course, if you do not catch him in the act) to know if your boyfriend is cheating on you, but there are some signs that can indicate infidelity. It could be that he's suddenly distant or less affectionate towards you, or he's become more secretive with his phone or online activities.
If you suspect your boyfriend is cheating on you, the best course of action is to communicate with him openly and honestly about your concerns.
Am I doing the right thing by checking my boyfriend's WhatsApp messages?
First and foremost, it's important to know that checking your boyfriend's WhatsApp messages is an invasion of privacy. Doing that is unethical and can cause havoc in a relationship if eventually caught in the act.