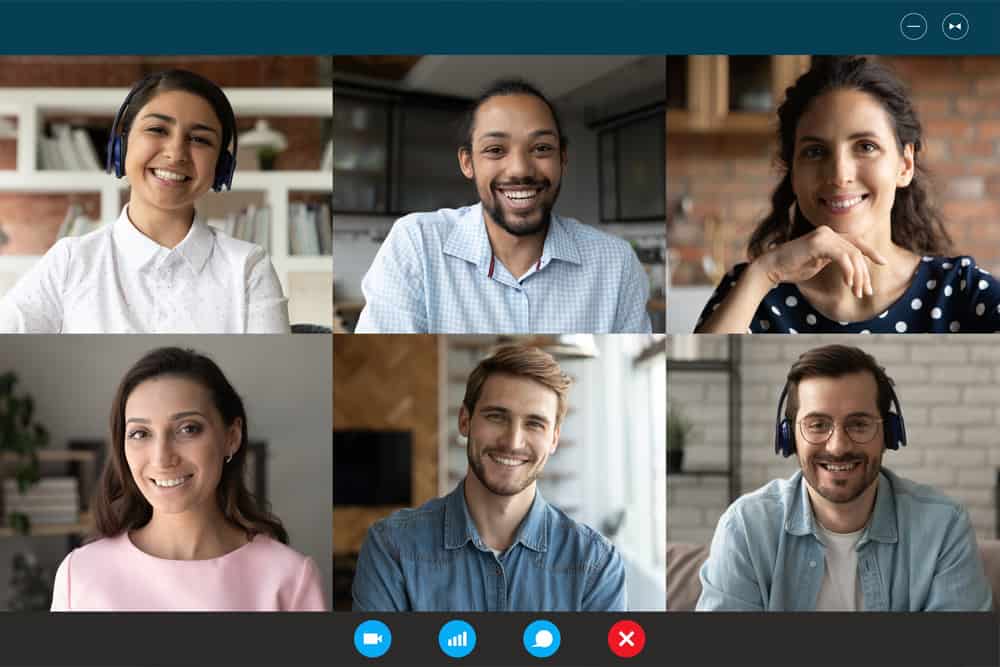 Zoom meetings enable us to have face-to-face virtual interactions when an in-person gathering is impossible. Most people hold these meetings from their couch, bedroom, or dinner table or convert one of their rooms into a workstation.
Your background matters because it creates a mood around you and gives the viewers an insight into your home. You don't want to distract your co-workers or whoever you're meeting with a cluttered background, dramatic wallpaper, or a weird backdrop.
There is no clear-cut rule of what should be on your Zoom background, but there are some unwritten rules on what works best. So what should be behind you in a Zoom meeting?
To appear professional, you should have the following items behind you in a Zoom meeting: simple wall art or wall gallery, a plain wall with a professional hue, a plant, a bookshelf, your work persona, or a touch of personal items.
This post will expound more on what should be behind you in a Zoom meeting.
Overview of What Should Be Behind You in a Zoom Meeting
Zoom meetings are the foundation holding most corporations and businesses together at a time when remote work and work-from-home (WFH) have become mainstream.
Despite being away from the office environment, these meetings must remain professional. Several things determine the professionalism of a virtual meeting, from the way you dress to the background.
The background is particularly a critical subject after witnessing several Zoom background fails in the past. These fails include a pile of dirty dishes on the sink, an un-made bed, a huge bookshelf containing controversial books, and plain and unsightly walls with peeling paint and wallpaper remnants.
While you may be aware of the worst Zoom backgrounds to avoid in your next meeting, there are no written rules on what to place behind you. However, there are unwritten tips on what works best.
Let's dive into what should be behind you in a Zoom meeting.
What Should Be Behind You in a Zoom Meeting?
Do you want to appear professional, represent your brand, and avoid distracting your viewers during a Zoom meeting? It would be best if you had the following in the background.
Simple Wall Art/Wall Gallery
Besides giving life to dull walls, wall art creates an eye-catching scenery that pleases anyone who sees your walls.
At the same time, wall art shows your personality and creates a mood around you. It is a great way to subtly tell your co-workers about yourself while giving them a sneak peek into your abode.
You could also have a wall gallery with various paintings behind you during a Zoom meeting. It shows your love for art and your collector personality.
Let it be simple whether you choose wall art or a wall gallery. You don't want the art to be too distracting to shift the attention from what you say in the meeting.
A Plain Wall With a Professional Hue
When it comes to Zoom backgrounds, less is always better. What about completely bare? Not a bad idea too. You can have a plain wall behind you as you present that hour-long presentation or the report for your latest project.
Yet, plain white is a no, as well as pitch black. Some lovely colors that work well on your Zoom background include blue, jungle green, gray, cream, and yellow.
Additionally, ensure you are as close to the wall as possible, as too much distance between your back and the wall could make viewers stare as they wonder what is in the space.
A Plant
Do you want a minimalist way to decorate your Zoom background? A house plant is a great choice. Whether a living or faux plant, it has a calming effect, especially for those long Zoom meetings that discuss company issues at length.
The wind blows the leaves, creating a movement that creates a conducive gathering environment without much distraction.
Best houseplants include Aloe vera, fishbone cactus, Chinese evergreen, and Gold Frame. Houseplants are a perfect sight behind you in a Zoom meeting when coupled with beautifully-decorated ceramic pots to hold the growth medium.
Book Shelf
It's no secret that well-arranged books on a beautifully-made bookshelf are an eye-catching backdrop.
Moreover, it's an effortless way to set up your workstation when expecting a Zoom call because the study is an excellent room to create your home workstation. In such a case, you only need to arrange your furniture and set artificial lighting in readiness for the virtual meeting.
However, there are some don'ts when using your bookshelf as your Zoom backdrop. First, arrange the books such that the titles are not readable.
You don't want your viewers to be busy reading your titles as you try to make a serious point. Also, don't display controversial, political, religious, biased, or profane books.
Your Work Persona
Nothing shows your passion for your work better than surrounding yourself with art, tools, and items that tell who you are. Suppose you are a software engineer; having some written codes on the wall behind you would be a great idea.
Similarly, if you are a musician, you could have musical instruments, records, and trophies behind you. Ensure you subtly display these items to avoid appearing as if you are bragging.
Also, avoid cluttering the backdrop with your work tools, leaving your workspace disorderly and squeezed.
A Touch of Personal Items
While we are trying as much as possible to create an office-like space at home, we can't eliminate everything that makes your house your home.
Your co-workers may think you are trying too hard, while others may wonder why your house lacks that homely feeling. For this reason, don't shy away from showing a few personal items that tell more about you.
For instance, you could put a couple of picture frames behind the shelf to display your partner, kids, or pet. At the same time, a hockey stick in the background may be an excellent way to let others know you play hockey in your local team.
Winding Up
What is behind you in a Zoom meeting matters because it creates a mood for the meeting and gives your viewers an insight into your home environment. However, your backdrop should not be weird or distracting.
Some items that should be behind you in a Zoom meeting include wall art, a bookshelf, a plant, a plain wall with a professional hue, and a few personal items like picture frames or trophies.