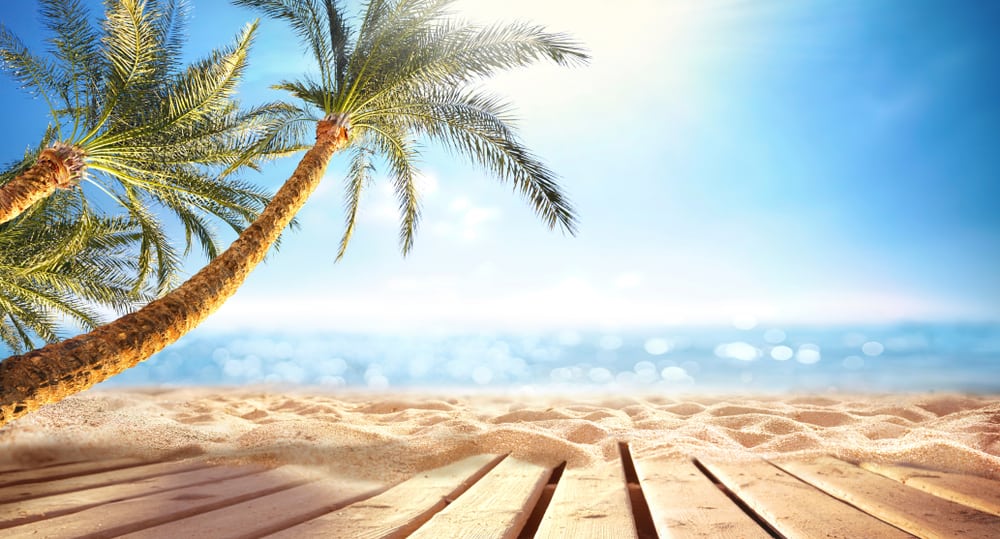 You're in luck if you're looking for a virtual beach background for your next Zoom meeting! There are a few different ways to achieve the perfect beach scene.
With a tad bit of effort, you can make your Zoom backdrop look like you're attending the meeting from paradise. So, how do you get a beach background on Zoom?
All you have to do is ensure that you have a solid-colored background or a green screen. Navigate to Zoom settings and select "Background & Effects." Then, check the box if you have a green screen or a solid background. All the options for virtual background will appear clickable, and you can select the beach background from there. 
There's a lot to go around on the matter, and if you wish to understand the process in detail, this guide is customized to steer you in the right direction. 
Why Do You Need a Different Background for Zoom Meeting?
Remote work pushed us into the vast abyss of video conferencing and mundane work life from the four walls of our homes. As the pandemic beckoned and remote work became the new normal, Zoom Meet became the savior of the corporate world.
Then, remote operations and team management became quite efficient, and everyone quickly adapted to the lifestyle. 
However, there were a lot of gaffes and mishaps making rounds on Zoom that later became meme material. Sometimes, the backgrounds caused issues or errors in judgments.
That is why people nowadays are more cautious about how they appear in Zoom meetings so that they may not become viral meme material. 
Moreover, in many instances, people prefer to conceal their actual location, where they may feel uncomfortable showing their background.
One quick and easy fix for them is that they get a little setup of their own, like a green screen and ring light, and apply a different background. This way, they ensure that their background is concealed correctly and control what other people see. 
Furthermore, this feature comes in handy when people use Zoom for something informal, like family get-togethers or attending a friend's wedding from a different country.
They can use different backgrounds, like beaches, just for fun, or they may not want to show how their environment looks. All in all, being prepared for this feature can save your day during Zoom calls.
Let's learn how to activate it on the platform.  
How Can You Get Beach Background on Zoom?
There are various backgrounds available for you to take advantage of; however, if you like beach backgrounds, let's find out how you can get those.
The Green Screen Conundrum
Alright, so you must be aware that for any special effects on the background of a video, you need a green screen (chroma). This is to ensure that no element in the background would interfere with the superimposition of the virtual background over your real one.
That said, if you're reluctant to invest in a chroma screen, make sure you sit in a clear, solid-colored room. Only then proceed to find out the steps to apply the background.
Step #1: Launch & Log In
Begin by launching the Zoom application on your device and logging into your Zoom account.  
Step #2: Access Settings
Once you're logged in, and the home screen shows up, look for the settings icon right below your profile picture on the right of the screen. Click on the settings icon. 
Step #3: Select "Background & Effects"
From the left panel of settings, click on the "Background & Effects" option. 
Step #4: Enable Green Screen
Before looking for the backgrounds, you need to check the box for "I have a green screen." Make sure you only check this box if you have a setup of the green screen. 
Step #5: Browse Backgrounds
Once you've checked the box for the green screen, the options for backgrounds will become clickable. Now browse through to find the beach background.
If your Zoom does not have a beach background, you can download a high-quality beach background from the internet.
Right beside the Background options, you will see a "+" sign saying "Add Image" once you bring your cursor on it. From there, add the beach background image that you downloaded. 
Step #6: Exit Settings
Once you're done with applying the background and satisfied with the results, you can close the settings window, and the settings will apply. 
Note that if you check the box for "I have a green screen," even if you do not, the background will mess with your image, and you will not appear correctly on the video. 
Conclusion
In your bid to ensure that your Zoom meeting remains stylish and fun yet maintains corporate decorum, the background feature is the best.
You must download the background image and apply it from the Zoom settings. With an ideal green screen or solid-colored screen, you're well on your way to ensuring a great video call.