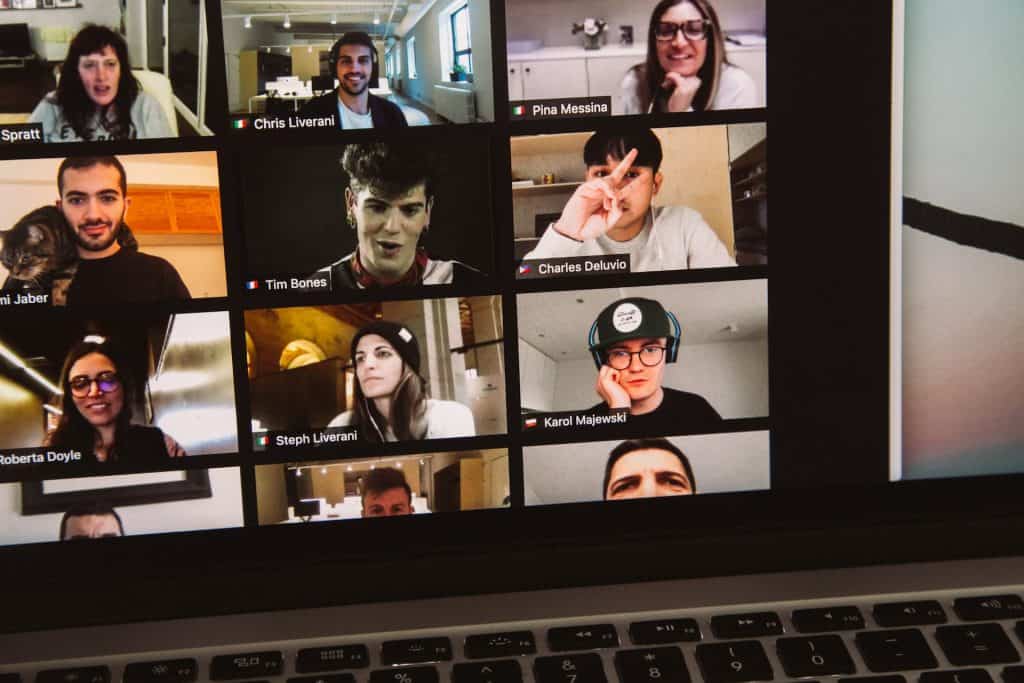 Zoom calls have become a part of our everyday lives. Companies have created a dynamic working environment where employees can work from home and instead participate in meetings through Zoom calls.
There are no specific rules for wearing particular clothes for Zoom calls with friends, but when on professional calls, there are particular clothing rules you should adhere to. So, what are those?
An excellent example of what not to wear on a Zoom call is graphic clothing with controversial messages. A t-shirt with a fun print can seem like the most obvious choice for a Zoom call, especially because it's comfortable. But it's essential to consider the kind of Zoom call you're on and the people's political leaning. To avoid distracting people from the purpose of the call, wear plain clothes that can't be misinterpreted as insulting.
Read on to learn more about what not to wear on a Zoom call.
Importance of Dressing for a Zoom Call
Clothes are necessary because they reflect a person's personality, culture, and preferences. This factor is not different for Zoom calls. Your clothes, whether in person or on Zoom calls, create a first impression.
It's critical that you send out the right message. While dressing isn't crucial in casual Zoom calls, this may differ for professional Zoom calls.
Putting effort into your business or work Zoom calls portrays a positive image to your superiors and teammates. It also shows that you care about the meeting and aren't just approaching your work life casually because you work from home.
While it's essential to note what you wear during zoom calls, it's also important to stick to your professional guidelines. For example, if your office allows for casual or business casual wear, reflect that policy in your Zoom call.
Next, we cover some clothes not to wear during Zoom calls.
Examples of Clothing Items to Avoid During Zoom Calls
Here are some examples of what not to wear on a Zoom call:
Item #1: Stripes
A pinstripe suit or a blouse can be the epitome of formal professional wear. But it may not be the best pick for your Zoom call. Striped clothes or other dominating patterns like flowers or shapes can be distracting.
When it comes to dressing for a Zoom call, less is more. Pick clothes with a neutral color to avoid distracting your teammates or audience.
It's essential to remember that the people you're talking to may already have distractions, especially if they work from home. If they have pets, toddlers, or other people around them, holding their attention may be challenging if your clothes are an additional distraction.
Instead of a striped top or shirt, opt for a solid color with minimal patterns. This way, the people on the other end can focus on your message instead of your clothes.
Item #2: Hats
Similar to stripes, hats can be distracting on Zoom calls. Even though some professional settings allow the wearing of caps, wearing one during Zoom calls can be inappropriate.
Besides being distracting, the cap casts a shadow on your face and prevents others from seeing your facial expressions.
When people can't tell your facial expressions, they spend more time asking if you've understood their point instead of progressing with the call. Generally, caps can interfere with people's focus in Zoom because you draw too much attention.
Item #3: Revealing Clothes
As we've established, dressing appropriately for a Zoom call is all about wearing something that is laid back and comfortable.
Even though the level of revealing clothes a person is comfortable with varies, it's best to avoid wearing tank tops and vests during zoom calls, especially if they are unprofessional.
Like hats and stripes, revealing or casual clothes may not be against the company policy, but they are distracting. In professional settings, your clothes shouldn't take away from your contribution to the meeting.
Revealing clothes are, however, separate from casual wear. For example, for unofficial video conferencing, for casual business setups like estate meetings or conferences, it's unnecessary to dress up in formal wear.
In such cases, keep it polished without revealing too much.
Item #4: Graphic T-shirts
The last thing you want is someone to take offense with something printed on a shirt you wore for your Zoom call. You can't know everyone's political or religious inclination, especially in an office setup.
For this reason, it's best to avoid wearing clothes with political or religious slogans during zoom calls.
Additionally, understand the meaning of specific symbols printed on your clothes. Remember, specific symbols may have meanings that we need help understanding.
To avoid misinterpretation, stick to clothes with solid colors and minimal patterns or graphics.
Item #5: Too Much Jewelry
A wristwatch or a simple necklace can be an excellent addition to your Zoom call outfit but avoid flamboyant pieces that draw attention.
For example, a pair of drop-down earrings look elegant and put together without appearing too formal. But when your earrings go past your chin, they can draw attention to your face and become distracting.
Similar to earrings, it's best to avoid stacking bracelets or wearing several flashy jewelry pieces at once. It's challenging trying to focus on what someone is saying when they have a watch, bracelet, earrings, or necklace simultaneously.
Summary
Zoom calls have become the order of the day as businesses create more flexible workspaces to accommodate those working from home.
While there isn't a strict Zoom call dress code people should adhere to, there are general dos and don'ts about the most appropriate clothes for Zoom calls.
When it comes to don'ts, it's best to avoid striped clothes, too much jewelry, and caps during Zoom calls. These clothes are distracting and draw attention instead of allowing people to focus on the purpose of the meeting.