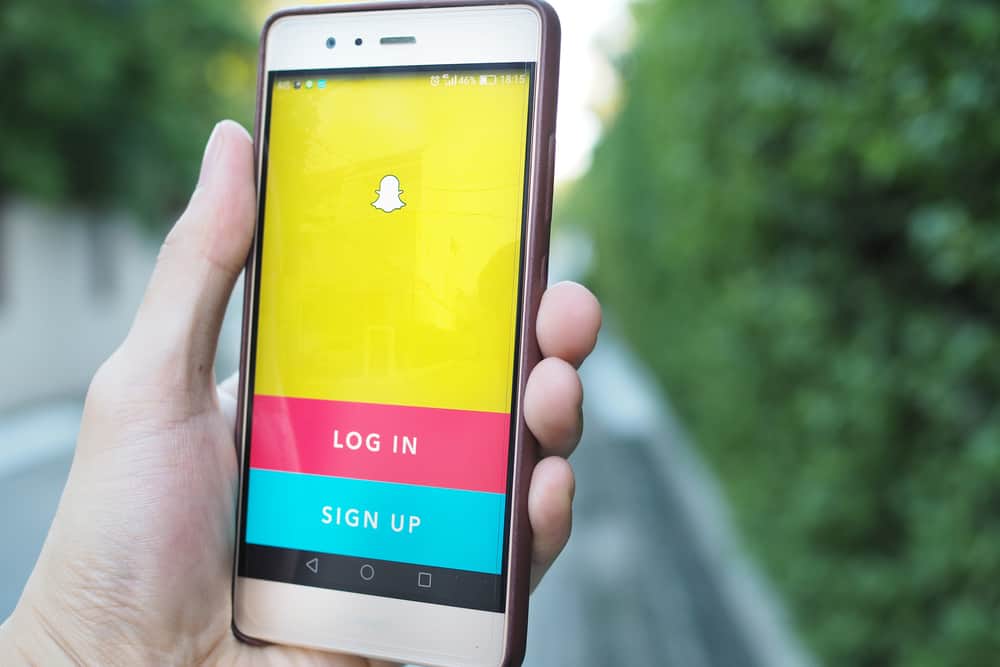 Snapchat has come a long way in establishing itself as one of the best visual social media platforms today. Since its birth in 2011, Snapchat has garnered a massive following, increasing by 23 per cent each year. Now, the platform boasts 332 million active users every day.
To enjoy and experience the full functionality of Snapchat, users need to add some friends to the platform. They can then share live videos, find friends through the snap map, try augmented reality and send private messages. But what happens when you add someone on Snapchat?
The person you add receives a notification saying you added them and the method through which you did it. For example, if James adds someone through the search feature, the person receives this notification: "James added you from Search."
However, you need to add someone first before this can happen. So, this guide will highlight the steps involved in adding Snapchat friends so you can enjoy the platform. We also answer some burning questions that users ask about Snapchat. So, let's get to it.
How To Add Friends on Snapchat
Just like the platform says, Snapchat is better when you have friends. There are several ways through which you can add friends on Snapchat. Here are some of them:
Method #1: Syncing From Your Contact List
Snapchat allows you to add friends from your contact list directly. This way, you're sure to connect with some people you already know.
If someone in your contact has a Snapchat account, you'll find an add button next to the person's name. Here's a step-by-step guide on how to go about this:
In your Snapchat app, select the profile icon (Bitmoji) at the top of the interface.
Click on "Add Friends."
Choose "All Contacts." By doing this, every Snapchatter on your list will appear.
Click on the "Add" button to add your preferred people.
Once you sync your contacts, Snapchat will collect information on them for their servers. This information is for improving your user experience and notifying you when these people create an account on Snapchat.
The information Snapchat collects includes:
Names
Phone numbers
Contact photos
Email addresses
Saved dates (for instance, birthdays)
Last time updated
Luckily, you can manage the information Snapchat collects from your syncing. To do this, head to settings > "Manage" > "Contacts" > "View Contacts." This should show you every piece of information Snapchat collects.
Method #2: Using the Search Feature
Another way to add friends is through the search feature. As the name suggests, you find friends by simply searching for them.
However, you'll have to know your friend's username or Snapchat name. Using this method can be tricky since not everyone uses their real names on Snapchat. Also, some names are already taken. There's a high chance your friend used a variation of their name.
If you do know their username or exact Snapchat name, here's what to do:
Click on the search icon at the top of the Snapchat interface.
In the search bar, type in your friend's username or name.
Look for your friend's name and click on the "Add" button by it.
If you're going with the name, you'll most likely find a list of names in the drop-down results. The username, however, is a pinpoint way to find your friend.
Method #3: Using the Quick Add Feature
The quick add feature allows you to connect with people you may know and others worldwide. How? Snapchat recommends friends to add by considering your current friends, your subscriptions, what you like, and several other factors.
You'll find the quick add on your "Add Friends" screen, in your chatbox, or in your search feature. All you have to do is click on the "Add" button next to the name.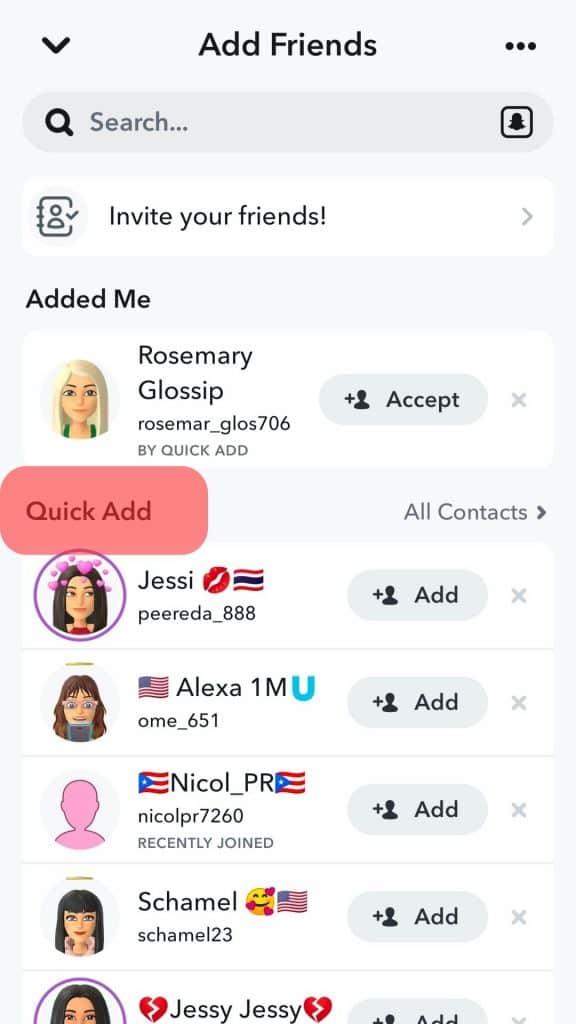 Method #4: Using the Mention Feature
Many Snapchatters mention themselves or friends in their stories. You can exploit this feature to increase your friends. Here's how to go about it:
View a story or snap where a snapchatter is mentioned.
Swipe on that story or snap.
You'll find the name of the snapchatter in the pop-up with the "Add" button next to it. Simply click on it.
There you have it.
Method #5: Using the Snapcode
This method is by scanning a snapchatter's snapcode. The snap code is a yellow box with several black dots.
A snapcode is a unique visual code that allows users to add friends quickly. But there's more to it. With a snapcode, you can also unlock lenses and view more content, among other things.
Here's how to use a snapcode to add friends:
Let your friend open their app and click on the profile icon. That's where you'll find the snap code.
In your app, place the camera over the snap code.
Press and hold the snapcode. It'll automatically scan and bring up the user's name.
Simply press "Add," and you're good to go.
If you have a problem adding friends, it may be due to a slow internet connection. You can prevent this by setting your Snapchat to use WiFi and mobile data.
What Happens When I Add Someone?
If you add someone on Snapchat, they instantly get a notification about it. The notification includes your username and the method used to add them. For example, "FamousUser141 added you from Search."
Now it is up to them if they would like to add you back or not.
How Do I Know if Someone Has Added Me Back?
There are two easy ways to know if someone adds you back. One is to go through your list to find people you added, and the other is to check the user's snap score.
Going Through Your List
Select the profile icon at the top left corner of your Snapchat interface.
Scroll down to your "My Friends" column under the Friends tab and click on it.
In the following interface, you'll find a list of all your friends. You can scroll through to find your friend or simply search through the search bar at the top.
If you find the user's name in your list, the person has added you back.
Checking the Snap Score
This is the easiest way to know if someone has added you back. Here's how:
Launch the Snapchat app and navigate to the chat screen.
Find and select the user's Bitmoji to open their profile.
You should see the user's snap score next to their name if they've added you back. This is because only friends can view your snap score.
In Conclusion
Snapchat is a fun app to share content with your friends and loved ones. Although, with this popular app, there are always some questions that need to be answered.
This article showed you how to add friends on Snapchat using different methods. More importantly, it explained what happens when you add someone: they get a notification that you added them and how you added them. (For example, search or Snapcode.)