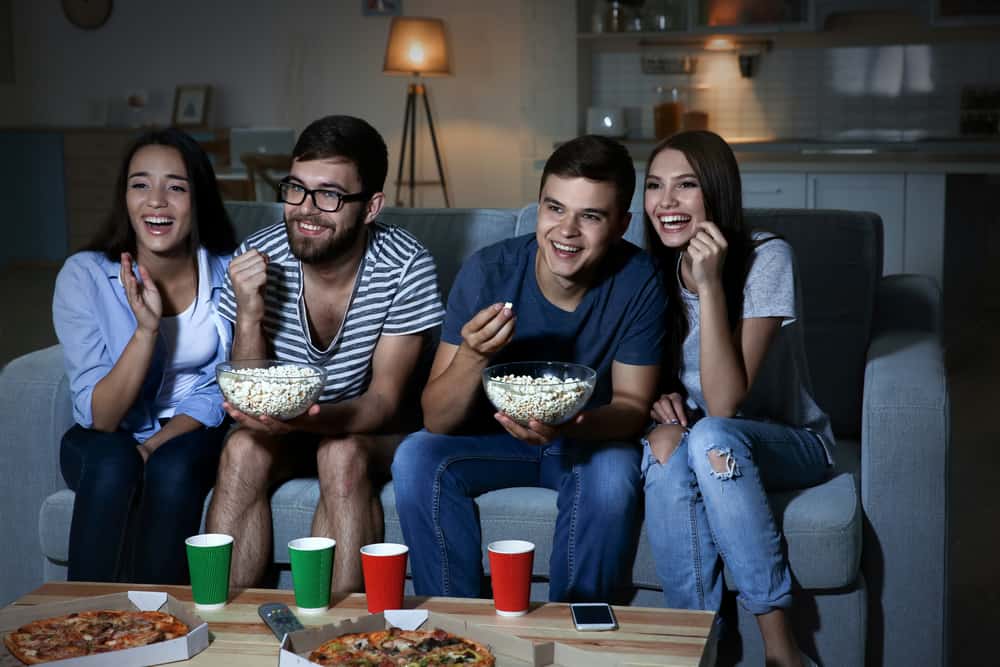 When you have your precious ones in different locations, you may want a way that keeps you connected even though you can't physically meet them.
An excellent method of catching up with your friends is by hosting an online movie party where you can stream the same movie and have fun together.
With an application like Skype, watching a movie with friends is possible, and there are different steps to follow.
To watch a movie with friends using Skype, start by creating a movie group on Skype. Open your Skype application and add your friends on Skype. Ask them to sign up if they don't have a Skype account. Click on the "Chat" section and create a new group chat. Configure your computer using an audio program to share audio over Skype. Load your movie or source it from a streaming site. Start the screen share on Skype and open the movie tab for everyone to watch.
We will understand whether it's possible to watch a movie using Skype. Next, we will cover the steps you should follow to watch a movie with your friends on Skype successfully. Lastly, we will answer a few frequently asked questions.
Can You Watch a Movie on Skype with Friends?
Skype is a Microsoft tool that supports communicating with people via voice, chat, and video calls.
When you want to video call someone for an interview or to catch up, Skype is a great software for that. Skype is a free application, and its features make it possible to host a movie-watch party with your friends.
Using Skype, you can open your movie streaming website, like Netflix. Still, you can play a movie on your computer, and when you have Skype, its screen-sharing feature lets you watch the movie with your Skype friends.
When watching the movie, you can decide to watch from the same device or have everyone open the movie on their device and ensure you all sync.
That way, you will start the film simultaneously and only have one audio device for all friends to listen to via Skype audio or video call.
How To Watch Movies with Friends on Skype
Watching movies is an excellent way to hang out with your remote friends. The trick is ensuring you have a group to use for the group call and a stable internet connection to ensure everyone gets accommodated in watching the movie.
Here's how to use a Skype group call to watch a movie with friends.
Open your Skype account on your desktop.
Add your friends on Skype. If they are not on Skype, ask them to sign up for a Skype account.
On the Skype window, click on the "Chats" tab.
Click the "+ Chat" button and tap on the option for "New Group Chat".
Add the group's details, such as the avatar, name, description, etc.
Message in the group to ensure people are active and agree on what time to start the movie party.
Skype won't capture the movie's audio. So, download an audio program, such as the virtual audio cable.
Configure the audio program to set it as the output device from its settings page.
Open your movie streaming site, such as Netflix, or connect your movie source, such as a CD.
Open the Skype movie party and click the camera icon to start the video call.
Once everyone joins the video call, click on the "Start Sharing" button at the bottom of your screen.
With the screen share enabled, open the tab or window containing the movie you want to watch to be visible to your friends.
That's how to watch a movie from one source, and everyone in the Skype group chat will watch and listen to the movie's audio.
Conclusion
When you want to watch a movie with your friends, Skype is one platform that you can rely on.
With Skype, you can create a group chat with the friend you want to watch the movie with.
Afterward, configure a virtual audio cable, then select the movie you want to watch.
Lastly, start screen sharing on Skype and open the tab or window containing the movie for everyone to watch while listening to the audio.
Frequently Asked Questions
Does Skype support streaming?
When you want to watch movies with your friends via Skype, your best chance is to open a streaming site and enable screen sharing. That way, your Skype friends in the group chat can watch the movie on your streaming site.
How can I share Netflix on Skype?
Open your Skype desktop app and locate the button for screen sharing. Click on it and ensure the Netflix tab is open on your desktop. Set the tab as the active window to make it visible to them.