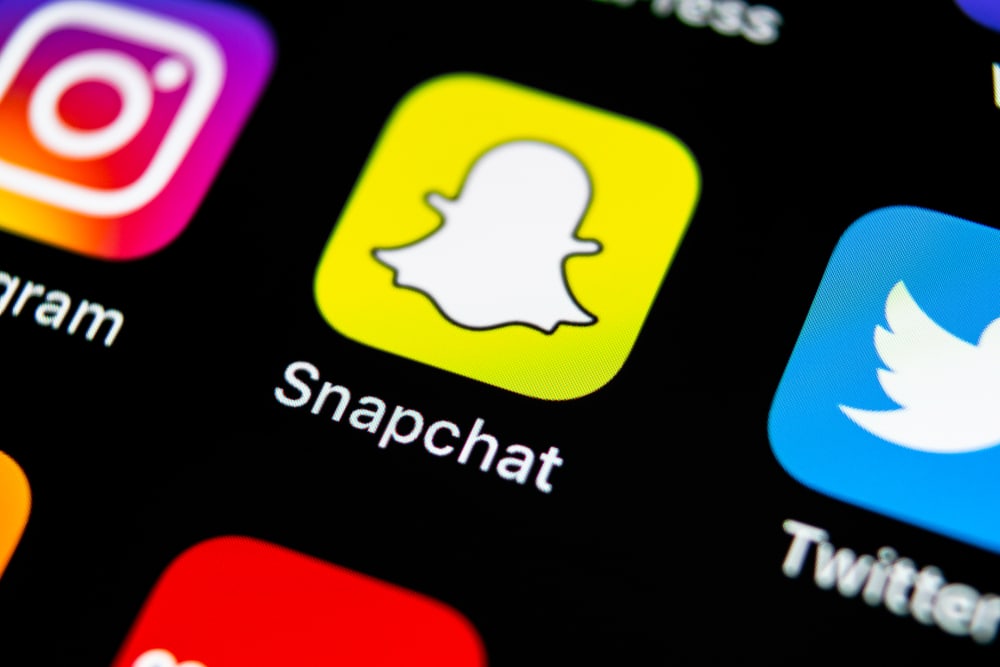 Remember when you used to add a sticker to everything you owned? Notebooks, water bottles, cards, lunch boxes, walls, and any other blank surface you could find.
If your love for stickers has stayed just as strong, the Snapchat sticker feature has got you covered.
To use the Snapchat sticker feature, take a picture or use an existing one. Open the sticker tool, and pick the sticker you like. After adding the sticker, resize and place the sticker. Finally, hit the send button to share the snap with your friends. 
Snapchat also lets you customize your stickers or choose from the library of stickers available on the app. 
The possibilities are endless! Let's learn more about using stickers on Snapchat.
What Is a Snapchat Sticker?
With Snapchat stickers, you can convert your images or snaps to stickers that can be saved to be reused. Snapchat also provides its own stickers, including GIFs and customized Bitmoji icons.
There are mainly six categories of stickers on Snapchat. 
Here is a short overview of the options you can explore for fun with stickers.
Category #1: Recent Snapchat Stickers
In the recent stickers tab, you will find the stickers you have used recently or the ones you use frequently.
If you are new to Snapchat or stickers, the Recent tab will show you the popular emojis.
Category #2: Emoji Stickers
Emojis are nothing new and can be found on all social media applications.
You can find the standard emojis collection on Snapchat as well.
Category #3: Customized Snapchat Stickers
As mentioned earlier, you can add your personal touch by customizing stickers. In this tab, you will find all the stickers you have created.
We will look at how to customize your stickers in a while, so hang in there.
Category #4: Suggested Snapchat Stickers
You must have seen the day's standard timestamp or sticker on your friends' snaps. These are the recommended stickers. These will be shown to you automatically whenever you open the sticker tab.
You might also see the Bitmoji stickers being recommended to you.
Category #5: Bitmoji Stickers
Bitmojis are another type of customized sticker that you can find on Snapchat. You can create your own Bitmoji character on the Bitmoji app or Snapchat. It will then show on your Snapchat sticker tab.
What makes Bitmoji so fun is that you can type in any keyword, and Snapchat will show you various relevant options. It is perfect for when you do not know what to say.
Category #6: GIF Stickers
There is no separate GIF tab or icon, but you can find it in the stickers tab. Tap on the "GIF" button that appears along with other recommended stickers.
Alternatively, use the search bar for a relatable GIF. Just enter the keywords, and you will be shown all the relevant GIFs, stickers, and Bitmojis.
So are you excited to relive the good old days of stickers? 
Let's look at how you can use and create your own Snapchat stickers.
How To Use Stickers on Snapchat?
Follow these steps to use stickers on Snapchat:
Open the Snapchat app on your mobile device. 
Capture a photo or video, or select one from your camera roll.
Tap on the sticker icon. It is a square icon with a folded corner.
Tap on the sticker you want to add to your snap.
Tap the "Send To" button in the bottom right corner.
Select the recipients and hit the blue send button in the bottom right corner.
The sticker will automatically appear in the center of the screen. You have the option of dragging it across the screen to rearrange it. To change its size, pinch it.
You can add more than one sticker as well.
How To Design a Custom Sticker on Snapchat?
Cannot find a sticker that conveys everything you want to say? 
Make your own! 
Below are the steps on how to make custom stickers:
Open the Snapchat app on your mobile device.
Capture an image or video or select one from the gallery.
Tap on the scissors icon on the right side of the screen.
Trace around the area you want to convert to a sticker. Make sure it is a continuous trace.
Pinch or drag to resize or rotate the sticker.
To add more stickers, tap on the sticker button.
Send the snap to your friends.
The sticker is made as soon as you release the finger drag. The sticker will automatically be added to your stickers collection.
How To Delete Stickers From a Snap?
Creating stickers is a process of trial and error. If you add a sticker to your snap but do not like it, you can delete it:
Tap and hold on to the sticker. A trash can icon will appear at the bottom.
Drag the sticker to the trash can icon and release it.
Conclusion
Now that you know about Snapchat stickers, you can play around with them and relive your childhood memories.
Create your own stickers, add Bitmojis and GIFS, and create engaging stories.
Having too many stickers is never wrong, so go crazy with them.