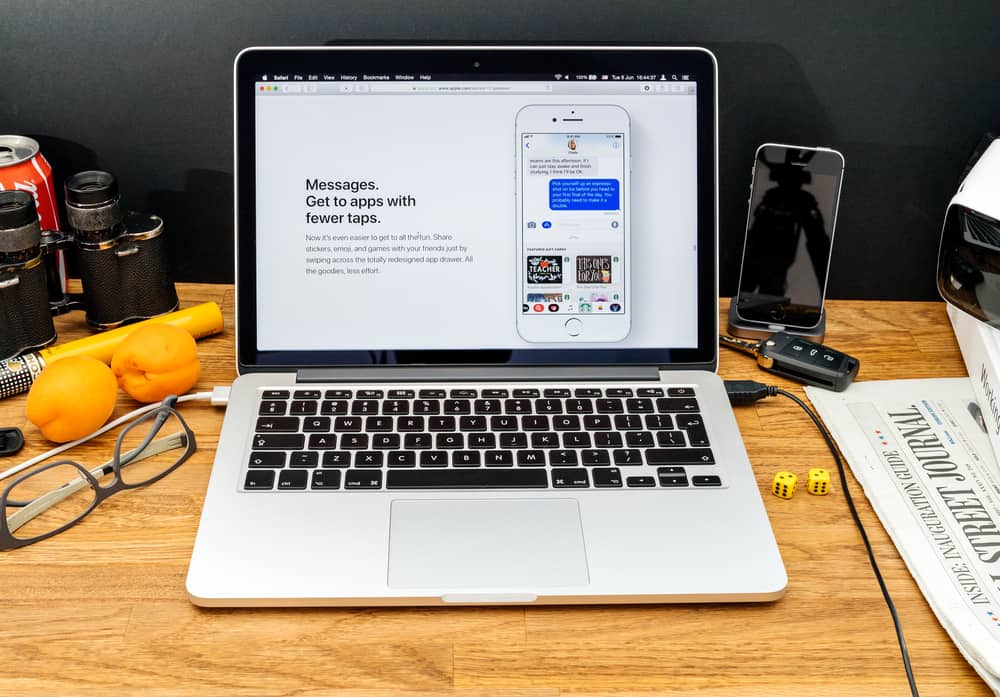 With the growing demand for secure digital communication, iMessage provides a reliable solution. It's lauded by Apple users worldwide, who rely on it to keep in touch with friends and family.
Safely sending messages as text, images, or videos between iOS and macOS devices are just a few of its unique features.
When using the Message app on Mac, it's most likely that your iCloud has synced all your messages, sent and received. However, if your Mac Message app does not show the latest activity, there may be an issue with the sync. 
To sync your Message app on Mac with your latest iMessage activities, click on the "Messages" menu and select the "Preferences" option from the dropdown. After that, choose iMessage, check the box next to "Enable Messages in iCloud," and click "Sync Now." After the messages are synced across all your Apple devices, new items will appear on your Message app on Mac. If you want to update the messages app on Mac, you can do it from the App Store.
However, it's natural to encounter difficulties while using iMessage, such as when updates don't appear, or the tool isn't working correctly. To get you back up and running smoothly, this blog dives into how to update iMessage on Mac computers and tackle any related issues that may arise. 
iMessage on Mac
Connect to the people who matter the most with iMessage on Mac – a hassle-free built-in messaging app from Apple. Easily send text, photos, and videos between devices in seconds!
All your conversations stay up-to-date across all of your iCloud-enabled gadgets. Plus, create group chats that are just as easy to manage thanks to features like emojis and location sharing.
The Message app on Mac is a great way to stay connected with family and friends. It allows you to use the same iMessage account from your iPhone, iPad, or iPod touch – so that even without an iPhone close by, you can still send and receive messages in real-time.
Plus, it adds extra fun options like emojis such as balloons, confetti, and other effects for spicing up conversations.
To take advantage of the worldwide communication capabilities, ensure you're logged in with the same iCloud account on all your Apple devices.
With iMessage enabled across numerous platforms–from Macs to iPhones and iPads–you'll be able to keep up a dialogue with those near or far without missing a beat! Plus, view attachments from past messages and involve yourself in group conversations for an even richer experience.
However, to ensure your Mac experience with iMessage is secure and efficient, it's essential to keep the app up-to-date. For any unexpected performance issues, troubleshooting methods such as exploring available updates, clearing cache folders, and disabling/enabling components can help resolve them quickly.
All in all, iMessage on a Mac computer offers an incomparable advantage for Apple customers aiming at smooth communication – making this application worth trying out!
Steps To Update iMessage
To update all your messages on iMessage on Mac, you need to sync iMessage with your iCloud. Here are the steps:
Open the Messages app on your Mac.
Log in to the iCloud account using your credentials.
Click on the "Messages" menu.
Select "Preferences."
In the Preferences tab, select the "iMessage" tab.
Check the "Enable Messages in iCloud" box.
Click on the "Sync Now" button.
Wait for the messages to be synced across all your Apple devices.
Once the sync is completed, new items will appear in your Messages app on Mac.
Keep your iMessage app in sync across all of your Mac devices! To ensure you can access the latest messages sent and received, simply follow these steps.
If a difficulty arises while syncing, troubleshoot by double-checking the network connection or disabling/enabling the application.
Updating Messages App on Mac
If you wish to update the Message app on your Mac, it's just as simple!
Follow these steps:
Open the App Store on your Mac.
Click on the "Updates" tab.
Find and click "Update" next to the Messages app in the list of available updates.
Once the update download is complete, you can launch the updated version of the app. 
Troubleshooting Tips
Here are some troubleshooting tips to help resolve any issues you may have with the Messages app on Mac:
Check your internet connection: To ensure your Mac has smooth operation and messaging, it's essential that you have a reliable internet connection. Poor connections can lead to disruptions in sending or receiving messages.
Disable and re-enable iMessage: To customize your Messages settings on Mac, go to the app's "Preferences" and toggle off/on the "Enable this account" box.
Clear the cache: To improve messaging performance on your Mac, access the Messages app "Preferences" and select the "Accounts" tab. Select the affected account, then within "Advanced options," choose "Delete" to clear its cache of messages.
Check for updates: Keeping your Mac and Messages app current is paramount for ideal performance. To ensure the best experience, regularly check the Mac App Store for potential updates.
Restart your Mac: Restarting your Mac may be the quickest way to solve any troubles you've been having with Messages.
Check your settings: Ensure the correct settings are enabled for the Messages app. Go to the Messages app on your Mac, select "Preferences," and then click on the "Accounts" tab. Ensure that your settings match the ones on your other Apple devices.
If you're still experiencing issues with the Messages app on your Mac after trying these troubleshooting tips, contact Apple Support for further assistance.
Conclusion
In conclusion, the Messages app on Mac is a convenient and efficient way to communicate with friends and family.
By following the steps provided, you can update and sync your iMessage, ensuring that all your messages are up to date on your Mac. If you encounter any issues, the troubleshooting tips provided should help you resolve them.
Always keep your Mac and the Messages app updated to ensure optimal performance and security. If you're still experiencing issues, contact Apple Support for further assistance.