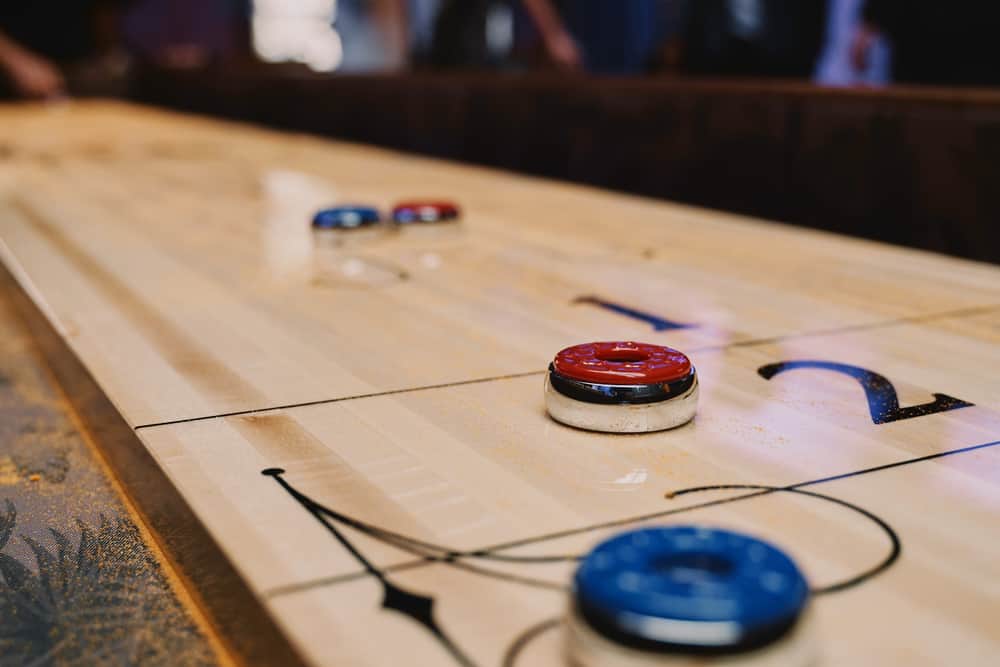 Shuffleboard doesn't immediately spring to mind when you imagine playing games on your iPhone, but it's actually a lot of fun!
In this post, we'll show you how to play Shuffleboard on iMessage so you can challenge your friends to a game the next time you're texting.
To play the Shuffleboard game on iMessage, you must have the GamePigeon app installed on your device. Open up a conversation in iMessage and tap on the GamePigeon app from the app drawer. Find "Shuffleboard" from the options available, then select it. Choose your map and hit send. You and your contact can start playing the game now. 
The game might be fun to play with friends on iMessage; however, you may be hurdled by questions if you're a newbie. This guide will help you learn about Shuffleboard on iMessage and other games. 
What Is Shuffleboard?
Shuffleboard is a game that can be played on any surface but is most commonly played on a table. In the Shuffleboard, pucks, which are disks, are slid down the length of the table to score points.
The first player to reach the required number of points wins the game. Shuffleboard can be played with two people or teams of two or more people. 
To play a physical Shuffleboard, you will need a shuffleboard table, pucks (or weights), and cues to set up the game. Each player or team slides their pucks onto the shuffleboard table.
The first player to slide their pucks into the scoring area starts the game. Play then alternates between players or teams until all pucks have been used. Winners are the players or teams with the most points after the game ends! 
The digital version of the game is precisely similar to how it is played physically. It's much easier and fun to play with contacts.
iMessage provides various casual games to play with contacts, including Shuffleboard in its GamePigeon app console.
So if you're a shuffleboard fan or are just looking for a casual time pass with your friends on iMessage, the following section will catch you up to the steps to get started on the app. 
How To Play Shuffleboard on iMessage?
To play Shuffleboard on iMessage, you need to make sure that you have a contact with whom you can play the game and that they are aware, online, and responsive to your texts.
Now, with all the requirements in place, let's see the steps to start playing Shuffleboard in iMessage:
Launch the iMessage app on your iOS device. 
Find and tap on the contact you want to play with. 
Tap on the App Store icon beside the typing box. 
Search for "GamePigeon" and tap "Get" to install it. 
Once installed, click on the GamePigeon icon from the app drawer inside the chat window of the concerned contact. 
From the list of games that appear, look for "Shuffleboard" and tap on it. 
Tap the send button.
Wait for your friend to respond. 
Start playing.
With these steps, you're well on your way to enjoying Shuffleboard on iMessage. It's true; iMessage makes it a habit to chat with friends and spend quality time with them with its games and interface.
What Other Games Are There on iMessage?
In addition to Shuffleboard, there are many other great games that you can enjoy on iMessage. Here are just some of our favorites:
8 Ball Pool: A classic game of pool that you can enjoy with friends on iMessage.
2048: A addictive puzzle game that is perfect for passing the time.
Basketball: You can play a fun and competitive game with friends or against the computer.
Chess: A timeless game of strategy and skill that you can enjoy on iMessage.
Mini-golf: A digital golf to pass the time for great thrills.
Other fun games on iMessage are Word Hunt, Cup Pong, Dots and Boxes, and many more! You can spend time and not even realize with all fun.
With a flawless internet connection, you can play the game in real-time without lag. 
Common Mistakes To Avoid When Playing Shuffleboard on iMessage
When playing Shuffleboard on iMessage, people often make a few common mistakes. Here are some to avoid:
Not paying attention to the puck: All the action takes place on the puck, which is the most important part of the game. Make sure you always keep your eyes on it and don't let it out of your sight.
Hitting the wrong target: There are targets at either end of the board, and you want to hit them with your pucks. Make sure you're aiming for the right one, or you'll just be wasting your time.
Forgetting to use your boosters: The boosters can greatly help win the game, so make sure you use them wisely.
Getting frustrated: Shuffleboard can sometimes be frustrating, but it's important to keep calm and not let it get to you. You'll only make things worse for yourself when you get too upset.
To Wrap Things Up
To wrap up, there are a few vital things to remember when playing Shuffleboard on iMessage.
First, keep your hands close to the center of the board so you can easily slide the pucks. Second, use a light touch when sliding the pucks, so they don't go off the board's edge.
Finally, have fun and enjoy the game!