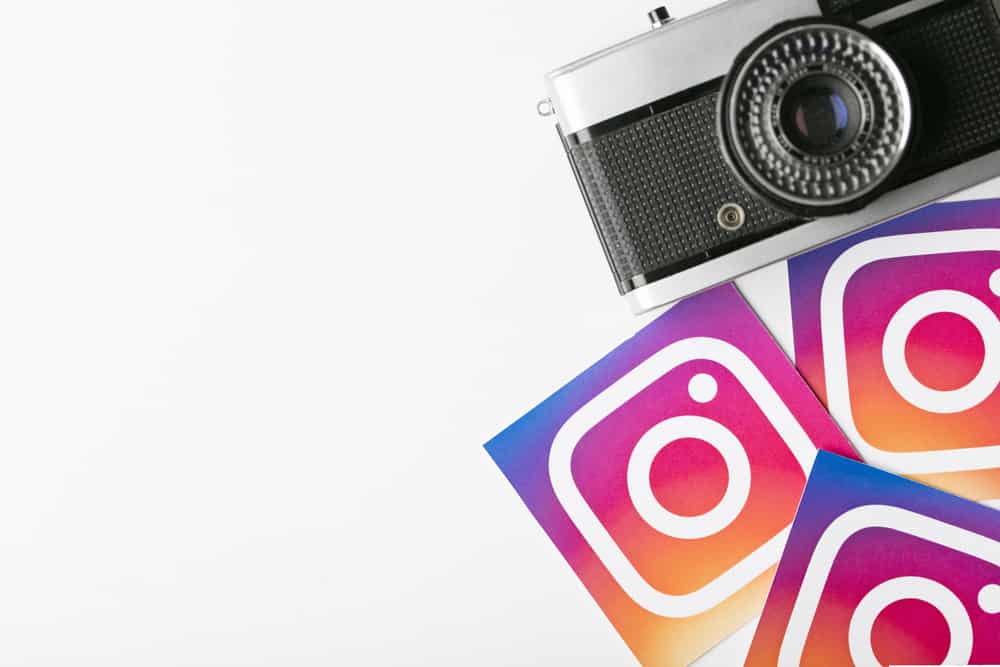 If you often use Instagram, you may sometimes scroll mindlessly and click the wrong thing. It happens to most of us. You may have clicked on "Not interested" on someone's Instagram post or reel by mistake and may not know what to do next. On the other hand, you may wish to give another chance to someone if you have opted not to see their posts on Instagram earlier.
One way to undo "Not interested" on Instagram is to immediately click on undo button as soon as you click to hide the post. This will instantly bring back the post on your feed and not affect your Instagram interactions. If you have hidden an account's post by muting them, you must visit their profile to undo it.  
You may need a step-by-step if you're still confused about it. Keep reading to find more on how to undo the "Not interested" setting from your Instagram profile.
What's the Use of Not Interested on Instagram?
The "Not interested" feature on Instagram is a great way to avoid seeing posts that you're not interested in. If you're scrolling through your feed and you see a post that doesn't interest you, simply tap the "Not interested" button, and it will be removed from your feed.
This helps to declutter your feed so that you only see content that interests you. Additionally, Tapping "Not interested" on a post also tells Instagram what sort of content you are not interested in, and they'll try to show you less of it in the future.
Besides, this is useful if you're trying to avoid spoilers for a TV show or movie or just don't care about what they're posting.
Instagram will never notify your friends if you use this setting, and you still have control over your profile visibility and interactions.
If you wish to entirely hide suggested posts from your Instagram feed, you may tap on the cross above any suggested post and then click on three dots to snooze suggested posts for the next thirty days.
Undo Not Interested From The Feed
After clicking on the hide icon on a post, Instagram will not show you such posts or show them at the end of your feed. It also gives an option to mute the user's posts and stories. This handy Instagram feature lets you be in control of what you see on the app. You don't have to put up with anything you may not like.
Once you realize you have tapped on not interested by mistake, here's what you may do to reverse it. You will see a few options, including reporting the post, muting the account, and unfollowing the account. Above these three options, you'll see an "Undo" button. Just click on this, and the post will be visible again.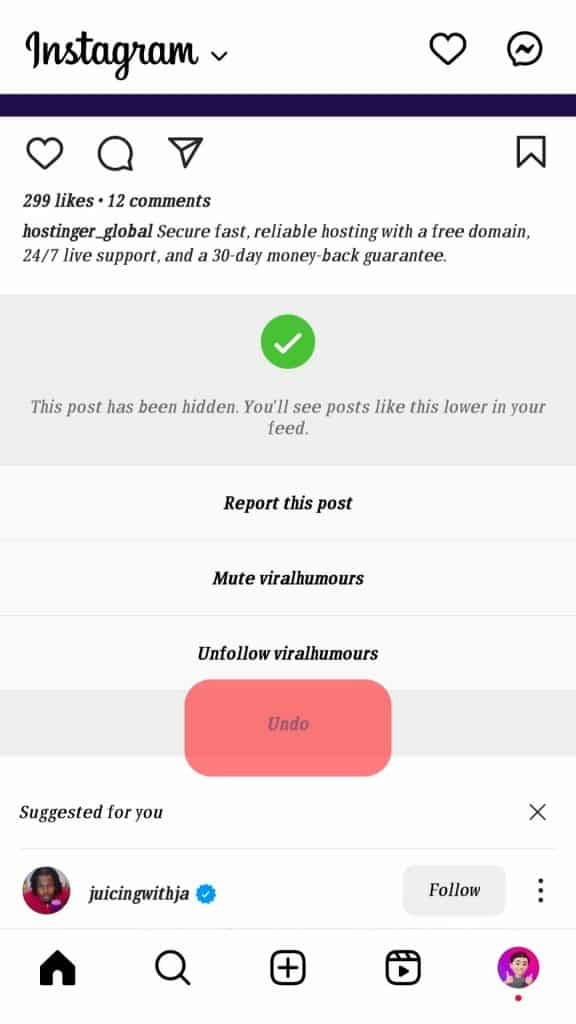 This feature only works for the posts you recently clicked on in your feed. Once the post is hidden from your feed, you'll have to unhide it via the account's profile.
Undo Not Interested From The Profile Post
If you cannot make it in time to undo the not interested button from the feed, this may help you.
Here's how you may do it:
Search the Instagram profile.
Find the post that you have hidden and click to unhide.
If you have muted the account, click on the following.
Tap unmute for stories and posts.
When you interact with the same account again and watch their posts and stories, it will notify Instagram about your recent activity. As a result, it will automatically suggest the account's posts and similar ones from other accounts.
Your interaction with any Instagram post affects the demographics; hence, the app suggests similar content. So whatever you see on your feed, apart from the accounts you follow, is highly dependent on your online activity.
Your interactions also affect the targeted ads on the apps.
Wrapping Up
Clicking on the not interested icon is a convenient way not to see the posts of a specific account. You may do it for various reasons, such as needing a break from the account or just decluttering your everyday feed on the gram. This offers you the freedom to get rid of things you're not interested in and only choose to see what adds value to your feed.
Note that it's reversible, and now you know how to undo not interested on Instagram. You may do it in your feed within a few seconds of clicking on not interested. In addition, visit the profile and click on the post to unhide it. Whether you clicked on the option by mistake or wish to give the account another chance, this will restore your feed.