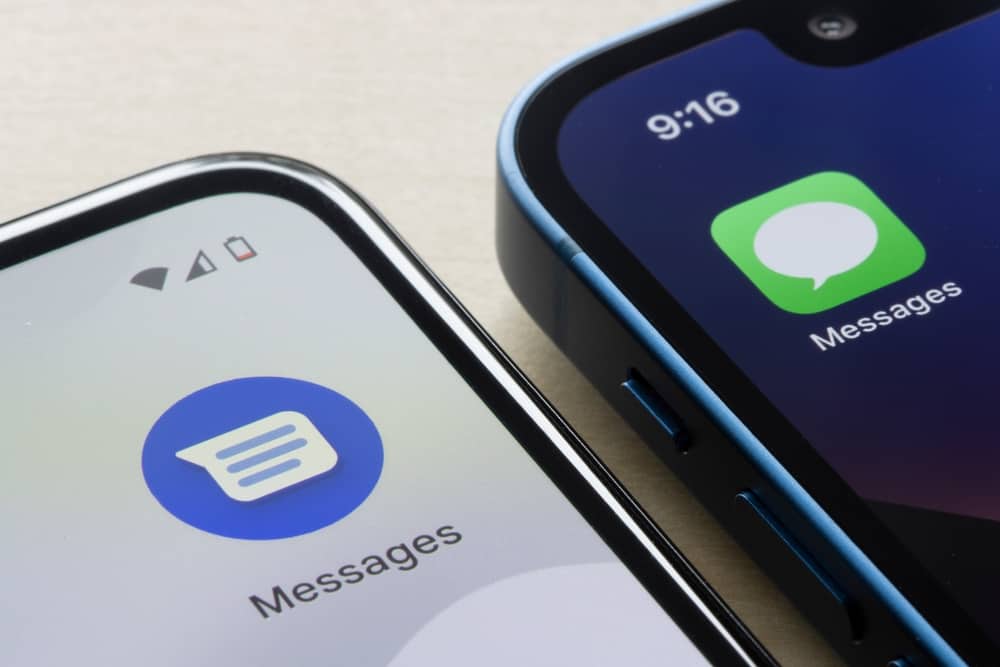 Change is inevitable, and when you decide to change your phone to switch from an iPhone to an Android, you will need to move your iMessages to ensure you don't lose your data because of the change of phone.
Android and iOS run on different operating systems. Hence, transferring files between the two platforms is not a straightforward process. Nonetheless, there are various options you can use for the transfer.
The first option is to connect your iPhone to your computer and then export your iMessages as an iTunes backup. Locate the transferred iMessages backup and copy it to your Android phone via a USB cable. Next, use an app like iSMS2droid to import the copied file. Once imported, if you open your message app, you will find all your iMessages on the messaging app confirming the transfer was successful.
Transferring iMessages to Android is a challenging task for many people. This guide discusses whether it's possible to transfer iMessages to Android and presents two convenient approaches you can use.
Can You Transfer iMessages From iPhone to Android?
Android phones and iOS devices run on different operating systems. Hence, you can't directly transfer a file from your Android phone to your iPhone. Besides, the cloud backup options used by iOS are different from those used by Android.
We understand how confusing changing from iPhone to Android or vice versa can be when you want to transfer your messages. Having a way to transfer your iMessages is handy, especially since you don't want to lose your data after changing the phone. Luckily, some different tricks and tools facilitate this transfer, provided you know the tool and how to use it.
Some tools are free, while others are paid for. Before you search for the tools you can use online, take a moment to try the methods presented in this guide.
How To Transfer iMessages to Android
iPhone and Android use different file structures. We will cover two methods you can use for transferring iMessages to Android.
Using iTunes Backup with
iPhone lets you export your messages to a computer, where you can transfer them to your Android phone. The idea here is to back up your phone, extract the messages from the backup, and transfer them to Android.
Follow these steps.
Open the Finder or iTunes application on your computer.
Connect your iPhone via a USB cable to your computer.
Locate the "Summary" tab on the left and click the "Back Up Now" option.
A full backup of your iPhone will be created.
On your computer, locate the backup. For Windows, open the C:\Users\<username>\AppData\Roaming\Apple Computer\MobileSync\Backup\ path. Open the ~/Library/Application Support/MobileSync/Backup/ path for Mac.
Once the folder opens, locate a file named 3d0d7e5fb2ce288813306e4d4636395e047a3d28 and transfer it to your Android phone.
On your Android phone, open Play Store and download the iSMS2droid application.
Open the installed application and click the "Import Messages" option on its dashboard.
Select the file you transferred to your Android file.
Lastly, select how to import the messages.
Open your messaging application.
You will find all your messages transferred to your Android phone successfully.
Using Third-Party Tools
An online search will give different tools that you can use for transferring the iMessages to Android. Some of these third-party tools work conveniently and can transfer messages to any Android phone, and are compatible with different iOS versions.
Here are the general steps to follow.
Visit the third-party tool's website.
Download the tool on your computer.
Install the downloaded software and launch the program.
Find the "Phone to Phone" transfer option and click on it.
Connect your Android and iPhone to your computer.
Select your iMessage and start the transfer.
Popular third-party tools that support transferring messages from iOS to Android include MobileTrans, Samsung Data Transfer, Backuptrans, etc.
Conclusion
Transferring iMessages to Android is a challenging task for most people. However, this guide has presented two approaches you can use to simplify the task and manage to transfer your messages. Hopefully, you now understand how to transfer your iMessages.
Frequently Asked Questions
Does iPhone have a way to transfer iMessages to Android?
No, it doesn't. Android and iPhone are two separate platforms running on different operating systems. Hence, there is no option for transferring messages directly from an IOS to an Android device.
How can I transfer iMessages to Android?
When you change to an Android phone, export your iMessages to an iTunes backup using your computer. Next, connect your Android phone to the computer and locate the file containing the backed-up iMessages. Copy the file to your Android phone, then use an application like iSMS2droid to import the messages.