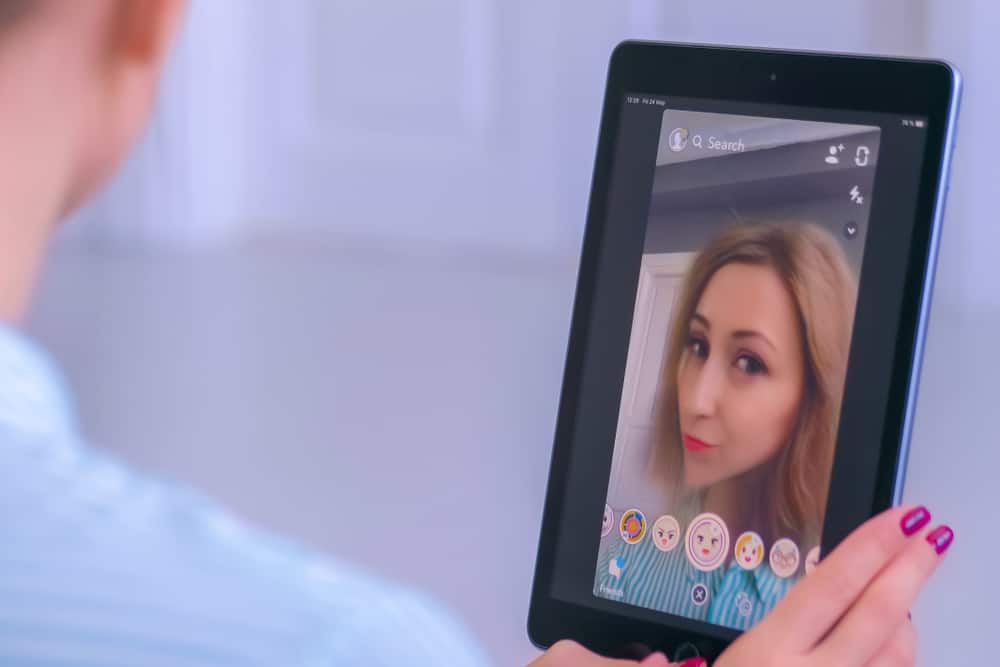 Many of us are operating from home and attending Zoom meetings for work in our current climate. And while you may not need to look your best for a quick meeting with your team, there are times when you require to put your best face ahead – like when you're giving a presentation or interviewing for a new job.
However, there are other instances where you might appear on a Zoom call for fun with friends. In that case, you can use Zoom Studio makeup effects. Zoom studio effects also come in handy to add a touch-up on your face.
So, how do you put on makeup on Zoom?
To use the Zoom studio makeup effect, go to the settings, and click on "Background & Effects." From there, select "Studio Effects" and pick the makeup filters you want, and you're well on your way.
In any case, let's learn how to put on makeup effects on Zoom Studio and gather some tips on how to put natural makeup to appear on a Zoom call. 
What Are Zoom Studio Effects?
Zoom is an increasingly popular video conferencing tool that offers businesses and individuals a wide range of features. One of the most innovative and exciting features of Zoom is Zoom Studio Effects.
This allows users to add professional-looking effects to their videos, such as green screen backgrounds and audio filters. 
Zoom Studio Effects makes it easy to add an extra level of polish and professionalism to your Zoom calls, and it's one of the many reasons that Zoom is becoming the go-to choice for video conferencing.
So if you're seeking a way to make your Zoom calls more engaging and impressive, be sure to check out Zoom Studio Effects.
How To Add Makeup Effect on Zoom Studio?
Whether you're a beginner or a pro, Zoom Studio makeup can help you acquire the perfect look for your next video call. Zoom Studio makeup is designed to provide natural-looking coverage while still allowing your unique features to shine through. 
To use Zoom Studio makeup, apply a small amount of foundation or concealer to your face and blend well. Then, add blush or bronzer to add color and definition to your cheeks.
For eyes, you can either use a light eyeshadow or apply some mascara. Finally, add a bit of lip gloss or lipstick for a finishing touch.
Zoom Studio makeup is easy to use and provides excellent results, so give it a try again sometime when you're getting ready for a video call.
The following steps will enable you to access effects on Zoom Studio during video conferencing: 
Open Zoom on your device.
Click on the settings icon in the top right corner.
Select the "Background & Effect" option. 
Click on "Studio Effects" in the bottom right corner.
Browse and choose the effect you're looking for. 
Note that after you've applied these effects, it's not guaranteed that you will appear your best, as they're filters and effects, after all. For a more authentic approach, you may approach by upping your natural makeup game. 
Should You Use Special Effects While on Video Calls on Zoom?
When it comes to using special effects on Zoom, it really depends on the purpose of the call. If you're video chatting with friends or family just for fun, adding a few silly effects can be a great way to spice up the conversation.
However, if you're participating in a business meeting or another professional setting, it's probably best to stick to a more traditional appearance. That being said, there's no harm in experimenting with the different filters and effects available on Zoom. Just ensure that you use them sparingly and in appropriate situations.
Natural Makeup Tips To Appear Best on Zoom Call
Putting on makeup for a Zoom meeting slightly differs from your everyday routine. Here are some tips to prepare you to look your best on camera.
Start with a clean face. Wash your face with a cleanser and use moisturizer to help your makeup go smoothly.
Apply a little bit of concealer on any blemishes and under your eyes. Then, dust a translucent powder over your entire face to help set your makeup.
For your eyes, choose a neutral shadow and line your upper lash line with a black pencil liner. Add light mascara to both your top and bottom lashes. Finally, fill your brows with a pencil or powder to help frame your face.
For your lips, start by lining them with a lip pencil. Then, apply lipstick or gloss for an accentuated feature. Choose a flattering color but not too bright – you want people to focus on your face, not your lips!
Putting on makeup for a Zoom meeting doesn't have to be complicated. Just take the time to prep your skin and use some essential products to create a polished look. With these tips, you'll look great on camera in no time!
Role of Lighting During a Zoom Video Call
When it comes to Zoom calls, lighting is critical. Proper lighting can help you look your best on camera, while bad lighting can make you look washed out or even distorted. The best lighting for Zoom calls is indirect natural light.
If you're near a window, position yourself, so the light is not directly in front or behind you but rather from the side. You may also wish to invest in a ring light, which can help to provide even, flattering light. Adjust the brightness as needed, so you don't blind your calling partners!
Conclusion
Putting on makeup for a Zoom call doesn't have to be a herculean task, as it doesn't require much overdoing. You need to be scant about what you wear on your face.
In addition to the natural makeup, you can also access Zoom Studio Effects, where you will find makeup effects like eyebrows, mascara, blush, etc., to accentuate how you look on the camera.
In the end, if you're all set, don't forget to get good lighting for your call.