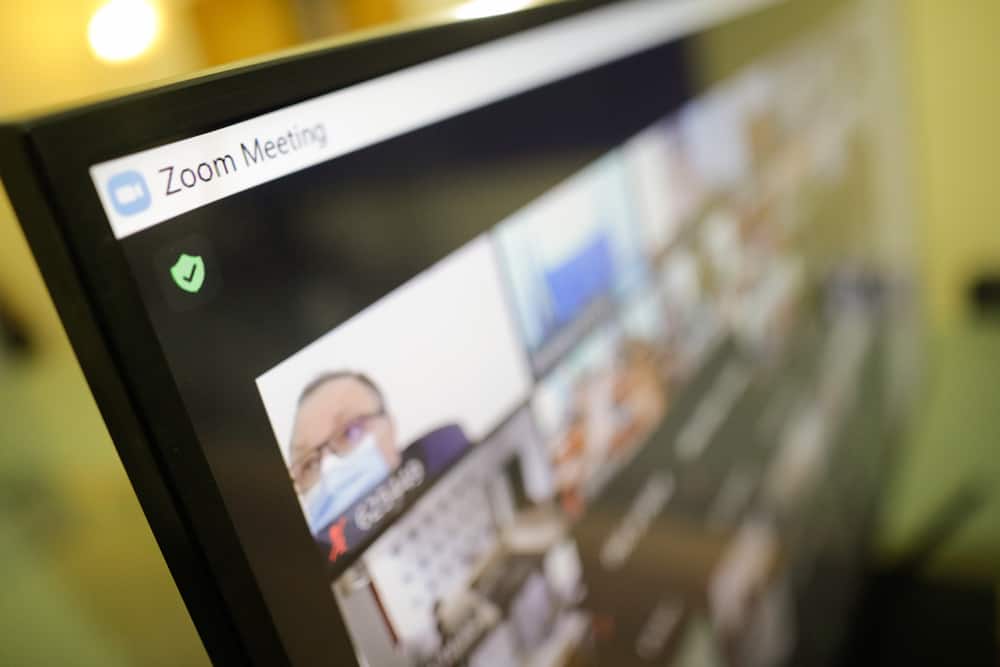 Zoom started as an alternative to business and social meetings when the world shunned itself due to the COVID-19 pandemic. Though not an absolute substitute for physical meetings, Zoom still provided a decent platform to conduct business meetings, online classes, or even trivia nights with friends while maintaining the needed social distancing.
Using Zoom to conduct almost all meetings virtually introduced the Zoom fatigue factor into our lives. Zoom meetings are draining and physically and emotionally exhausting for users. Though we cannot do anything when compelled to attend Zoom meetings or lessons.
What we can do is escape from overtly exhausting conferences. Want to know how? Allow us to explain.
You can try the Zoom Escaper web widget to add fake sounds to your Zoom meeting to pretend any problem. You can add fake sounds ranging from echo and man weeping to winds blowing or dogs barking. Similarly, you can try SnapCam on Zoom and use the "Buffering" lens to distort your video and audio during the Zoom meeting.
This article shows you how to pretend that your Zoom isn't working correctly. Following the tutorial, you'll be able to escape any boring meeting on Zoom.
Draining Zoom Meetings 
We all know how social distancing became important during the COVID-19 pandemic to prevent contracting the virus. The epidemic not only affected people's health but also impacted their livelihood. Hundreds of thousands of people worldwide lost their jobs during the pandemic.
Despite all the gloom and pessimism, the world had to move on. People had to conduct their business meetings, students their lessons, late-night show hosts their interviews, and others do whatever they needed to keep going.
According to Zoom data, during the first few months of the COVID-19 pandemic, the daily meetings on Zoom increased to 300 million. It was the fast growing-app of the pandemic, and its value increased to $100 billion during the pandemic.
Amid the chaos, Zoom proved to be a beacon of lost hope. It provided the perfect platform for people to conduct business, learn lessons or connect with their families. With all the good parts, Zoom also came with baggage.
Zoom fatigue became an unshakable thing. Many users complained that they found Zoom meetings more draining than one-on-one meetings with their clients.
Many neuroscientists explained that when we stay hooked to our screens — staring at people's faces during Zoom meetings — it sends excessive information to our brains. Excessive screen time overloads our brains — making our brain drain and eyes heavy.
Everyone should hold short meetings that end after serving the purpose quickly. But, we live in less-than-ideal situations where things do not happen as we hope.
Still today, after almost three years of the pandemic, the hybrid work environment prevails — a combination of remote and physical office work. So, Zoom is still here to stay for longer than we anticipated.
Talking about Zoom fatigue, you must be wondering if there is any way to escape Zoom meetings without offending anyone. Well, there is. Let's figure it out.
Sabotage Your Zoom Meeting With Zoom Escaper
If you want to sabotage your Zoom meeting with a poor internet connection, a fussy baby, a crying roommate, construction work, or an echoic sound, you can use "Zoom Escaper."
Zoom Escaper is a web widget created by Sam Lavigne. It adds fake sounds to your Zoom call, enabling you to escape it.
The process to use Zoom Escaper is like this;
Navigate to the Zoom Escaper site on your favorite browser.
Click on the "Enable Microphone" button on the website.
Download VB-Cable on your Windows or Mac device.
Refresh the page and select "VB-Cable" in the output device option.
Open Zoom on your PC.
Click on the settings icon in the top right corner.
Select "Audio" from the left navigation. 
Select "VB-Cable" under "Microphone."
Set the "Background noise suppression" to "Low."
During the meeting, go to the Zoom Escaper site and select whatever fake sounds you want to add to your audio. You can also change the volume of each fake sound per your preference.
There are 8 fake sounds that the Zoom Escaper offers. These are; Echo, Bad Connection, Upset Baby, Man Weeping, Wind, Dogs, Construction, and Urination.
Fake Poor Connection During Zoom Meeting Using SnapCam
You can also use Snapcam and any buffering lens to fake the internet issue during Zoom video conferencing.
Get SnapCam for your PC.
After the download, select any buffering lens.
Open Zoom on your PC.
Tap the settings icon in the top right corner.
Select "Video" from the left navigation.
Choose "SnapCam" as the "Camera" option.
Now, your video will freeze on Zoom with a buffering icon on the screen every time you select any buffering lens on SnapCam. It will enable you to fake a poor connection. Similarly, your sound will glitch out with this on Zoom.
Other Silly Ways Around
You can also try other ways to get out of a Zoom meeting: 
Put a sticky note on your camera which appears as if there is some issue with your Zoom video.
Use your photo as a background instead of sitting yourself in a meeting.
If it starts draining, be brave and leave the meeting.
Round-Up
We cannot deny that Zoom meetings can get tedious, especially when they are not as productive as we hoped. So, in this article, we tried to help all our buddies who want to get rid of unnecessarily long and draining Zoom meetings.
You can try the Zoom Escaper widget and even SnapCam with buffering lens to fake any problem with the audio or video of your Zoom meeting.
However, it is imperative that the organizers of the meeting should also consider the mental state of the participants. They should end unnecessarily long sessions or give breaks to participants to recharge themselves and rejoin with zest and zeal.