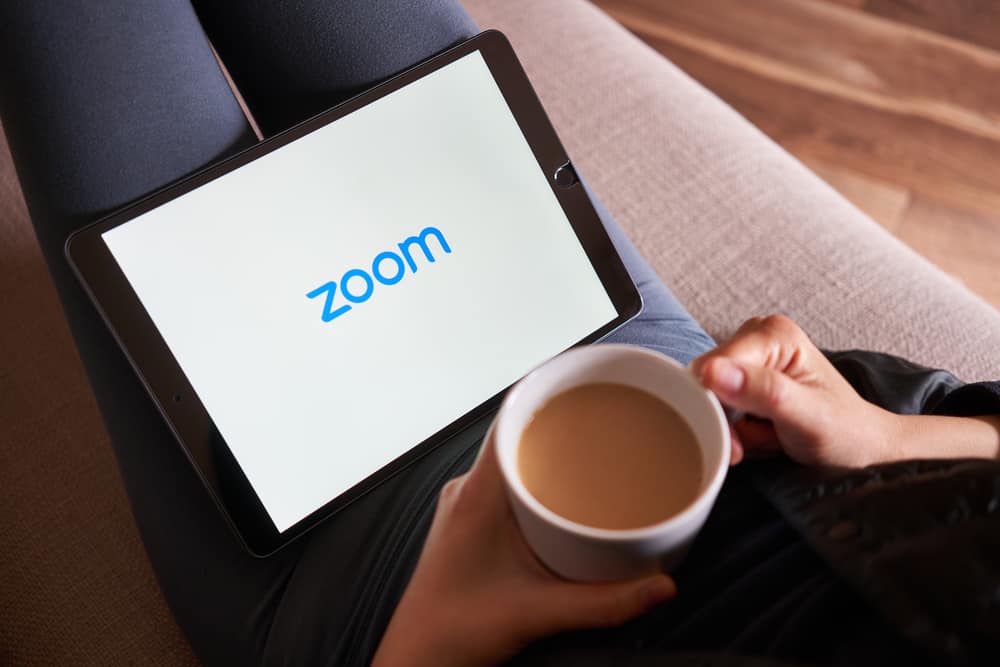 Jeopardy is one of the classic Television game shows where contestants show their knowledge on a wide range of subjects. It is also a great team-building exercise and a way for students to learn in a classroom.
Online games are a popular way to connect people in different locations, and you can do it through mobile apps or virtual meeting apps like Zoom. So, how do you play Jeopardy over a Zoom meeting?
Open the Jeopardy Lab website on your browser. Pick a theme for the game before inputting questions in each cell. Start the Zoom meeting and click on the green shield on your screen to invite participants. Group participants into teams and start sharing your screen.
This article covers the process of playing Jeopardy on Zoom. It also explains how to properly set up a game on Jeopardy Labs and share your screen on different devices.
Jeopardy Online
If you are an avid lover of the Jeopardy game show and have always dreamt of playing it live, you are in luck because Jeopardy has been converted to an online game.
You can now play from the comfort of your home and with family and friends through virtual meeting platforms like Zoom, Google Meets, WebEx, etc.
Jeopardy labs is the official site created by franchise owners to facilitate remote gameplay.
It is a free-to-play platform; however, with $20, you get a lifetime membership and the ability to add images, embed videos, and manage templates. 
There are other platforms where you can play Jeopardy online, such as Sporcle, Arkadium, and Factile. The experience may look and feel different from Jeopardy, but it is an excellent online trivia platform.
What Do You Need To Play Jeopardy on Zoom?
To play Jeopardy on zoom, these are the things you need:
A computer: This would be used by the host to set up the game and manage the game's flow. The host would also be in charge of keeping scores for the teams. This is best done over a PC.
Zoom app: the participants can join over a PC or mobile device using the Zoom app.
Internet connection: All players should have a steady internet connection to stay in the game.
How To Play Jeopardy on Zoom Using the Jeopardy App?
Here are the steps to play Jeopardy on Zoom.
Step #1: Pick a Theme
Jeopardy is a trivia game that relies heavily on themes. It is essential to pick a theme that every team member is knowledgeable about.
The theme will streamline your questions and make it easier to set up the game. Some online platforms can help with themes if you find it challenging to come up with one.
Step #2: Prepare the Game
This step involves choosing the categories that fall under your theme.
Fill the game board with content in the form of questions, answers, and game design. You can include pictorial questions, audio-visual sections, etc.
Step #3: Select a Template
Click on "Find a Jeopardy Game" to get a template on Jeopardy Labs. Use the search bar to narrow the topics you want. You can use this for instant gameplay.
You can build your game from scratch. Download the file from Jeopardy Labs, and input your questions and answers.
Your game can contain pictorial questions or audio-visual sections. Select the number of teams playing and put the game in presentation mode.
Step #4: Start the Meeting
Open the Zoom app on your PC and click 'New Meeting.' Click on 'Join with Computer Audio' to get heard in the meeting.
Once you have started the meeting as the host, invite other players.
Step #5: Get the Players Set
To send an invite to all players, click the green shield at the top left corner of your screen to reveal the meeting information. Navigate to the invite link and select 'Copy link.' Share this link with the players.
You can divide players into pre-determined teams or group them into breakout rooms by clicking on 'Breakout Rooms.'
Select the number of rooms you want to create and click on 'Assign automatically.' Zoom will split participants evenly into groups. 
Step #6: Share Your Screen
To share your screen, navigate to the lower part of your Zoom screen and click on 'Share Screen.' Click on the screen you wish to share. Tick the 'Share sound' tag to share the game's sound. Click on 'Share.'
If you are the host, you can automatically share your screen. If not, you may have to request permission from the host.
Step #7: Play the Game
You set the rules of the game. The teams choose a category, and you click on the corresponding tag to pull up the question.
The team leaders can shout out their answers while other team members can send in their answers through the chat box. The game automatically awards points to the corresponding team.
How To Set Up a Game on Jeopardy Labs?
To play Jeopardy, you can either play using existing templates or set up your own game. Setting up your jeopardy game is quite simple, free, and straightforward.
Here is how to set up your Jeopardy Game using Jeopardy Labs:
Navigate to Jeopardy Labs on your favorite browser.
Click on 'Create a Jeopardy Game.'
Enter a password in the text field and click on 'Start Building.'
Click on 'Enter Title' to input a name for your game.
Enter the names of the categories.
Input the questions and answers into each Cell
Click on "Continue" to return to the game template
Click on 'Save and Finish' once you are done filling up all cells.
Enter the number of teams expected to play
Click on 'Start.'
Input the questions in the form of statements and ensure that the questions get progressively more challenging as you move from cell 100 to cell 500.
How To Share Your Zoom Screen Using an Android Device?
It is better to host jeopardy games on zoom using a PC. However, if you cannot work using a PC, you can host using your mobile device. Ensure to set up the game before starting the meeting.
Here is how to share screen on a mobile android device:
Close every other app apart from Jeopardy and Zoom.
Start the meeting and invite players.
Click the 'Share' icon at the bottom of your screen.
Select 'Screen.'
Select 'Start now.'
Click on 'Stop share' to stop sharing the screen.
How To Share Your Zoom Screen Using an iOS Device?
Sharing your screen on an iOS device is slightly different from sharing a screen on an android device.
Here is how to share screen on an iOS mobile device:
Close all opened apps apart from Jeopardy and Zoom.
Start the meeting and invite the players.
Select 'Share Content' at the bottom of the screen.
Select 'Screen'
Select 'Zoom.'
Tap on 'Start Broadcast.'
Slide up and enable the 'Do not Disturb mode.
After a few seconds, your screen will be shared with other participants in the game.
In Conclusion
The rise of remote work and education makes it essential to share meaningful gaming experiences. Zoom is a great platform that facilitates this.
You can use Jeopardy as the guiding principle and structure to play any other games of your choice. 
No need to worry. You can play Jeopardy over Zoom seamlessly with the right processes. These processes are mentioned in the article above. 
FAQs
How do I schedule a Jeopardy game on Zoom?
To schedule a meeting on Zoom, open the Zoom app on your device and click the 'Schedule' button. Enter the meeting details such as the topic, duration of the meeting, meeting ID, password, and other features, then click on 'Save.' Click on the three-dotted icon to copy the link meeting invitation link and send it to all players.
Can I participate in a Jeopardy game as a host?
No, as the host, you have access to see the answers, so you cannot participate in the game. You are to remain an admin.
What other games can I play on Zoom apart from Jeopardy?
There are many online games that you can play over Zoom, such as Lightning Scavenger Hunts, Pictionary, Charades, etc. There are also Zoom Trivia games on the platform that encourages group play.