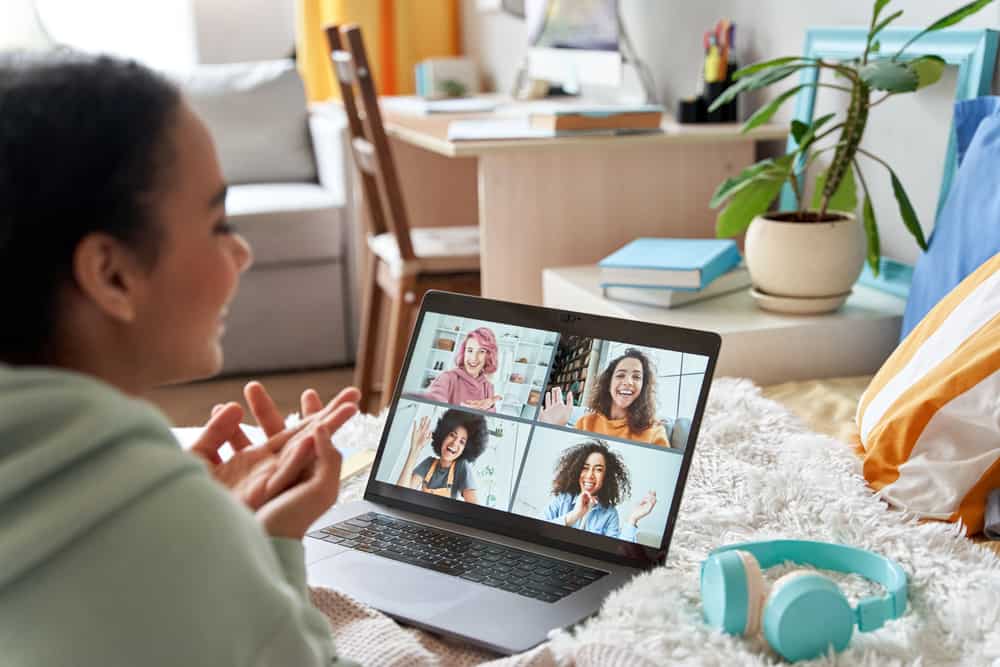 As a teacher, knowing how best to keep your students active by creating fun in the Zoom session is an added advantage. When you keep students happy by creating fun moments, you will get more productivity from them, and they will be more interactive.
Knowing how to create fun in Zoom sessions is not an obvious task. This post will guide you on how to make Zoom fun for your students.
The first trick is to engage the students through trivia questions. Still, consider sharing your screen and utilizing the whiteboard to create a class feeling. Also, use classy virtual backgrounds and engage students in a game to describe their classmates' backgrounds. Another tactic is to create breakout rooms and give students breaks during the session to help them relax and kill boredom.
We will discuss why knowing how to create fun for students during a Zoom session is great. Moreover, we will discuss various ways you can utilize to create fun for your students when attending a Zoom class. Stay tuned.
Why Make Zoom Classes Fun?
Online classes are now conducted via Zoom, where the teacher schedules a Zoom class and shares the invite link with students for them to join. Unlike physical classes, Zoom classes are less interactive, and teachers must get creative in keeping their students active.
Sitting down and watching the teacher speak or share the screen can quickly get boring. Besides, most students will likely be less productive during a Zoom class or feel sleepy during the session. To avoid this, teachers must understand their students and how best to create fun for them.
A creative teacher can easily get around creating strategies that foster attentiveness and make students focus more during the Zoom classes without making them tire attending the class. The below section introduces some creative tactics for making Zoom fun for students.
How To Make Zoom Fun for Students
Keeping students engaged in a Zoom class shouldn't be a challenging task. It all depends on the tactics you employ. Try the following tricks.
Share Your Screen
Although sharing your Zoom screen sounds basic, it goes the extra mile to interact with students. Sharing the screen creates a class-like environment. You can share your screen when you have notes that you want students to note. That way, they can take down notes as you explain the concepts.
Ensure you don't share sensitive or embarrassing details when sharing your screen.
Utilize the Whiteboard
Zoom offers a whiteboard for the presenter to utilize when explaining concepts to their viewers. When teaching, open the whiteboard to create sketches and highlight key points when discussing something.
Still, you can allow students to edit the whiteboard when asking questions or explaining something to their fellow students. That way, the student will feel like they are in a classroom environment.
Add a Virtual Background
Students love it when they can add virtual backgrounds to their Zoom and when you have something fancy as their background, something that can attract their attention.
So, instead of using solid backgrounds, get creative with your background, as you will be the center of the Zoom class, and everyone will interact with your video feed.
Engage With Students
How do you interact with the students when in a Zoom class? If you want to create fun in the class, come up with ways of engaging with students. It could be you are interacting with them by asking questions or chatting with them in the chat box to respond to their questions.
The idea is to create an interactive session where students can ask questions instead of focusing on lecturing them throughout.
Play Games
Students love it when you create quick games in the middle of the lecture. For instance, you can randomly select a student and ask them to find who has the most adorable virtual background in the class.
Such a game will make other students remain attentive and curious about what will be said.
Create Breakout Rooms
When you want students to discuss a given topic or divide them into groups to handle a given topic, you can create breakout rooms.
This trick will bring students together, and the discussion will spice up the Zoom class.
Give Breaks
Don't focus on a lengthy class session. Instead, give breaks after a given period to kill the boredom of a long session. You will love how energetic the students will be after a short break.
Conclusion
How to make Zoom fun for students is not a difficult task. Some strategies include sharing your screen, giving breaks, playing games, using the whiteboard, breakout rooms, etc. We've covered seven tips you should try during your next Zoom class. Have fun!