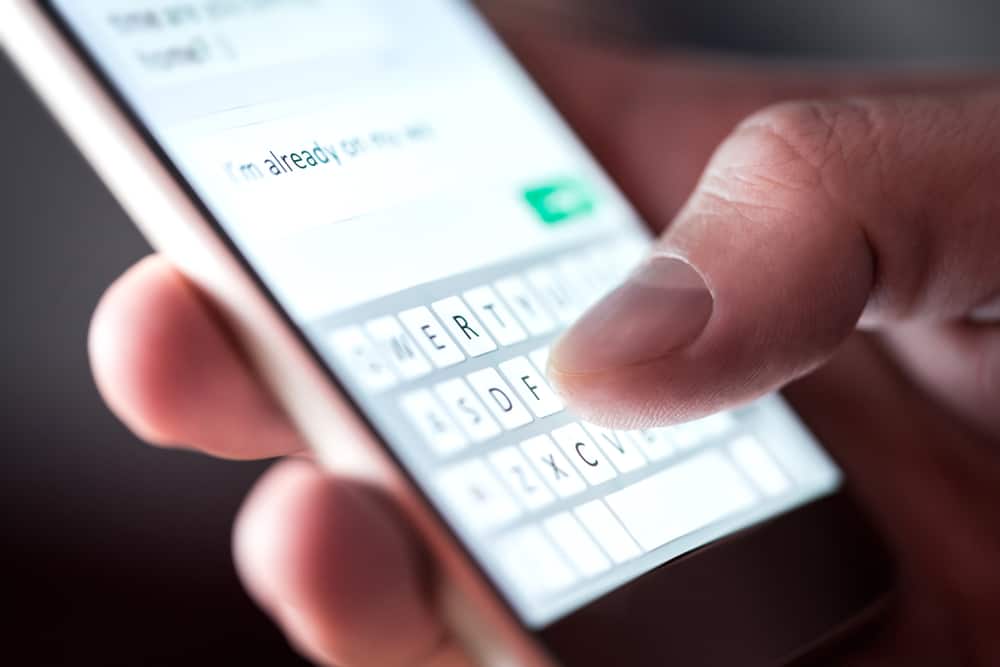 iMessage is a messaging service that Apple exclusively offers its users.
With an iMessage service, you can send text messages, media files, GIFs, and your location and even play fun games with another person having an Apple device. The platform uses the internet to help you use its utilities.
Have you ever wondered why some messages in your iPhone's built-in messaging app are green while others are blue?
Is iMessage in a green or blue bubble? If you are confused by the green and blue messaging bubble game on your iPhone, we can help you to understand them.
The blue message in your iPhone messaging app indicates that the message was sent as an iMessage. On the other hand, the green message bubble shows that the message was sent as a traditional SMS. A blue bubble message indicates that the message was sent to another Apple device owner via the internet. The green bubble message reflects that the message was sent to anyone using the cellular signals, perhaps to the non-Apple user.
iMessaging is a superb service that Apple has blessed only its users. If you want to learn the rationale behind the green and blue messages in messaging app on your iPhone, keep reading!
The Curious Case of Blue and Green Messages on iPhone
All iPhone users can apprehend what we are discussing. If you do not have an iPhone, either get an iPhone to find what we are talking about or read the article regardless for educational purposes.
Anyways, when you send messages using the iPhone built-in messaging app, sometimes the text appears inside a blue bubble and other times inside a green bubble. It is not coincidental, as there is a complete rationale behind it.
When a message is inside a green bubble, know that the message was sent as an ordinary SMS/MMS message using your cellular network signals (carrier charges applied).
Alternatively, when the message appears inside a blue bubble, it is sent as an iMessage to another Apple device owner/user (iPad, iPhone, iPod, Mac, or Apple Watch) using Wi-Fi or cellular data.
Did You Know?
Whenever someone is typing a message, iMessage will show three pulsating dots to let you know.
iMessage is a messaging protocol by Apple that offers additional functionalities lacking in traditional SMS service. iMessage may look like a good old SMS to you, but it is not.
It offers many functionalities that are missing in SMS, including the ability to see the delivery status of the message.
Similarly, with iMessage, you can share your pictures, videos, and location, and even play games with the recipient. Besides, iMessages are encrypted, while SMS is not, which adds a huge pro for iMessage.
Additionally, there is no limit on the length of an iMessage text like an SMS.
What Is SMS?
SMS (short messaging service) is the conventional way of sending messages that uses cellular signals to transmit the messages.
Why Is Your Messaging App on iPhone Sending Green Messages?
These are the possible reasons your app is delivering green messages:
The recipient does not have an Apple device (perhaps an Android user).
You have not enabled the iMessage protocol for the messages app. To enable it, follow these steps:

Open the Settings app.
Select "Messages."
Turn on the toggle next to "iMessage."

The recipient has not enabled the iMessage service on their device.
The Internet connection is poor or not off.
The Apple server might be down.
Wrap Up
iMessage is an Apple invention meant to be enjoyed by Apple users only.
The platform offers many utilities to the users to help them enjoy their time with their friends through any Apple device they own. Additionally, iMessage fits perfectly in all major Apple products in its ecosystem.
Next time, if you see a message in a green bubble, know it was not sent as an iMessage but as a traditional SMS.
There can be various reasons, from poor internet connection to disabled iMessage protocol on the recipient or sender device. Or perhaps, the recipient does not own an Apple device.
So, if you have an iPhone, enable iMessage service to avail of all its utilities for maximum fun.
FAQs
What does a red exclamation icon next to iMessage mean?
The red exclamation mark icon next to the iMessage you are trying to send indicates that the message is "Not Delivered." You can check your internet connection and try again. If it still does not work, send a Text/SMS message instead of an iMessage.
What does a green message bubble mean on the Messages app on your iPhone?
When you see your message sent in a green bubble, it indicates it was sent as an SMS/MMS. iMessage shows the text in the blue bubble.