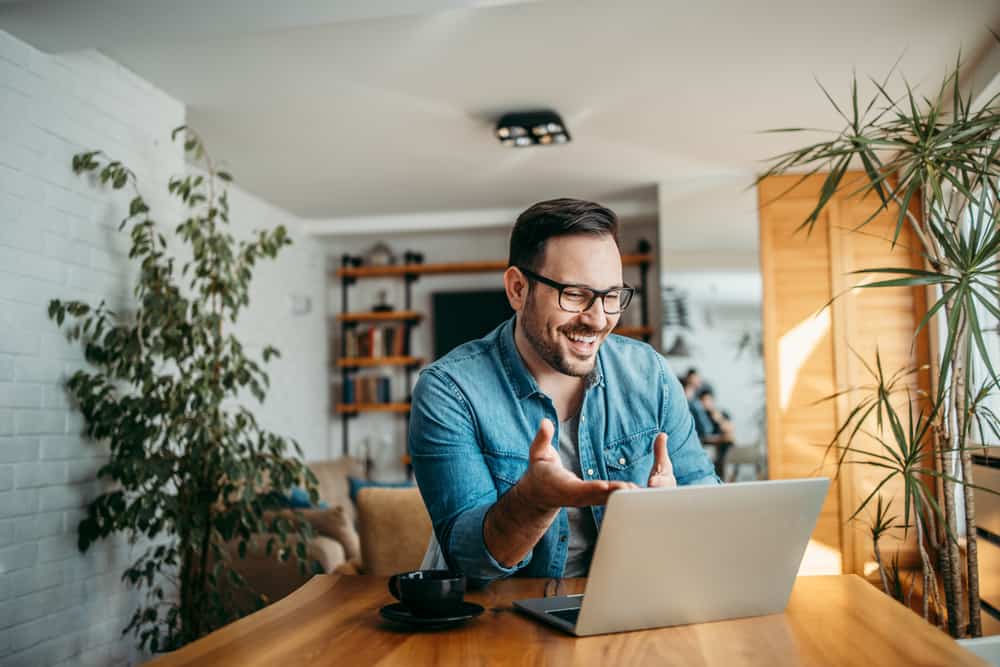 Nobody thought home offices would become a big thing before the pandemic happened. Even today, after quite some years, part of your job might involve some or all remote work.
Zoom is one of the most popular apps for video meetings with clients, subordinates, bosses, or even students.
Your overall personality and demeanor during Zoom meetings are significant. Moreover, your background also plays an integral role in adding the needed zing of professionalism.
Whether you are minimalistic or maximalist, you cannot deny having a decent home office is imperative for successful Zoom meetings. We can help you amp up your home office. Do you want to know how?
Your home office will look good on Zoom if you follow these tips:
– Your office should have good lighting.
– Style the background with different elements.
– Declutter all the clutter in your background or around your desk.
– You must have a good camera set up with tools to mount your camera to the right angles.
– Choose the right chair for you.
Let's expand on all the above points and learn how to amp up your home office for Zoom meetings. We are no interior designers, but we have done extensive research via online material on Pinterest and from the available material by famous interior designers. Let's dive in!
Tips To Polish Your Home Office for Zoom Meetings
There is no denying that Zoom meetings have become an integral part of our jobs now.
Some of you must have regular Zoom meetings, especially if your client or boss lives abroad. Whether you work part-time or are fully remote, your home office must be a significant and peaceful spot to let your creative juices flow.
In the olden days, people used to have home libraries or study rooms to work and reflect. Today, we have home offices, considering most of us have jobs that require us to work remotely.
Nevertheless, if Zoom meetings constitute the key part of your job description, you must strive to perfect them. You must put your A-game at the front and be more professional to be taken seriously.
Your looks matter during your Zoom meeting and even in your home office.
Whether you are dedicating a small secluded space for your home office or adding segregation to the existing big room for you to work, you need to pay attention to it to make it look decent (if not good) during the Zoom meeting.
You can find various ideas on Pinterest on how to decorate your office, the lighting needed, and a whole other shebang. 
Let's look at some tricks to make your home office look good during video conferencing on Zoom.
Tip #1: Good Lightning
I am starting with lightning, as it is the most significant component of your video calls. If your office does not have flattering lights and you look like a black shadow during Zoom calls, then your office lacks a big time.
When you plan to dedicate a spot for the home office, try to go for the spot near the window where natural lights diffuse directly to your face.
Nothing is better than natural sunlight, as it can jazz up your whole video call. The only downside is the distractions and noises you might get from the open window.
Additionally, you can use artificial lights for meetings at night. Invest in a good quality ring light. I know you think it is for TikTokers or YouTubers, but trust me, you also need it.
Bonus Tip
Never sit in the opposite direction of the window, as the light will not hit your face during the video call, and you will look like a shadow.
Tip #2: Style Your Background
During your Zoom video call, people can see you and what's behind you. So, make sure everything is tidied and clutter-free behind you. You can get many ideas from Pinterest on how to design your backdrop.
If you have a bookshelf behind you, it should be tidied and not have many books bulging out. Try to keep interesting books that reflect your refined taste.
Add elements that add a personal touch, perhaps your photos with family or your dog's picture. Do not keep your background dull and empty, as it will look as if you live in some secluded sad place or perhaps prison.
If your background is empty, try using intriguing backdrops or wallpapers to style the wall behind you in your home office well. Do not use something glittery or unprofessional.
You can add fun paintings, self-reflection quotes, frames, and other elements to decorate your dull white wall.
Always add green plants, no matter what your background is. Plants liven up the space and also increase productivity.
Make sure to keep things clean, tidy, and clutter-less.
Use some division if your office is a small corner in a big room.
Do not overdo and add more than required as busy background also does not give a professional look during the meeting.
Also, use whatever you have instead of buying expensive stuff.
Bonus Tip
If nothing works, use Zoom virtual backgrounds.
Tip #3: Less Clutter
If you have things shoved in your background, books piling up, or clothes hanging up, it will never give you a professional look. Make sure there is less clutter behind and around you.
Keep your desk clean with the things you need during the call. In your background, shove things away that make your backdrop. Arrange your books meticulously. If you have wall frames, make sure they are arranged properly.
Make sure there is nothing offensive in your background.
Tip #4: Good Camera Set Up
If Zoom video call is a crucial part of your job, you should have a good camera set up in your home office.
Whatever you use, whether a laptop, mobile phone, or external webcam, ensure all are aligned properly — slightly above your eye level with a downward angle.
You can have tripods or other tools to carefully mount your gadgets to fix your camera.
While at it, your home office should also have a good microphone so others can hear you properly.
Tip #5: Choose the Right Chair
If you sit uncomfortably or slouch, you will not look good during the video call. Use good sturdy chairs that make you sit upright without sulking or slouching.
It makes you look attentive and more focused. Similarly, your chairs must not make squeaky noises.
It would be best to have no clutter on your chair, like many people have their towels lying on the chairs for drying (eyes roll).
Add a pop of color anywhere in your home office to break the monotony.
Wrap Up
If Zoom calls are integral to your jobs and you work remotely, you must style your home office to make it look good. You can use our tips to make your home office appear better and more professional to reflect your aesthetics.
Remember to keep the clutter away from your background and style it however you like that is professional and also personal to you.
Similarly, your lighting and camera setup must be perfect for making you appear more flattering.
Hopefully, with these tips, you can design your home office with whatever you have instead of splurging on expensive stuff. With minimum effort, you can create tremendous results.