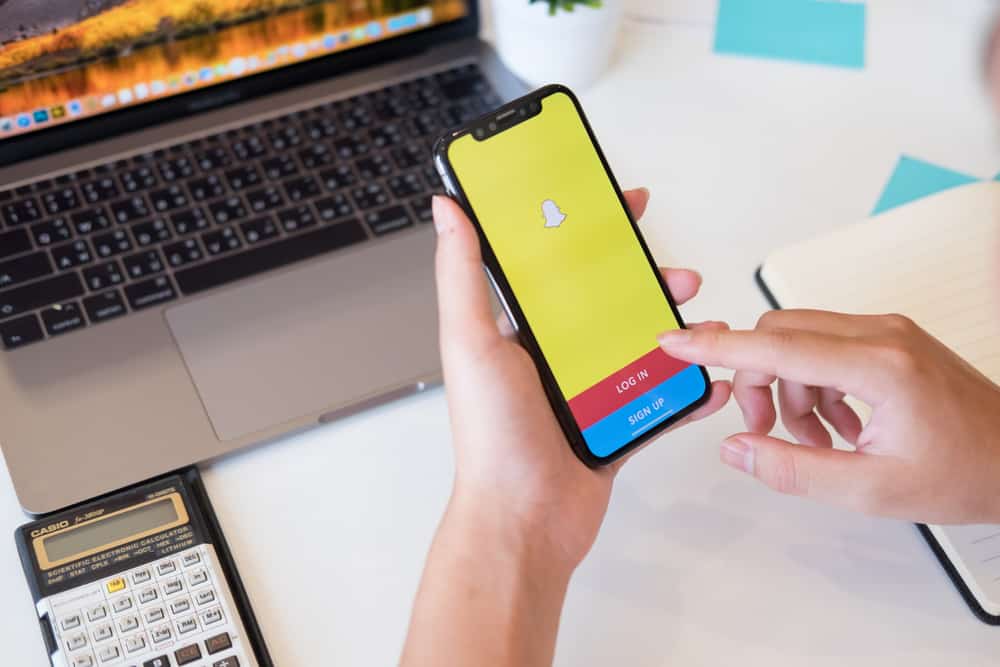 What can be better than Snapchatting your friends? Snapchatting all of your friends all at once!
Group chats aren't just for texting anymore. With one click now, you can snap multiple of your friends and catch them up with what's going on in your life. With Snapchat now reaching 319 million active users daily, you must be wondering how to make a Snapchat group of your own.
You can make a group chat on Snapchat by tapping on the 'new chat' option and selecting 'New Group.' You can then add your Snapchat friends and name your group chat.
Group chats are a reasonably convenient feature that lets you send and receive messages without manually reaching out to everyone. 
Some group chat features even allow you to have audio or video calls. Snapchat has caught up and has incorporated all these features into their app to give you the whole experience! And the best part? It's super easy! Whether you're an Andriod user or an IOS one, we've got you all covered.
How To Make a Group on Snapchat on Android?
Making a group on Snapchat is easier than downloading the application itself. 
Before going any further, make sure your app is up to date. You can check that by going to the GooglePlay Store and installing any updates. 
Follow these simple steps to create a group on Snapchat on android: 
Open the application on your device.
Click on the chat icon on the bottom left corner of the screen.
Tap on the new chat icon in the bottom right corner. It's an icon with a pen and paper within a blue circle.
Now, tap the button that says "New Group."
Select the friends you want to have in your group chat from your friend list on Snapchat.
Click on the "Chat with Group" option.
Finally, tap the "Name Group" option to create a name for your group chat and press "Enter."
There you have it! You have made a group chat with your friends in five simple steps!
How To Make a Group Chat on Snapchat on IOS?
The steps to make a group chat on Snapchat are almost identical for IOS users, with only minor differences due to a slightly different user interface. 
Follow these steps to make a group chat with your friends on your iOS device:
Open Snapchat and click on the chat icon on the bottom left of your screen.
On the chat tab, click on the triple dotted icon on the top right corner of your screen and select "New Chat." Or tap the new chat icon in the bottom right corner.
Next, click on the option that says "New Group."
Select the friends you want to include in your group chat and tap the "Chat with Group" button. 
Name the group, and you are done.
Voila! Your own group chat that you can use to Snap, Chat, call, or video call your friends all in one place! How convenient!
How Do Snapchat Groups Work?
Now that you have made the group let's talk about how Snapchat groups work and operate. Here are some things you should know about Snapchat groups before you begin Snapping:
Similar to the feature in Snapchat stories, chats in the group chat will disappear after 24hrs. If you want to save a chat, press and hold down on the chat, you wish to save until it turns gray. Now your chat is saved!
All the members in the group can view snaps or messages sent in the group. Once a member views the message, their name will appear below the chat to indicate that they have seen it. 
Much to all of our dismay, the Snapchat group chat feature can not be used to keep individual Snapstreaks alive. For your streak to survive, you will have to send snaps to those users individually.
Options to edit the group name, add more members, change the notification settings, or leave the group can all be found by pressing down and holding the group chat on your "Friends" screen. A menu will appear to give you access to all of these settings. 
Endnote
Now that you know all there is to know about Snapchat groups, it's time to make your own! You can add up to 100 friends to a Snapchat group. That's a lot of friends you are snapping at once!
Make as many group chats as you like- a different one for all your friend groups and reap this fun feature's benefits. Happy Snapping!
FAQs
How to remove someone from a Snapchat group?
Unfortunately, Snapchat does not let you remove members from the group that has already been added. Even if you are the creator of the group, the only way around is to ask the person to leave the group, or you could avoid that by making a new group excluding the person you would like to remove. 
How to delete a Snapchat group?
Again, Snapchat does not have an option to delete a group. If you wish not to be part of a Snapchat group, you can choose to leave it.