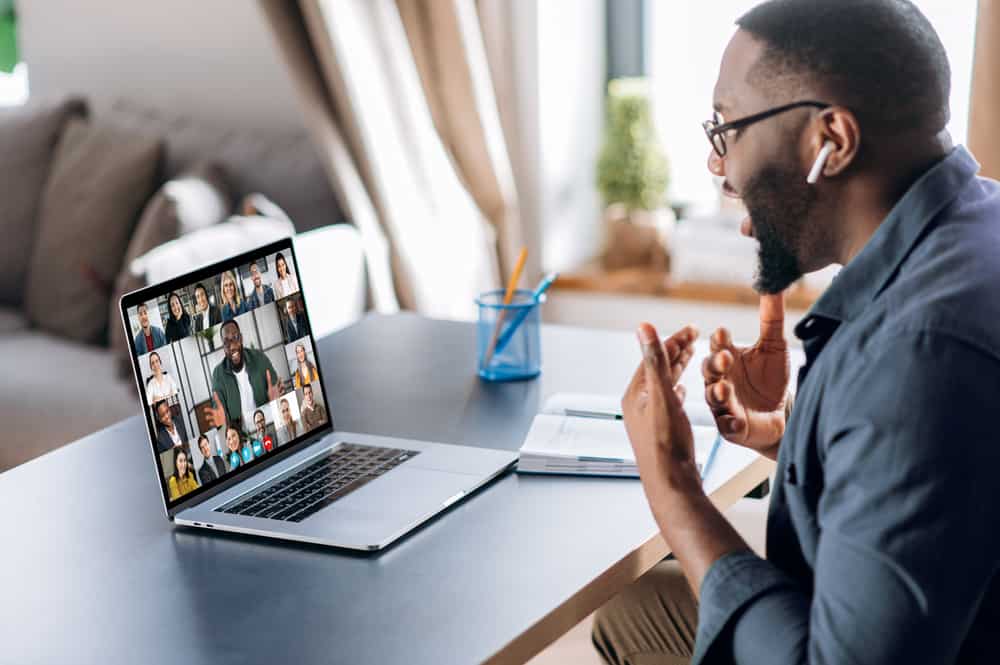 Virtual interviews are the norm in today's world. There is a high chance that your next interview will be on Zoom.
So, how do you nail such an interview? Can you secure a job or contract via Zoom interviews?
It's all about your dress, background, and confidence oozing through the webcam. Ensure you set up Zoom beforehand, connect your device to a stable internet connection, and get the necessary hardware to facilitate a smooth Zoom process. It's also advisable to master how to use the hardware and remove distractions from your intended Zoom location. 
Do you wish to know how you can excel in your Zoom interview? Well, keep reading. Today's article will cover tips on nailing Zoom interviews. 
What's a Zoom Interview?
It is a virtual interview conducted through Zoom, a cloud-based meeting zone. 
Zoom developers designed it to allow virtual meetings through its video conferencing features. The platform supports audio and video. Therefore, encouraging live chat or video sessions.  
Its one-on-one meetings, group meetings, and screen-sharing abilities have made Zoom the most preferred video conferencing platform.
It came in handy during the Codiv 19 pandemic because the pandemic limited in-person interactions. Zoom eliminated the need for in-person meetings or interview sessions. 
So, more and more businesses turned to virtual meetings or interviews during that period. The Zoom trend didn't end with the pandemic. 
It has become more popular. Most companies have made Zoom interviews their primary technique to get new staff on board. 
Tips for a Successful Zoom Interview 
Your potential boss should see you and your personality during a Zoom interview. Here are the tips to make your presence and personality stand out during a Zoom interview. 
Tip #1: Research 
Get to know more about the company. Before joining the Zoom call, learn about the company's values, products, and culture.
Also, get ready to answer and ask questions. 
Tip #2: Set Up Zoom
You'll make a wrong impression if you continually ask the interviewer if they can see or hear you. Ensure you get the right tools and test them before the Zoom interview session.
Get a device with a good camera and audio or microphone. Also, you'll have to install Zoom beforehand. Check if you'll need to create an account or download an additional service or plugin before the interview. 
Tip #3: Test Your Tools
Take your time to test the tools and practice before the interview. You also need access to a reliable internet connection. Unstable internet may cause audio or video issues during the interview.
Test all your tools a day or an hour before the interview. You can video call a friend to test your internet, audio, and video settings.
Learn how to mute and unmute, share the screen, and other video conferencing features available on Zoom. 
Don't forget to mute or switch off your notification before the interview. 
Tip #4: Set Your Background 
Your background is crucial. It's the first thing the interviewer will see when you join the Zoom session. They'll pick a few things about you by looking at your background. Besides, they will keep seeing it throughout the interview session. 
You'll need a clean and orderly background. So, get the mess out of the way. You'd want your interviewer to focus on you. If possible, add a few books or items connected to your field. 
Make it simple. Patterns in your background can be distracting. Also, let it complement your outfit. You can also use a virtual background if you can't get a neat space. 
Tip #5: Proper Illumination
Get a space that receives enough natural lighting. Face a window. The light from the window will brighten your face and prevent shadows under your nose or eyes. 
Don't face a window that lets the sun hit your face. It will cause sharp shadows on the background and your face. You also don't want to keep squinting. 
Use ring lights if you can't find a well-lit space in your home. The ring light gives you 360 ° of illumination. Therefore, the perfect option for facial lighting.
They are affordable and will produce enough illumination to make you visible throughout the interview. 
Tip #6: Dress Formally 
Many people often skip formal attire or dress haphazardly because Zoom interviews are not in person. Your attire is a vital part of your interview session.
Plan your attire days before the interview. You'll need something official and elegant. 
You may get away with an impressive waist-up attire. But accidents or circumstances may force you off your seat during the interview session. Therefore, don't take chances. 
Consider minimizing your jewelry, trimming your fingernails, and keeping your hair professional.
Read more on the colors to wear from this article.
Tip #7: Tone and Body Language
Confidence sells. Sadly, the virtual interview will not let you give your potential employer a firm handshake. Therefore, you need to let your confidence trickle through the camera through your tone, body language, and eyes. 
Sit up straight and look directly at the camera. Ensure the camera is at eye level. Don't focus on your interviewer's dress or facial features.
Focus on the camera. It will give the impression that you're maintaining eye contact as you converse with the interviewer. 
You'll need to show the interviewer that you're actively listening. So, maintain eye contact and keep nodding when required. 
Tip #8: Connect With the Interviewer
It's easy to make it awkward if it's your first time. Try to create rapport and make a personal connection with the interviewer. It will make you stand out. 
Also, you'll need to maintain good energy throughout the interview. 
Tip #9: You Need a Backup Plan
Think of creating a cheat sheet. You can refer to it in case the interview asks complex questions. It will also help you back up your answers and get hints for extensive discussions.
But don't keep looking at the cheat sheet throughout the interview. Minimal quick peeks at the cheat sheets will do.  
Stick the cheat notes on your screen. But do it strategically to help you maintain eye-level focus on the camera. 
You may also need a tech backup. Your internet or microphone may fail during the interview. Think of a data plan on your phone. It will come in handy if your WiFi connection misbehaves. 
Tip #10: Close Like a Pro
Ask questions. Don't forget to thank the interview(s) for their time and the invite.
Send a follow-up appreciation email to the team. 
Summary 
Zoom interviews are more common than before. Although they are as intimidating as in-person interviews, you'll need to prepare for them.
You'll need to know what to do before, during, and after the interview session. The tips above will help you have a flawless interview session. They will also help you perfect your Zoom interview.