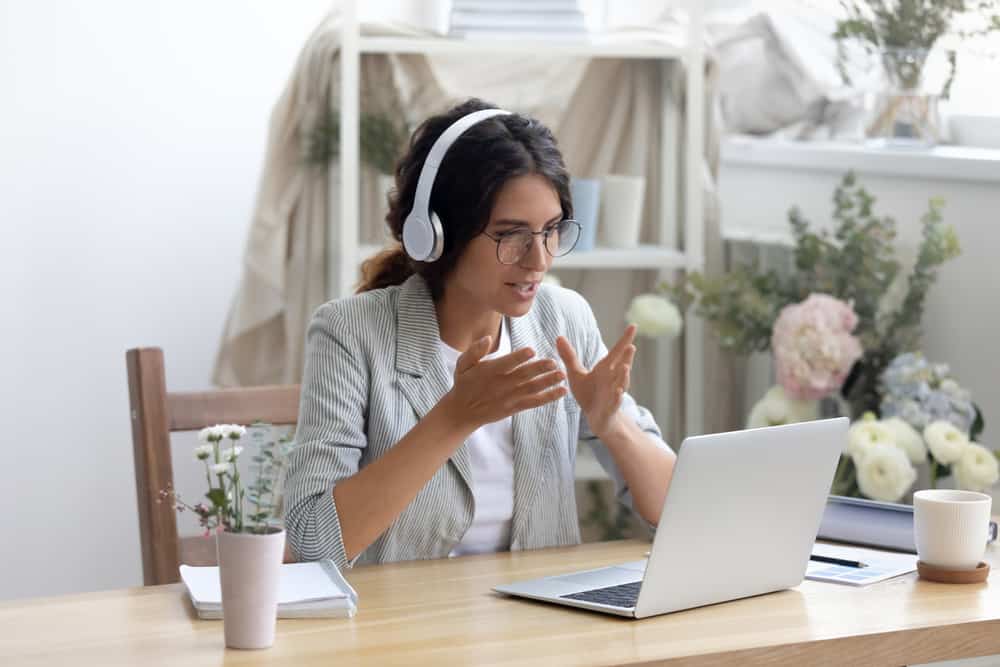 So, you're thinking of having a Zoom wedding? Logging onto a Zoom wedding from the comfort of your room is not casual. But that is the reality that the pandemic thrust on the entire world in 2020.
Nevertheless, dressing for the occasion is still important after considering a few things. So, what to wear to a Zoom wedding?
The rules for wedding guest outfits practically change very quickly, depending significantly on the time of the event. The outfit you wear on a spring morning wedding will be different from an evening wedding event on the same door, even if these weddings share the same dress code specifics.
However, nothing can be more bewildering to a wedding guest than what to wear to a Zoom wedding. Some dress codes can be daunting as they threaten to wreak havoc on their sense of fashion or style. Nevertheless, choosing the perfect outfit for a Zoom wedding is not impossible.
This article covers what you need to wear to a Zoom wedding, including a few etiquettes to bear in mind. But let's start with what a Zoom wedding is and take it from there.
What is a Zoom Wedding?
A zoom wedding – or Zwedding or a live-streamed or virtual wedding – involves incorporating a video conferencing platform that allows family members and friends to tune in to the special occasion from their homes. 
As a result, guests far and near can virtually join you in celebrating the major milestone in your life.
Throughout the pandemic era, Zoom weddings have allowed engaged couples to go ahead with their wedding plans, albeit virtually. 
Lockdowns may have prevented in-person weddings, but technology enabled such couples to get married without compromising their health and safety.
How Do Zoom Weddings Work?
Now that you know what a Zoom wedding is, the next thing is to look at how they work.
Essentially, the intending couple decides on the time and place to marry. Once that is done, the next is to find a clergyperson or officiant willing to perform the wedding ceremony virtually.
Inviting guests is the next step, and this can be done via social media, email, or by sending out standard paper invitations. First, however, the venue and time of the wedding will be specified as a virtual event. 
Planning the event comes next; the intending couple can let their imaginations run wild since physical space won't limit them. For instance, quizzes and games can be integrated as interactive elements for wedding guests. The ceremony can be had in a fairy-tale forest setting or the garden.
The possibilities are endless, and that is the beauty of Zoom weddings.
What Outfit Should You Wear to a Zoom Wedding?
There are no hard-and-fast rules concerning what you should wear to a Zoom wedding as a guest. That is why this question is tough. The answer depends primarily on the couple getting wedded and the overall tone of the Zoom wedding.
For instance, dressing up may not be necessary if the intending couple decides on a more casual event. However, most Zoom wedding couples prefer formal vibes. Therefore, you may be required to dress in your Sunday best.
In other words, it is in the power of the intending couple to determine what they want their guests to wear to their Zoom wedding. Nevertheless, whatever you wear to a Zwedding must be formal and suitable for the season and time of the event.
For instance, you can wear a suit as long as it is ironed. Throw on a formal shirt and a tie and don a tuxedo or jacket. Since your waist won't be visible, wearing denim or even shorts won't cause distractions. 
One of the best things about choosing what to wear to a Zoom wedding is that you can forgo footwear. So, you can wear slides or sandals and still look pretty good for the camera. Smile radiantly and raise a toast to the couple!
Zoom Wedding Etiquette for Guests
Now that we have covered the basics on what to wear to a Zoom wedding, here are some crucial virtual wedding etiquette for guests.
Be Mindful of Wedding Invites
Be very mindful of the wedding invitations you receive. You are invited to a Zoom wedding, therefore, do not give out the Zoom link to any other person. Moreover, you can RSVP by the date given on the wedding invitation.
Clean Up
When attending a Zwedding, it is important to ensure your room is clean. Remember that the intending couple will see you and a small portion of the room. Therefore, ensure your computer camera is not showcasing anything offensive on your walls.
Ensure that the space is tidy and well-lit. You wouldn't want to appear in a recorded Zoom wedding in your messy bedroom. 
Be Prompt
Pay close attention to the details on the wedding invite. For instance, the intending couple may want you – and other guests – to join the Zoom event a few minutes before the actual start time of the wedding ceremony. 
Appearing virtually on time allows guests to be situated and settled properly before the event commences.
Be Conscious of Sharing Pictures via Social Media
Snapping a good picture of the first kiss and posting it on your Instagram Story can be quite tempting. First, however, you should be careful or mindful.
Follow the lead of the couple before posting their wedding photographs online. Do not post pictures on social media platforms before the newly-wedded couple does.
This is one of the most proper Zoom wedding etiquettes that many guests are unaware of.
Bring a Gift
If you are going through financial difficulties, the couple will understand. Our world is chaotic enough, and many people are experiencing financial hardship.
Nevertheless, consider sending a gift to the couple. You can still send a gift 2 months after the wedding. 
Conclusion
By now, we believe you must have understood what a Zoom wedding is, how it works, and what to wear.
You can stick to the specifics the intending couple share with you as a guest and flow with the vibe they put out.