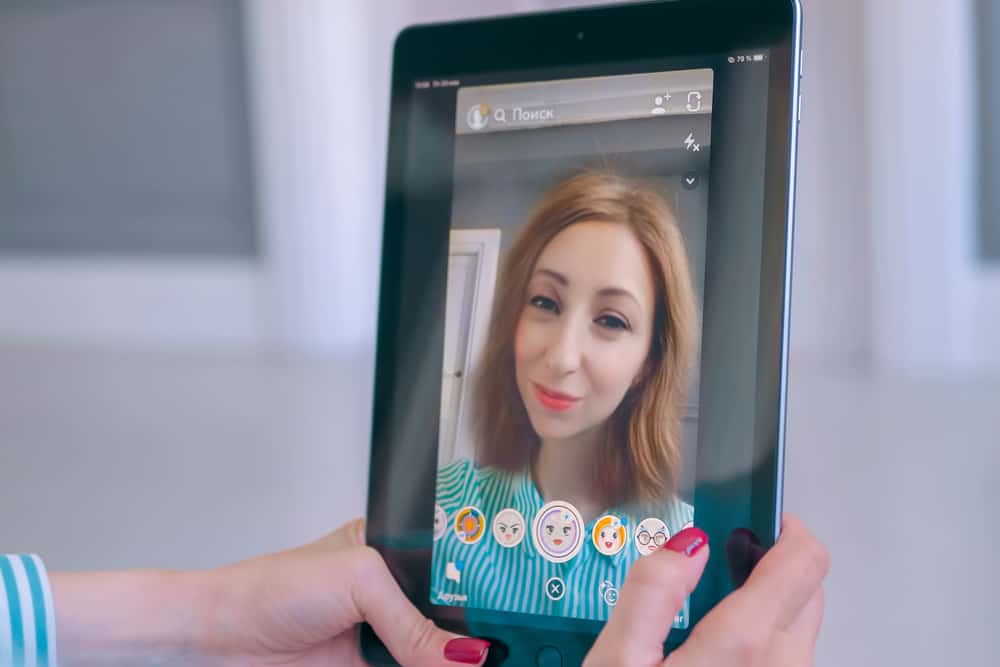 I am sure by now you know what is unique about Snapchat but let me refresh it for you. Snaps and filters are the most intriguing features of Snapchat. Snaps enable you to send multimedia messages to your friends that automatically disappear. Similarly, filters, lenses, stickers, captions, and others amp up your Snaps.
Lenses and filters are defining features of Snapchat. TBH, I started using Snapchat at first only because of its filters. Snapchat filters make your pictures more exciting by hiding your imperfections and insecurities (physical only). There is every kind of filter on Snapchat; some make your visuals more voguish, some add fake freckles to your face, and some even put makeup on your bare face.
On the subject of makeup filters, these are fun and easy ways to add oomph to your images and videos. To add a makeup filter, go to the camera screen on your Snapchat and switch to the front camera. Press and hold the screen for a second until the filters open. Tap on "Explore" at the bottom, search for "Makeup," and choose the one you like.
So, if you are wondering how to give your Snaps a complete makeover via filters, keep reading!
Lenses and Filters on Snapchat
I am sure you are aware of the famous Snapchat filters and lenses. You would be living under a rock if you never encountered cringy pictures of people with dog ears, flower wreaths, or super white photos with no pores or lines (even smoother skin than babies).
Snapchat filters are popular, in fact, more popular than any app. It would be no exaggeration to call Snapchat the OG of filters and lenses in the social media world. Snapchat filters enable you to edit your pictures and make them more perfect.
The First-Ever To Introduce Ar Filters and Lenses
If you look at the history of filters, you would be surprised to know that in 2015 Snapchat was the first to introduce AR (augmented reality) filters and lenses.
By acquiring Looksery (a Ukrainian startup), Snapchat revolutionized social media with lenses and filters. With this acquisition, Snapchat became the only company capable of modifying pictures and videos.  
Later, essentially all social media platforms, including Instagram and Facebook, joined the bandwagon of filters, lenses, and effects.
There is literally every sort of Snapchat filter. You can make your picture look more voguish with a filter and even put cool sunglasses on your eyes to add swag. If you want to know how you look with fringes or short hair, Snapchat has a filter.
Snapchat filters and lenses are fun. They make even the dullest pictures look alive. Sometimes, when you do not feel at your best, your insomnia has led to dark circles, and your skin looks dehydrated or crusty (even have blemishes), beauty filters on Snapchat come to your rescue. They make your blemishes fade, your eyes look bluer, and even your jawline more prominent.
Makeup Filters and Lenses on Snapchat
Snapchat has offered us some exciting filters. Now it is serving all makeup lovers with makeup filters. If you have no time for makeup, yet want to look well-put, then makeup filters are your saviors. Similarly, to add an extra touch of glamour to your already-done face, makeup filters are there for you.
I won't lie; I have myself tried one or two beauty filters. Let's not let stereotypes limit makeup and beauty filters only to women. Sometimes, I want to look less pale and a little more tanner; hence makeup filters to the rescue.
If you are a girl or a guy who feels more confident in makeup, then makeup filters/lenses on Snapchat are the way to go.
Trust me, if you see anybody looking so flawless on their 'Woke up like this Snap or Story,' chances are they have digital makeup (filters) on. I wake up looking like a grease ball; how come kids nowadays look so impeccable. And please do not let me start on how everybody has the longest eyelashes on their selfies.
Now, let's talk about how you can get makeup filters on Snapchat.
How To Use a Makeup Filter on Snapchat
Adding a makeup filter to your selfies on Snapchat is easy; all you need to do is find the one that suits you. To apply a makeup filter, follow these steps:
Open Snapchat on your mobile device.
Switch to the front camera by tapping the rotate icon in the top right corner (if the front camera is not already open).
Tap and hold the screen until filters open.
Browse through the filters at the bottom to find a makeup one. If you cannot find any, proceed to the next step.
Tap the "Explore" button in the bottom right corner.
Search for "Makeup" using the search bar at the top.
Browse through the endless possibilities and click on the one you like.
Take a picture of yourself and share it with your friends.
Viola! You have your perfect hip picture to save and flaunt to your audiences.
The Bottomline
Well, the moral of the story is that you do not need to put extra effort into looking your best (in the virtual world). All you need is the Snapchat app and its filters and lenses (no pixie dust required) to look beautiful and sometimes unbelievable.
Snapchat offers many makeup filters for all its makeup lovers users; all you have to do is, find the one that suits your perfectly.