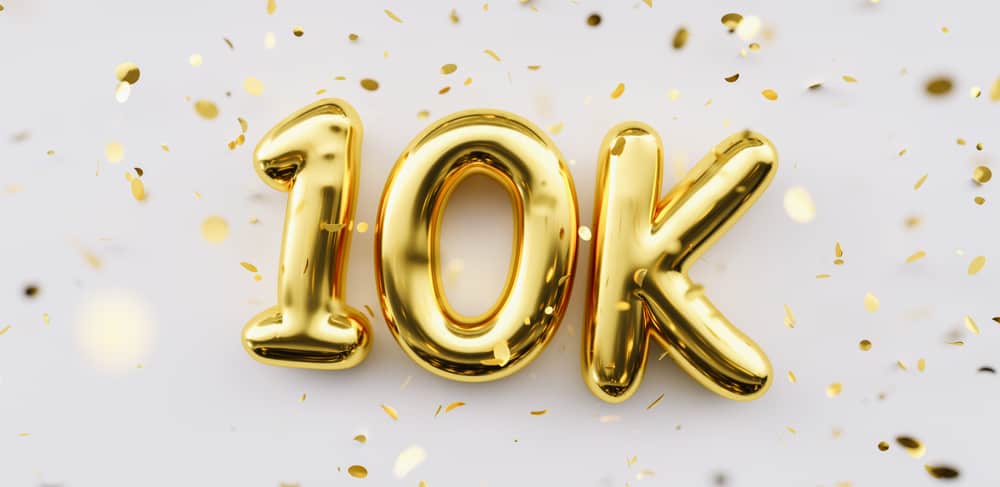 TikTok has become one of the most important social media platforms for businesses, marketers, and creators seeking to make money.
If you are new to the app or have an account that's somehow dormant, you might wonder what it takes to gain followers fast. While you may come across pay for followers sites, they will only offer you bot followers with no value.
So how do you get 10k authentic followers on TikTok fast?
Proven strategies to get 10k followers on TikTok include revamping your profile, posting high-quality videos, posting at the right time, using hashtags correctly, adding a call to action to your videos, joining trends, and using trending music on your videos. Other techniques that work include using the Stitch feature, reposting content that went viral, and sharing the TikTok videos to other social media platforms.
In this post, we look at how to get 10k followers on TikTok and whether pay-for-likes and follower sites can help you gain followers.
Overview of Getting 10k Followers on TikTok
With the growing popularity of TikTok, more individuals and businesses are creating accounts and finding ways to increase their following.
TikTok is relatively different from other social media platforms in various ways. For instance, non-followers can view and like your content. Additionally, the algorithms work differently, and there are a lot of trends to catch up with.
Yet, if you learn how the app works and how to make the algorithm work for you, you'll get 10k followers in a few hours or days.
Some practices make your account visible to your target audience, such as posting high-quality videos consistently and joining trends. But what will make a TikTok user view your video, like it, and press the follow button?
There is no one-size-fits-all method to get users to follow you on TikTok, but there are tried and proven strategies that worked for some TikTokers. Let's look at these practical strategies below.
How To Get 10k Followers on TikTok
Are you curious about how to gain TikTok followers fast? These strategies will help you get those views, likes, and followers. It would be best to use them all together.
Method #1: Revamp Your Profile
When your TikTok profile is bland or shows no effort, the user will watch your video and move on to the next in line. They will look at your profile and probably think, "this is a good video, but it looks like a one-hit-wonder, so no need to follow this user."
To attract new followers, create an attractive profile bio. Add an approachable and relatable profile picture and an accompanying description.
For instance, if you're a gaming content creator, use a gaming-inspired profile picture and description. In addition, add a call to action on the bio, such as "follow for inspiring and exciting gaming content."
Method #2: Post High-Quality Videos
If you want TikTok algorithms to put your content on the For You page, you need to up your recording game.
Viewers will likely spend more time looking at a video with good lighting and high quality. Well-lit and edited videos appeal to the algorithm and human eyes.
Use a high-quality camera and film your content in a well-lit room, near a window, or in the doorway. If you are recording the video outside, play with the natural light to avoid shadows.
We also recommend investing in ring light for professional-looking TikTok videos.
Method #3: Use Recommended and Trending Music in Your Videos
Do you ever wonder why you keep seeing videos with a particular sound on your For You page? TikTok chooses which song goes viral depending on how many users use the sound on their videos.
The app's algorithm also prioritizes all the high-quality videos that use this sound, making them appear on viewers For You pages repeatedly.
If you want a fast and proven way to get more TikTok followers, identify a trending song and use it on your video. Follow these steps to use a trending song on your video:
Open TikTok on your mobile device.
Scroll through the videos in the For You section and note the trending song among the videos.
Open a video with that particular song.
Tap on the sound at the bottom of the video.
Tap on "Use this sound."
Press the recording button to create your video.
If you have a pre-recorded video, tap "Upload" and select the file from your gallery.
Once you've recorded or uploaded a video, tap the tick button.
Edit the video if you want.
Tap the "Next" button at the bottom.
Describe your post, add the correct hashtags, and a location if you want.
Tap on the "Post" button at the bottom to post the video.
Method #4: Post Content at the Right Time
One of the best ways to gain followers fast on TikTok is timing your content when most of your target audience is active. The best time to post content is in the morning, late afternoon, and late night.
When you post your video between 7.00 AM and 8.00 AM, you get viewers' attention during their morning commute to work or school.
The next ideal time to post a TikTok video is in the late afternoon when most people are on lunch breaks.
Lastly, the late night between 8:30 PM and 10:30 PM is ideal for posting content because most people are relaxing on their couches after eating dinner and browsing their phones before they drift to sleep.
Method #5: Using Hashtags Correctly
TikTok hashtags make your video stand out among thousands of videos on the platform. They also add your video to communities, make them discoverable, and boost engagement.
For instance, when you post a video and use the hashtag #DIYprojects, anyone looking for such content will find your content.
Additionally, when you use hashtags correctly and combine them with trending captions, your video will appear to go viral.
Follow the steps below to find the right and trending hashtags for your next video:
Open the TikTok app on your mobile device.
Tap the magnifying glass icon in the top right corner.
Type a hashtag related to your video. For instance, type "#pet" if your video is about pets or pet products.
Tap the search button.
Select "Hashtags" at the top.
Scroll through the hashtags and select the one that suits your videos.
Click the "Join this hashtag" button at the bottom.
Now create your video and publish it.
As a rule of thumb, you should always select the hashtag with the most views. However, narrowing it down to a more niched-down hashtag will put your post before a more targeted audience.
Method #6: Join the Trends and Challenges
Another way to scale up your TikTok following is by joining trends and challenges. You can replicate a trending dance style, a pose, or a concept to fit your type of content.
Try putting a twist on the video to avoid appearing weird and out of the niche.
Like the trending songs, you discover the current TikTok trends through the For You page. For instance, it is likely an ongoing trend if you keep coming across a dance challenge on your feed.
You can also learn what is trending on TikTok by using the "#trendalert" hashtag or checking the web.
Can Pay-for-Likes and Followers Sites Help You Gain TikTok Followers?
You've probably seen ad campaigns, apps, and articles claiming they can help you get 10k followers or more at a fee.
While these methods may get you these 10k followers, most of them are bots with zero engagement.
You don't want to have hundreds of followers who don't react to your posts or to who you can't market your products or services.
Wrapping Up
Getting 10k followers on TikTok fast is not an easy feat.
However, you may achieve it if you use effective strategies such as revamping your profile, posting high-quality content at the ideal time, using trending songs and hashtags, and joining viral trends.
The goal is to gain these followers organically because bought followers might turn out to be bots.