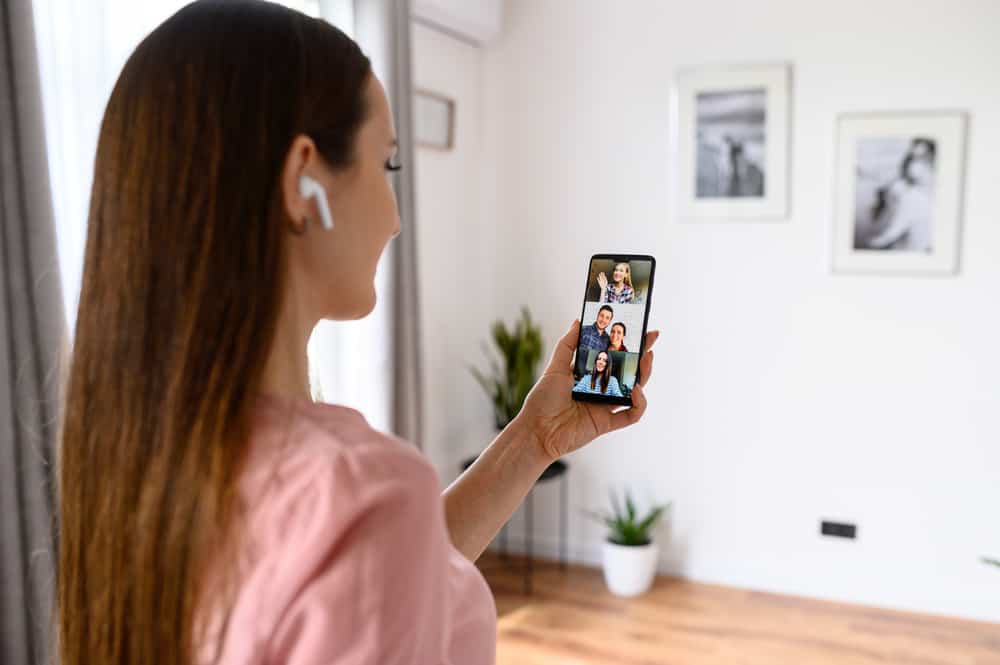 Thanks to apps such as FaceTime, it's now easy to keep in touch with family and friends via video calls.
While some people use FaceTime for important meetings, others use it for casual calls such as catching up with close friends.
Either way, most people wonder how they sound or appear on the other person's screen.
Luckily, you can FaceTime yourself beforehand and find out. But how?
To FaceTime yourself, you must have two iOS devices signed in to one Apple ID and the same phone number/or FaceTime email address. Proceed to call your number and then receive the incoming call from the second device. At that point, you should be able to see yourself on both devices. 
If, for whatever reason, you are trying to learn how to FaceTime yourself, this post contains all the necessary information that you need. 
Overview of FaceTiming Yourself
One way to ensure you are well prepared for FaceTime calls is by FaceTiming yourself beforehand.
This way, you will be sure of how you sound and look and can play with the available settings to find out what suits you the best.
Considering FaceTime is only available for iOS users, you will need to have two iOS devices to FaceTime yourself. 
Alternatively, if you don't have two iOS devices at your disposal and still want to see yourself on FaceTime, you can screen-record the call using the iOS screen recording feature or a third-party app.
The only problem with this method is that the recording will have both parties in the video, but it will get the job done. 
Step-by-Step Guide to FaceTiming Yourself
As mentioned earlier, you need to have two iOS devices in your immediate proximity to be able to FaceTime yourself. 
Therefore, if you have two iPhones or iPads, proceed with the following steps:
Ensure both devices are logged in to the same iCloud account, and you have saved your phone number on both contact lists.  
On one device, launch FaceTime. 
Tap on the "New FaceTime" option. 
Search for your contact on the list and tap on it. 
Once the call goes through successfully, the second device will start ringing; proceed to answer. 
If you have a MacBook and an iPhone/iPad and want to FaceTime yourself, follow the steps below:
Confirm that both the Mac and the iPhone/iPad are logged onto the same iCloud account and have access to a stable internet connection. 
Launch the FaceTime app on your Mac.
Click the "New FaceTime" option. 
Click on the "+" icon. 
Input the phone number connected to your iPhone/iPad and press Enter.  
The call should come through on the iPhone/iPad and proceed to toggle the "Accept" slider. 
Why Am I Unable to FaceTime Myself?
To many people's surprise, you can indeed FaceTime yourself. However, this isn't always possible.
Therefore, if you have been trying but are unable to FaceTime yourself, here are a few reasons why:
The FaceTime feature has yet to be enabled on one of the two devices you use for this activity. 
The internet connection isn't stable enough to facilitate a secure FaceTime call connection.  
You haven't successfully connected both devices to the same Apple ID account.
Conclusion
FaceTime has become one of the most popular apps among iOS users because of its outstanding video and sound quality.
However, it's hard to know how the other person views or hears you, and this might cause anxiety, especially if the FaceTime call is for something serious such as an interview.
In such a scenario, this article contains various ways to FaceTime yourself, and hopefully, that saves your problem. 
FAQs
Can someone block you on FaceTime?
Yes, someone can indeed block you on FaceTime. One indication that you have been blocked is if you keep being notified that the call couldn't connect every time you try FaceTiming them. 
Is there a limit to the number of people joining a FaceTime call?
Yes, there is. As of now, the limit stands at 32 people. And everyone in the group needs devices that satisfy the FaceTime requirements and be in a country where the app is permitted. 
Why am I unable to arrange group FaceTime calls?
The probable reason is that your device isn't equipped to host or join a group FaceTime call. To ascertain whether this is the problem, visit the Apple support website. 
Can you set up both of your numbers to receive FaceTime calls?
Yes, you can. Therefore, if you have an E-sim and a nano sim on one phone, you can go to settings and enable the feature that allows both to receive FaceTime calls, among other things. 
Are FaceTime calls end-to-end encrypted?
Yes, FaceTime calls are end-to-end encrypted, meaning your data is safe. However, you must still be careful when discussing sensitive topics on FaceTime because someone can eavesdrop or screen-record the conversation.