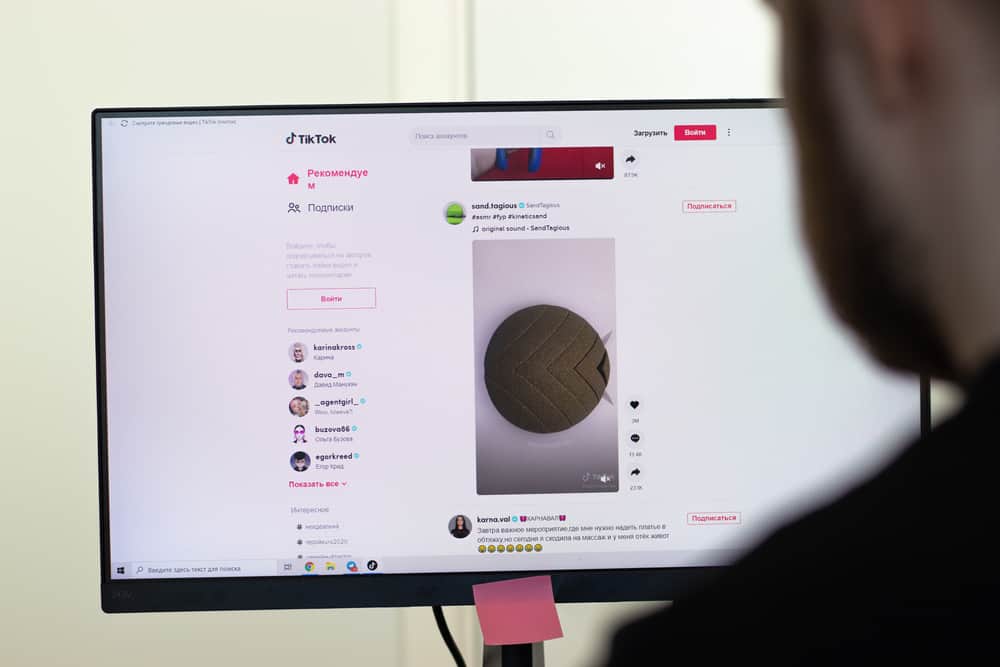 If you aspire to be, or already are, famous on TikTok, the significant aspect is to be aware of how the platform works. TikTok is a go-to video entertainment app where going viral is just a matter of content and strategy.
One of the most effective, mandatory strategies is having correctly filled profile details, from your bio to your profile picture. However, if you don't know how to edit your TikTok profile from your PC, this might help you.
TikTok constantly updates its platform to accommodate users' convenience and usage efficiency, including editing profiles. To edit your TikTok profile on your PC, log in to your account from your desktop browser. Go to your profile, and click an "Edit Profile" option below your username.
There are various nuances TikTok comes with that become compulsory to know to stay relevant on the platform. Keep reading to understand the multifaceted aspects of using TikTok on your PC.
Does TikTok Allow Profile Edits From PC?
Yes. TikTok is a platform with a billion active users monthly, creating, sharing, and engaging in a variety of content from all over the world.
To cater to such a large audience, the app is constantly updating its features with various user-friendly features that simplify the user experience further.
By providing short-spanned video uploading features, TikTok has become an epicenter for most of the trends.
Moreover, most of TikTok's user base comprises Gen Z and millennials, making the platform primarily a smartphone accessory.  
That's why, until recently, TikTok didn't allow many actions on its desktop version because millennials mostly use their phones. However, as stated earlier, the platform keeps evolving to accommodate its flourishing user base.
Thus, to cater to every kind of user, TikTok has made its desktop version more user-friendly. Now, you can log in from your system to go to your profile and even edit your profile details.
TikTok Comes Updates New Features Regularly
TikTok has released a new feature, "Watch History," which lets users track their watching history even if they've forgotten to like or comment on those videos. In addition, there are talks about TikTok introducing a dislike button for users to give a thumbs down to videos they don't like. 
Editing Profile on TikTok on PC
TikTok has been on an upward growth trajectory, evident with its usability upgrade on PC. It's been introducing various new features recently, where nothing inefficient can be expected.
One such feature is that you can edit your profile details from your desktop. If you wish to do that, follow these steps:
Navigate to TikTok on your favorite browser.
Hover the profile icon in the top right corner.
Select the "View profile" option from the dropdown menu.
Click on the "Edit Profile" button under your username. 
Edit your details as needed, from "Profile Photo," "Username," "Name," and "Bio."
Click the "Save" button at the bottom.
The steps to editing your TikTok profile details on a PC are a no-brainer if you know your way around the web browser apps.
Why Should You Have an Updated TikTok Profile?
TikTok is an integral part of the influencer market, where almost every brand wants a piece of that vast TikTok follower base. Brands will approach you for their advertisement if you're an influencer.
This will benefit you in career growth and equip you monetarily, where you would soft sell your sponsors' goods and services. 
However, the catch is that you will have to establish a loyal follower base that doesn't just follow you on the platform but trusts your advocacy.
To establish such a base, you need to be transparent about your credibility to your followers. That's where a legitimate TikTok profile comes into play.
Use this section to get your followers to know you and where they can relate to your life. This way, you will be able to establish better communication, not just through your content but also through your marketing. 
Moreover, your TikTok profile also gives an impression that you are genuine and available to prospective sponsors. You don't want to miss any opportunities and get to choose the projects you like. 
Conclusion
TikTok is an immersive platform for short videos where talent has gained new ground. Not just talent, it's also become integral to mass communication and entertainment.
With such massive popularity, TikTok, in its latest update, made it possible for you to edit your profile from your desktop browser.
All you need is to go to your profile and click the "Edit profile" button. Have a great day, TikToking!