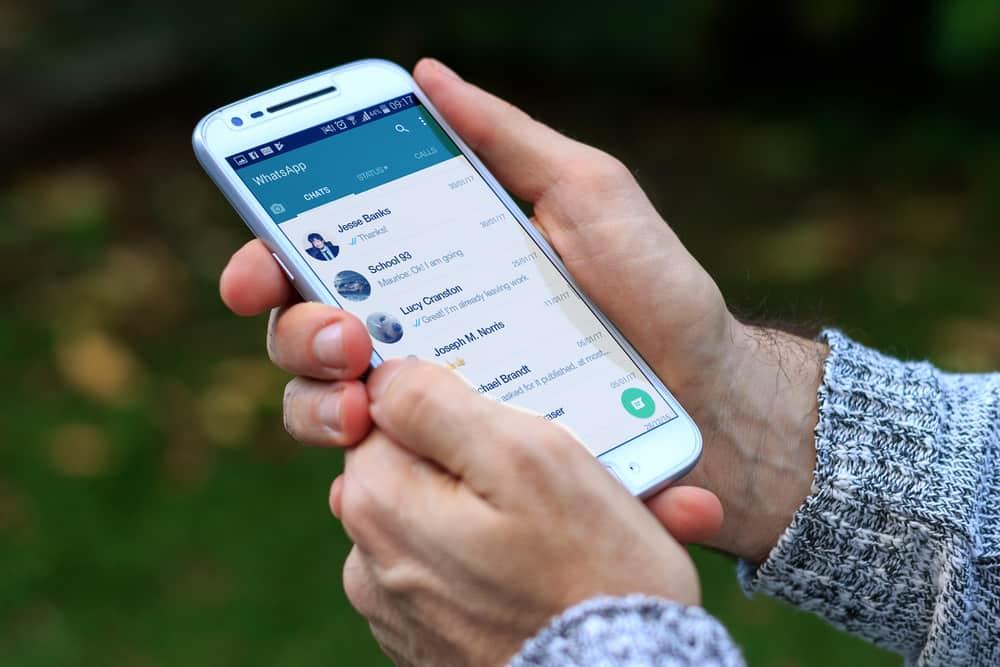 Is WhatsApp an integral part of your life?
It is often considered a private messenger app mostly reserved for friends and relatives.
Eager WhatsApp users know all the extras and perks it adds to their everyday conversations.
Still, many users don't know how to change WhatsApp contacts.
In a nutshell, after finding the contact you want to edit by scrolling or searching, you need to hit "Edit." Once you have changed their name, tap the "Save" button. That's it!
This simple task slightly differs when you edit contacts on an Android device or iPhone/iPad. That's why I will explain each of these cases separately for better understanding. Let's dive in!
Editing WhatsApp Contact on Android
Do you have WhatsApp installed on your Samsung Galaxy or another Android device? If so, this method is right for you.
Those who aren't logged in must register their phone number by following WhatsApp instructions. Don't worry; it doesn't take a lot of time.
Are you logged in? Great! Let's see how to edit contacts in 7 simple steps:
Open WhatsApp on your device.
Find the contact you wish to change by either searching for it from the search option or scrolling through the WhatsApp chat screen.
Select the contact by tapping on it.
Tap the contact's name at the top.
Tap on the three dots.
Pick "Edit" from the dropdown menu.
Edit the contact as you wish.
Don't forget to save the changes after editing or renaming the contact. Tap the "Save" button, and you're all set!
You can add emojis to your WhatsApp contacts to sort better and easier. This is particularly useful for social people who have a lot of contacts. For instance, add emojis like a flower or heart ❤️ next to your friend's or girlfriend's name. You may add a laptop after a coworker's name.
Editing WhatsApp Contact on iPad or iPhone
While editing WhatsApp contacts on iPad or iPhone devices is almost the same as described above, there are some minor differences.
Let's check them out:
Open the WhatsApp application on your device.
Select the chat whose contact details you wish to edit.
Tap on their name at the top.
Tap "Edit" in the top right corner.
Edit the contact as you see fit.
Tap the "Save" button in the top right corner.
Besides changing the name, you can also make other edits for this particular contact. For example, you can edit the phone number, e-mail, photo, and occupation. Make sure all the changes are up to date and correct before saving them.
Now, this WhatsApp contact is edited. Did you make it? Congratulations! 👏
Conclusion
I hope this article helped you make edits with ease.
As you can see, editing WhatsApp contacts is not difficult either; anyone can do it with a few simple clicks.
You must find and open the contact first if you want to do it on your Android, iPad, or iPhone device.
Then tap the "Edit" button, make changes, and save them.
Piece of cake, right?
FAQs
Why can't I change a WhatsApp contact name?
Sometimes contact names can't be edited without permission. If you have such a contact, you'll have to enable the contacts permission for WhatsApp.
How do you delete a WhatsApp contact?
Maybe you want to delete a contact you don't need anymore. Start a new chat, then choose the contact you want to delete. After clicking on the contact name, select "View in address book." Go to "More options" and tap "Delete."
How do you add contacts on WhatsApp?
Once you have opened WhatsApp on your device, choose the Chats tab. Simply tap the new chat icon and select "New contact." You can add contact info here, including name, phone number, group, image, etc.
Why do people edit WhatsApp contacts?
There could be different reasons for that. However, the wrong spelling is the most common reason. You know, it's not uncommon for people to make mistakes when typing in the contact names. When noticing the wrong spelling (missing or incorrect letter and the like) after saving a contact, they want to edit it later.
Nicknaming someone is another reason to change the contact name. For example, if there are two or more Hamilton contacts, you may want to change one to Ham for easier distinguishing. Or maybe you've developed feelings for someone and want to call them Babe, Cuddle Bunny, or Honey. In that case, you'd like to edit the contact name.